Main content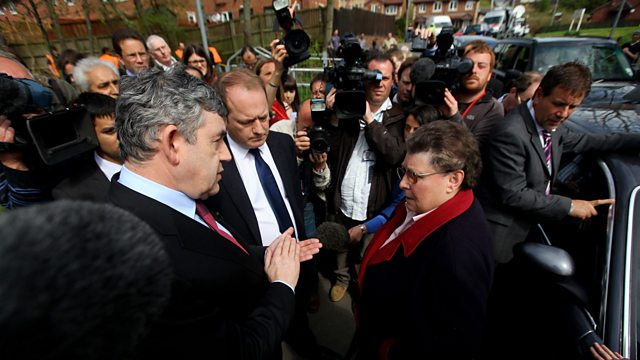 2010 Gordon Brown
The story behind the fateful meeting between PM Gordon Brown and Gillian Duffy in 2010. Senior Brown aide David Muir recalls a tumultuous day with photographer Jeff Mitchell.
Election Snapshots reveals the stories behind five iconic photographs from British General Elections since 1945. Political insiders and distinguished photographers discuss how campaigning has changed, from Winston Churchill through Thatcher, to Blair and Brown.
When Gordon Brown met Gillian Duffy on the street in Rochdale in the last days of the 2010 election, few realised the pictures of that meeting would be significant and defining images for the whole campaign.
Close Brown aide David Muir and photographer Jeff Mitchell recall the real story behind an event which many think cost Labour election victory in 2010.