Main content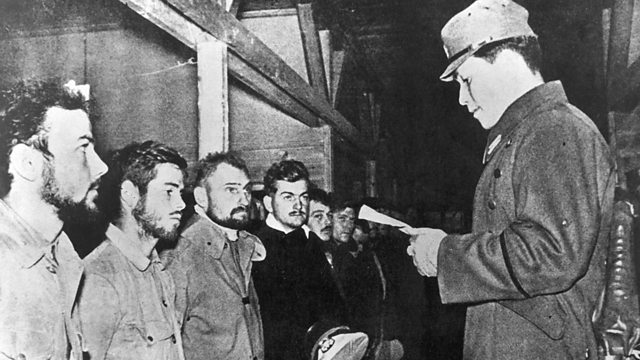 Far East Prisoners of War
Sue MacGregor unites POWs held by the Imperial Japanese in the Far East. Her guests are Bob Morrell, Bill Frankland, Tony Lucas, William Mumby and historian Sibylla Jane Flower.
Sue MacGregor's guests remember their time as Far East POWs during the Second World War.
Early in the Second World War, the Imperial Japanese made major military advances throughout the Far East. The fall of Singapore in February 1942 resulted in the single largest surrender of British-led military personnel. Winton Churchill called it "the worst disaster and largest capitulation in British history". In total, the Japanese took 140,000 Allied prisoners, including 67,000 British.
The prisoners were sent to forced labour camps throughout South-East Asia. The Thailand-Burma Railway is perhaps the best known project, but many more POWs were shipped via "hell ships" to islands like Java and Ambon. The Japanese captors treated the prisoners horrifically, subjecting them to brutal beatings, intense work, starvation, disease and searing heat. Over a quarter of POWs died in the camps.
Sue MacGregor's guests include: Bob Morrell, who remembers his "coffin duty" on the island of Ambon; centenarian Bill Frankland, who was a medical officer treating prisoners near Singapore.; William Mumby who was shipped throughout the region, and Tony Lucas, who was sent to the Thailand-Burma Railway and helped carve "Hellfire Pass". Sue is also joined by historian Sibylla Jane Flower who made a special study of Allied prisoners held by the Japanese.
After the nuclear destruction of Hiroshima and Nagasaki and V-J Day, the POWs undertook the arduous journey back to Britain. Many were reunited with their families who were unaware of their survival. In the following decades, many former prisoners of war kept quiet about their experiences.
Producer: Colin McNulty
Series Producer: David Prest
A Whistledown production for BBC Radio 4
Last on