Main content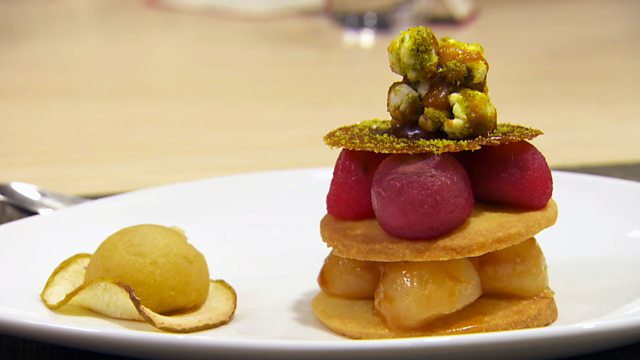 Cookery competition. The seven remaining amateurs must cook the judges a dish using scraps, trimmings and leftovers and impress a team of taste experts.
The MasterChef semi-finals continue, and the pressure is on as tonight one more chef leaves the competition.
First, the seven remaining amateurs face a challenge that will really put their skills to the test. They must cook the judges just one dish... but this time using scraps, trimmings and leftovers. Their choice of ingredients for the challenging scraps test includes chicken giblets and skin, bones, a pig's ear, fish heads and bones, roes, potato peelings, vegetable offcuts, stale bread and cheese rind. The cooks have to rely on their ingenuity and skill rather than quality cuts to push their dish to the forefront. Who will make a pig's ear of it, and who will show they have what it takes to make it to the top? It's imperative they step up to the plate and perform to their best, because after this test John and Gregg will send another cook home.
The remaining best six semi-finalists are then pushed even further when they must cook for five of the world's most expert palates: the Supertasters. This highly esteemed gathering make a living out of their ability to analyze food and drink: one guest has his tastebuds insured for over a million pounds; two are masters of wine and one is an acclaimed professor in the science of taste. Working in teams of two, the contestants have just three hours to cook a six-course tasting menu that pushes the boundaries and stimulates the minds and senses of their special table of diners.
Credits
| Role | Contributor |
| --- | --- |
| Judge | John Torode |
| Judge | Gregg Wallace |
| Director | David Crerar |
| Series Producer | Katie Attwood |
| Production Manager | Anna Holden-Booth |
| Production Company | Shine TV |