Main content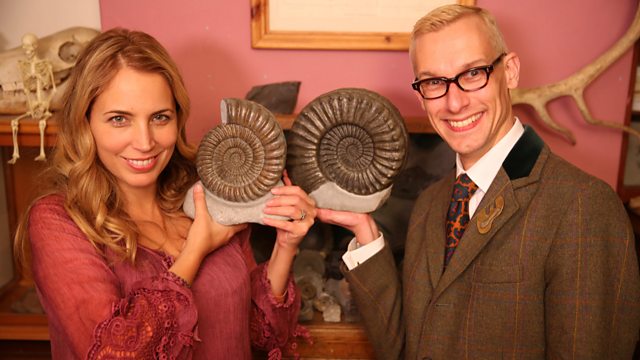 Series exploring the weird and wonderful world of Britain's collectors. The team meet a collector who has transformed his home into an early 20th-century working cottage.
Mark Hill steps back in time as he visits 35-year-old Peter, a collector who has transformed his home back into an early 20th-century working cottage. Every little detail has been thought of, from the décor and outdoor toilet to the dinner plates, and even a fully fitted reincarnation of the 1920s grocer's shop that used to be there, sitting in what should be his living room. Peter's meticulous attention to detail doesn't come cheap, and his next project is to try to recreate the original wallpaper in the bedroom, using only a 10-inch sliver he found in the back of a cupboard.
Jasmine Harman is visiting a man who's built four giant warehouses in his back garden to house his collection of more than 1,000 obsolete computers. 55-year-old Jim is a professor of neural computation and has dedicated his life to computers and how they work. He's spent the last 25 years accumulating everything from personal PCs, voting machines and home consoles, to giant super computers that used to run nuclear power stations and take up an entire room, but hold the same amount of power as your watch. Jim was recently been diagnosed with Parkinson's and wants to secure the future of his collection. Can Jasmine help him get recognition for his extraordinary collection?
And together Mark and Jasmine visit fossil collector Paddy. Lyme Regis is fertile hunting ground for Paddy, and he's amassed an astonishing collection of fossils that give a unique insight into long extinct creatures. The collection has everything from tiny and iridescent ammonites, to giant stones containing stunning examples of ichthyosaurs. Wife Rikey is keen for him to sell some of his more common pieces to make way for the more special items, so can Mark convince him to do it? And both Paddy and Rikey are in for a surprise when the collection is valued.
Credits
| Role | Contributor |
| --- | --- |
| Presenter | Mark Hill |
| Presenter | Jasmine Harman |
| Executive Producer | Jo Scarratt-Jones |
| Series Producer | Maia Liddell |
| Production Company | RDF Television |
| Participant | Peter |
| Participant | Patrick |
| Participant | James |