Main content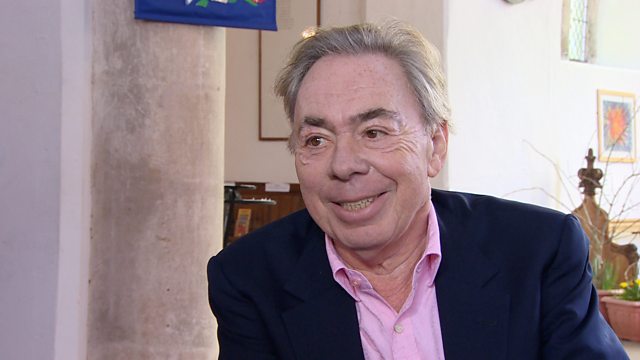 12/04/2015
Connie Fisher meets Andrew Lloyd Webber, one of the world's most successful composers, to discover why he wants to help more churches get connected to the internet.
Clips

Music Played
Timings (where shown) are from the start of the programme in hours and minutes
Music
Now Thank We All Our God performed by the choir and congregation at Warwick Road United Reformed Church, Coventry
Spirit Break Out performed by the choir and congregation of the Birmingham Christian Centre
Psalm 23 (Adonai Ro'i Lo Echsar) performed by Matthew Sandy and the Blue Coat School Choir
Will You Come And Follow Me performed by the choir and congregation of St Peter's Episcopal Church, Edinburgh
How Great Is Our God performed by the Salvation Army Band at William Booth College, London
Love Divine All Loves Excelling performed by the choir and congregation of Llandaff Cathedral, Cardiff
Thy Hand, O God, Has Guided performed by the Huddersfield Choral Society with the BBC Philharmonic Orchestra at The Monastery in Gorton, Manchester
Stories
Andrew Lloyd Webber
Andrew Lloyd Webber visits St Michael's Church, Aylsham, which has recently installed wi-fi for the benefit of parishioners and visitors. Using a transmitter at the top of its spire, the church also beams a signal to help other rural churches across Norfolk get connected to the internet. Presenter Connie Fisher talks to Andrew Lloyd Webber about why he thinks it is so important for churches to embrace the digital age. Reverend Andrew Beane explains how he believes the initiative is helping to make his and other churches the hub of their communities.  
He also talks to presenter Connie Fisher about the religious references in his musicals, including Jesus Christ Superstar and Joseph & His Amazing Technicolour Dreamcoat. He talks about the role his church organist father played in his childhood, and reveals two of his favourite hymns.
Matthew Sandy

The Songs of Praise School Choir of the Year competition has been a highlight of the calendar since 2003. Ahead of the launch of the competition for 2015, Songs of Praise catches up with Matthew Sandy. Matthew was part of the choir of Blue Coat Church of England School, Coventry, in 2008, taking a solo verse for How Great Thou Art. The choir were victorious that year and shortly after Matthew became a choral scholar at the world famous King's College, Cambridge and then went on to study at the Guildhall Conservatoire. He is now a successful, professional tenor singing all over the world and even sang for Pope Benedict XVI.
David Grant meets Matthew back at his old school to hear his story and to reunite him with Philip Formstone who has been choirmaster at the school for an amazing 38 years. They reminisce about the Songs of Praise School Choir Competition and the importance of choirs in general before Matthew joins the Blue Coat School Choir of today for a special performance of Psalm 23 in Hebrew.
Prison Ministry
Marc Pawson aka 'MPFree' talks about how he uses Christian Rap to turn his life around. He visits HMP Shotts to talk to the prisoners before performing one of his raps to communicate his message of faith to the inmates. 
Credits
| Role | Contributor |
| --- | --- |
| Presenter | Connie Fisher |
| Presenter | David Grant |
| Interviewed Guest | Andrew Lloyd Webber |
| Series Producer | Matthew Napier |
| Executive Producer | Dave Stanford |