Main content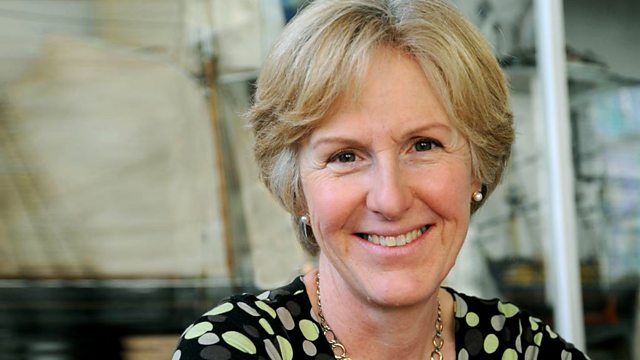 Piano Duets from the BUNT Belgrade Festival
Catriona Young's selection includes a concert of piano duets given at the 2014 BUNT Belgrade Festival.
Catriona Young presents a concert of piano duets from the 2014 BUNT Belgrade Festival.
12:31 AM
Barber, Samuel [1910-1981]
Souvenirs - ballet suite, arr. for piano duet
Lidija Bizjak (piano), Sanja Bizjak (piano)
12:49 AM
Nancarrow, Conlon [1912-1997] Adès, Thomas [b.1971] arranger
Study no. 7
Lidija Bizjak (piano), Sanja Bizjak (piano)
1:01 AM
Bolcom, William [b.1938]
Recuerdos, Three Traditional Latin American Dances
Lidija Bizjak (piano), Sanja Bizjak (piano)
1:14 AM
Rzewski, Frederic [b.1938]
Winnsboro Cotton Mill Blues
Lidija Bizjak (piano), Sanja Bizjak (piano)
1:24 AM
Bernstein, Leonard [1918-1990], Musto, John [b.1954] arranger
Symphonic dances from 'West Side story'
Lidija Bizjak (piano), Sanja Bizjak (piano)
1:46 AM
Benjamin, Arthur [1893-1960], Trimble, Joan arranger
Jamaican Rumba
Lidija Bizjak (piano), Sanja Bizjak (piano)
1:48 AM
Duruflé, Maurice (1902-1986)
Requiem (Op.9)
Jacqueline Fox and Stephen Charlesworth (soloists) BBC Singers, David Goode (organ), Stephen Cleobury (conductor)
2:31 AM
Prokofiev, Sergey (1891-1953)
Symphony No.5 (Op.100)
Bulgarian National Radio Symphony Orchestra, Milen Nachev (conductor)
3:12 AM
Schumann, Robert (1810-1856)
Quintet for piano and strings (Op.44) in E flat major
Ingrid Fliter (piano); Ebène Quartet
3:43 AM
Söderman, August (1832-1876), lyrics by Johan Ludvig Runeberg
Three songs from 'Idyll and Epigram'
Swedish Radio Choir, Eric Ericson (conductor)
3:49 AM
Chopin, Fryderyk [1810-1849]
Ballade No.2 in F major (Op.38)
Anastasia Vorotnaya (piano)
3:57 AM
Corelli, Arcangelo (1653-1713)
Sonata da chiesa in E minor (Op.3 No.5)
Camerata Tallinn: Jan Oun (flute), Mati Karmas (violin), Heiki Mätlik (guitar)
4:05 AM
Fontana, Giovanni Battista (c.1592-1631)
Sonata undecima for cornet, violin and bass continuo
Le Concert Brisé - William Dongois (cornet/director), Christine Moran (violin), Carsten Lohff (harpsichord), Anne-Catherine Bucher (organ/harpsichord), Benjamin Perrot (theorbo)
4:14 AM
Holmboe, Vagn (1909-1996)
Lauda, Anima Mea - from Liber Canticorum II (Op.59c)
Sokkelund Choir, Morten Schuldt Jensen (conductor) recorded in the Frederiksberg Church, Copenhagen]
4:21 AM
Auric, Georges (1899-1983) arranged by Philip Lane
Suite from 'The Lavender Hill Mob'
BBC Philharmonic, Rumon Gamba (conductor)
4:31 AM
Fesch, Willem de (1687-c.1757)
Concerto for 2 flutes and orchestra in G minor (Op.5 No.2)
Musica ad Rhenum
4:40 AM
Debussy, Claude (1862-1918)
Danse sacrée et danse profane for harp and strings
Eva Maros (harp), orchestra and conductor not credited
4:51 AM
Brahms, Johannes (1833-1897)
3 Songs for chorus (Op.42)
Danish National Radio Choir, Stefan Parkman (conductor)
5:01 AM
Schumann, Clara (1819-1896)
Variations on a Theme of Robert Schumann in F sharp minor (Op.20)
Angela Cheng (piano)
5:11 AM
Beethoven, Ludwig van (1770-1827)
Egmont, incidental music: Overture (Op.84)
Bergen Philharmonic Orchestra, Arthur Fagan (conductor)
5:20 AM
Ibert, Jacques (1890-1962)
Trois Pièces Brèves
Galliard Ensemble BBC New Generation Artists
5:28 AM
Kuula, Toivo (1883-1918)
Satukavia (Fairytale Visions) (Op.19)
Juhani Lagerspetz (piano)
5:43 AM
Fauré, Gabriel [1845-1924]
Sonata for cello & piano No. 2 (Op.117) in G minor
Andreas Brantelid (cello), Bengt Forsberg (piano)
6:04 AM
Bach, Johann Sebastian (1685-1750)
Suite no.1 in C major (BWV.1066)
Musica Antiqua Köln, Reinhard Goebel (conductor).