Main content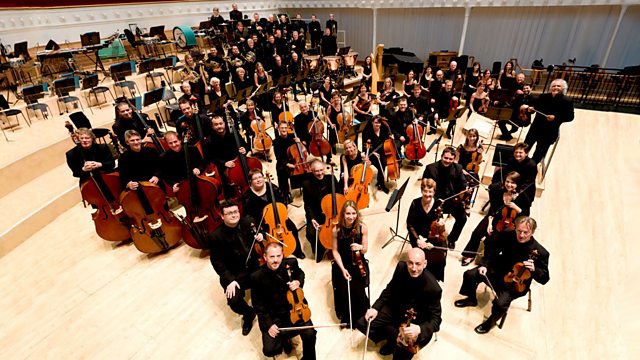 Proms 2014: Beethoven and Mozart
Presented by Catriona Young. Including Donald Runnicles conducting the BBC Scottish Symphony Orchestra in Beethoven's Symphony No 4 and Mozart's Requiem at the 2014 Proms.
From the 2014 BBC Proms, Beethoven Symphony no 4 and Mozart Requiem with the BBC Scottish SO conducted by Donald Runnicles. Catriona Young presents.
12.31
McLeod, John [b.1934]
The Sun dances for orchestra
BBC Scottish Symphony Orchestra, Donald Runnicles
12.43
Beethoven, Ludwig van [1770-1827]
Symphony no. 4 in B flat major Op.60
BBC Scottish Symphony Orchestra, Donald Runnicles
1.16
Mozart, Wolfgang Amadeus [1756-1791]
Requiem in D minor K.626, compl. Robert Levin
Carolyn Sampson (soprano), Christine Rice (mezzo-soprano), Jeremy Ovenden (tenor), Neal Davies (bass baritone), National Youth Choir of Scotland, BBC Scottish Symphony Orchestra, Donald Runnicles
2.03
Franck, César (1822-1890), arr. Jean Pierre Rampal
Flute Sonata
Carlos Bruneel (flute), Levente Kende (piano)
2.31
Brahms, Johannes (1833-1897)
Quartet for piano and strings No.3 (Op.60) "Werther" in C minor
Havard Gimse (piano), Stig Nilsson (violin), Anders Nilsson (viola), Romain Garioud (cello)
3.07
Mussorgsky, Modest (1839-1881)
Pictures from an Exhibition for piano
Steven Osborne (piano)
3.43
Verhulst, Johannes (1816-1891)
Lied van bloemen (Op.26 No.2) (Flower song)
Nico van der Meel (tenor), Leo van Doeselaar (fortepiano)
3.47
Von Paradies, Maria Theresia alias Kreisler, Fritz [1875-1962]
Praeludium and allegro in the style of Gaetano Pugnani for violin and piano
Hyun-Mi Kim (violin), Seung-Hye Choi (piano)
3.53
Walton, William (1902-1983)
3 Pieces for organ from the score to Richard III
Ian Sadler (organ of St.James Cathedral, Toronto)
3.59
Geminiani, Francesco (1687-1762)
Concerto grosso (Op.3'6) in E minor
Camerata Bern, Thomas Furi
4.08
Castelnuovo Tedesco, Mario (1895-1968)
Capriccio Diabolico for guitar (Op.85)
Goran Listes (guitar)
4.17
Handel, Georg Frideric (1685-1759)
Rejoice greatly, O daughter of Zion'. aria from 'The Messiah'
"Yvonne Kenny (soprano), Melbourne Symphony Orchestra, Vladimir Kamirski
"
4.22
Ebner, Leopold (1769-1830)
Trio in B flat major
Zagreb Woodwind Trio
4.31
Dvorak, Antonin [1841-1904]
Notturno in B major (Op. 40)
Polish Radio Symphony Orchestra, Jan Stanienda
4.38
Scriabin, Alexander (1872-1915)
Nocturne for the Left Hand (Op.9 No.2)
Anatol Ugorski (piano)
4.46
Rodrigo, Joaquín (1901-1999) arranged by Peter Tiefenbach
Cuatro madrigales amatorios - ¿Con qué la lavaré?; Vos me matásteis; ¿De dónde venís, amore?; De los álamos vengo, madre
Isabel Bayrakdarian (soprano), Bryan Epperson, Maurizio Baccante, Roman Borys, Simon Fryer, David Hetherington, Roberta Jansen, Paul Widner, Thomas Wiebe, Winona Zelenka (cellos)
4.54
Fesch, Willem de (1687-c.1757)
Concerto for violin and orchestra in C minor (Op.5 No.5)
Manfred Kraemer (violin), Musica ad Rhenum
5.04
Grieg, Edvard (Hagerup) (1843-1907)
Andante con moto for piano trio in C minor
Kungsbacka Piano Trio
5.15
Brahms, Johannes (1833-1897)
Fest- und Gedenksprüche for 8 voices (2 choirs) (Op.109)
Danish National Radio Choir, Stefan Parkman
5.25
Pejacevic, Dora (1885-1923)
Four piano pieces. Barkarola; Song without words (Op.5); Butterfly (Op.6); Impromptu (Op.9)
Ida Gamulin (piano)
5.35
Tchaikovsky, Peter Ilyich [1840-1893]
Romeo and Juliet - fantasy overture
Rotterdam Philharmonic Orchestra, Valery Gergiev
5.56
Handel, Georg Frideric (1685-1759)
Alpestre monte (HWV.81) - for soprano, 2 violins & basso continuo
Susie Le Blanc (soprano), Ensemble Tempo rubato , Alexander Weimann (continuo & director)
6.08
Mozart, Wolfgang Amadeus (1756-1791)
Concerto for flute and orchestra in D major (K.314)
Robert Aitken (flute), National Arts Centre Orchestra, Franco Mannino.