Main content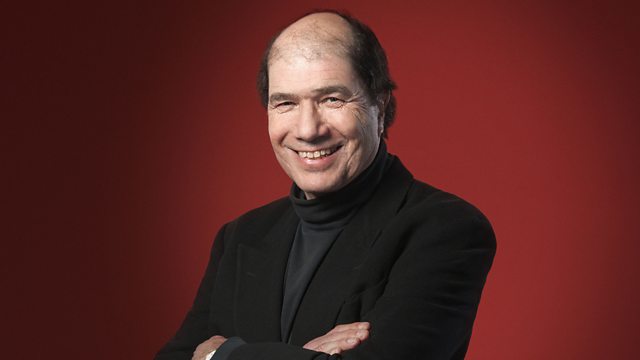 20th Anniversary Programme
Michael Berkeley presents an anthology of interviews to mark the programme's 20th anniversary. With excerpts featuring poet laureate Carol Anne Duffy and neurologist Oliver Sack.
"As a composer I've always been intrigued by the way people who are not professional musicians talk about music and how they tend to reveal things about themselves when they do. And so twenty years ago, when Radio 3 was looking for a new programme in which a huge variety of people talked about their passion for music, I felt very excited about the possibilities. Over twenty years we've had a wonderful selection of guests. One unforgettable guest was the philosopher Isaiah Berlin, and I was astonished by his childhood memory: of actually watching the Russian Revolution at the age of 8 on a balcony in St Petersburg. He revealed that for him Bach was like 'daily bread', and chose the 5th Brandenburg Concerto.
"Music connects us with what really matters, beyond the daily busyness of our lives; through music we plunge beneath the surface, and often find ourselves at earliest childhood memories. So, for instance, the poet laureate Carol Ann Duffy remembers the unexpected arrival at home of a piano, and how she learned to play Chopin to placate her mother when they'd had a row.
"Music often gives us an unparalleled insight into the creative process. I was very fortunate to spend quite a bit of time with the artist David Hockney, both in his studio in London and in Los Angeles, and he gave a fascinating interview back in 1995 about his approach to designing for opera, and his passion for Wagner. One of the most memorable conversations over the last 20 years was with the neurologist Oliver Sacks. We talked about something which has always intrigued me, why we enjoy particularly sad music, and the link between music and depression. He reveals how a Schubert song helped him after the death of his mother.
"But sometimes guests have surprised me with music choices that are - well weird. We don't censor them though..."
Other speakers in the programme include: John Peel; Dame Edna Everage; Maggi Hambling; Sam Taylor-Johnson; Anoushka Shankar; George Steiner; Marina Lewycka, and Joan Armatrading. With Bach, Chopin, Wagner, Bruch, Russian folk music, Tavener, Edith Piaf, and the Coronation Street Theme tune.
To mark the 20th anniversary of Private Passions, there will a be collection of new podcasts available.
Produced by Elizabeth Burke
A Loftus Production for BBC Radio 3.
Last on

Music Played
Johann Sebastian Bach

Brandenburg Concerto No.5 in D, BWV1050

Orchestra: Orchestre de l'Ecole Normale de Paris. Conductor: Alfred Cortot.

Frédéric Chopin

Etude in E, Op.10 no.3

Performer: Maurizio Pollini.

Ravi Shankar

Karnataki

Performer: Kanai Dutta. Performer: Ravi Shankar. Performer: Nodu C. Mullick.

Henry Purcell

Nymphs and shepherds (The Libertine)

Music Arranger: Sir Hamilton Harty. Choir: Manchester Children's Choir. Orchestra: Hallé. Conductor: Sir Hamilton Harty.

Richard Wagner

Tristan und Isolde (Prelude)

Conductor: Wilhelm Furtwängler. Orchestra: Philharmonia Orchestra.

Traditional Russian

Cherniy Voron (Black Raven)

Singer: Stella Zubkova.

Franz Schubert

Der Muller und der Bach (Die Schone Mullerin)

Performer: Gerald Moore. Singer: Dietrich Fischer‐Dieskau.

Eric Spear

Coronation Street

Performer: Ronnie Hunt.

John Tavener

The Protecting Veil

Performer: Steven Isserlis. Orchestra: London Symphony Orchestra.

Max Bruch

Violin Concerto no.1 in G minor (2nd mvt: Adagio)

Performer: Kyung-wha Chung. Conductor: Rudolf Kempe. Orchestra: Royal Philharmonic Orchestra.

Franz Schubert

Piano Sonata in A, D959 (2nd mvt)

Performer: Alfred Brendel.

David Rose & His Orchestra

The Stripper
Broadcast