Main content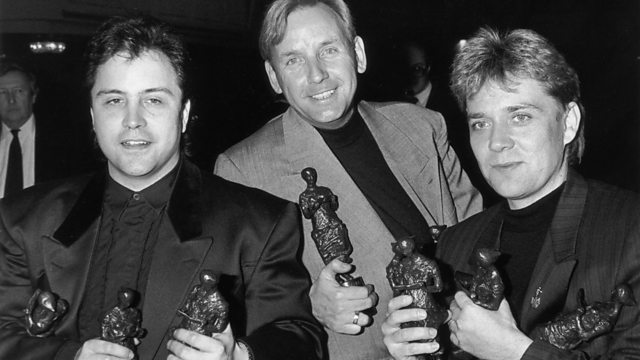 The Hit Factory
Sue MacGregor reunites some of the pop hitmakers of the 1980s with their musical svengali Pete Waterman.
"I had a vision of Motown-type songs with more modern chords and techno, gay, disco rhythms."
When pop impresario Pete Waterman suggested collaborating with song-writers and musicians Matt Aitken and Mike Stock in 1985, they had little idea of what an impact they were going to have on the music industry.
Their musical template included a take on 'HI-NRG', a sound that had been particularly popular in gay clubs of the North of England. Waterman was a frequent DJ at the clubs and was well acquainted with the dance-floor lights that were triggered by the sounds of the particular record being played.
"When one of our records came on, it was louder than the previous one and the lights would go off like fireworks" says Waterman.
'You Spin Me Round (Like a Record)' by Dead or Alive, reached number one in December 1984 and the writing, production and management trio had hits with Bananarama, Donna Summer, and Divine - but their real achievement was in breaking the careers of new artists like Rick Astley, Sonia, Sinitta, and Mel and Kim. The triumph was in spotting that two stars of a cult Australian TV soap could become pop giants. Jason Donovan and Kylie Minogue, both together and separately, would go on to top charts around the globe.
Sue MacGregor is joined by Sinitta and Jason Donovan, together with Pete Waterman and recording engineer Phil Harding, to re-live the days when their unique sound ruled the airwaves.
Producer: Emily Williams
Series Producer: David Prest
A Whistledown production for BBC Radio 4.