Main content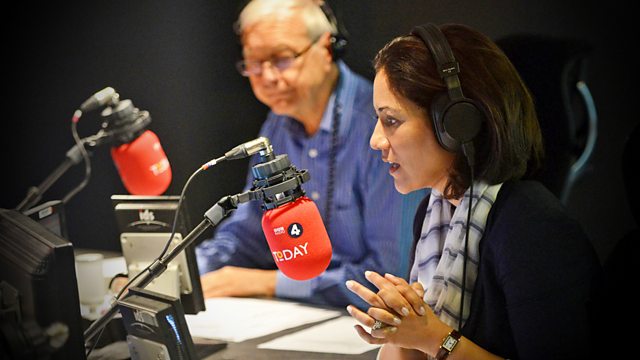 14/04/2015
Morning news and current affairs. Including Sports Desk, Weather and Thought for the Day.
Today's running order
0645
The old mining town of Blackwood, Caerphilly is hosting a special film premier this evening. Dark Horse: The Incredible True Story of Dream Alliance is a Sundance award winning film about the real story of a former barmaid Jan Vokes who bred a racehorse that went on to become a champion. Paul Heaney reports.
0650
Four former bodyguards employed by the American security company Blackwater have received long sentences following an incident in IRAQ in 2007 which left more than fourteen people dead. Paul Slough, Nicholas Slatten, Dustin Heard and Evan Liberty are all former members of the U.S. Military and were found guilty last October. Christin Slough is the wife of Paul Slough and plays a big part in the campaign supporting the 4 men.
0655
A campaign is under way to have the Catholic priest who stayed on RMS Titanic instead of fleeing on a lifeboat made a saint. Father Thomas Byles, of St Helen's Church, Chipping Ongar, Essex, boarded the ship at Southampton to attend his younger brother's wedding in New York. But when it sank in 1912 he twice refused to join a lifeboat and instead remained with passengers to pray. The current priest at St Helen's Church said Father Byles should be canonised. Father Graham Smith is the incoming parish Priest at St Helen's Church, Chipping Ongar, Essex.
0710
The Green Party is launching its manifesto today. It will commit to investment in public services and tackling climate change, as well as an emphasis on energy efficiency. The party will promise to a free nationwide 'retrofit insulation programme', to alleviate fuel poverty and reduce the number of deaths in under-heated homes. Caroline Lucas is the Green candidate for Brighton Pavilion.
0715
The Conservatives publish their election manifesto today, one of the main proposals is to extend the Right to Buy scheme to Housing Association tenants.  Echoing Margaret Thatcher in 1979 who said she wanted a "property-owning democracy", David Cameron will say "the dream of a property owning democracy is alive – and we will fulfil it".  He believes this policy positions them as the "party of working people", offering voters "security at every stage of your life". Ruth Davison is director of Policy and External Affairs at the National Housing Federation - the trade body for housing associations.
0720
The internet watchdog the IWF says it's finding more images of child abuse are being stored on easily accessible photo sharing websites. It says that of the thirty one thousand links to obscene material it identified in 2014 almost two thirds related to so called image hosting sites. Eighty per cent of the illegal content it discovered is reported to feature children under the age of ten. Emma Hardy is from the Internet Watch Foundation.
0730
Russia is in the grip of a new tide of patriotic feeling - which has grown even more intense as its conflict with the West has worsened. Now it's being fuelled by almost daily preparations for a big anniversary. On May the Ninth it will be seventy years since the end of the World War Two in Europe. So far it does not look as though the leaders of most of Russia's war time allies will be attending the Victory Day parade on Red Square. Instead of  the American and British leaders, Mr Putin may find himself standing shoulder to shoulder with the Chinese President and Kim Jung Un of North Korea. In the second of her reports for us from Russia, Bridget Kendall explores how far the new patriotic mood in Russia is reshaping its sense of who are its allies and who are its enemies:
0740
A major international effort to see where dark matter exists across the cosmos has released its first batch of results. It covers just 0.4% of the sky (the eventual aim is one-eighth) but is the most detailed map yet of this invisible cosmic web. It shows huge filaments that hold all the galaxies, separated by even bigger voids. So does this mean it is possible to map something that is meant to be invisible? Professor Sarah Bridle is Profesor of Astrophysics at the University of Manchester and co-chair of the Weak Lensing Working Group, which made the map as part of the Dark Energy Survey.
0750
Cardinal Vincent Nichols has just returned from the Kurdish capital Erbil, where he visited some of the tens of thousands of Christians who fled from the Islamic State onslaught. Cardinal Vincent Nichols, the head of the Roman Catholic Church in England and Wales just back from Erbil and Jeremy Bowen is the BBC's Middle East Editor.
0810
The Conservatives publish their election manifesto today, one of the main proposals is to extend the Right to Buy scheme to Housing Association tenants. Theresa May is the Home Secretary.
0820      
It is one year since the abduction of more than two hundred girls from their school in north eastern Nigeria. The actions of the extremists of Boko Haram sparked outrage - expressed around the world by the hashtag 'Bring Back our Girls'. The President in power at the time in Nigeria has since been voted out of office - his successor has promised to do all he can but the girls whereabouts are still unknown. Our Nigeria correspondent Will Ross reports.
0830
The Conservatives are launching their manifesto this morning. The party is announcing that it will extend the Right to Buy scheme to 1.3 million families in housing association accommodation, giving them the chance to buy their home at a discount. It will be paid for by requiring councils to sell off the most expensive housing when it falls vacant, raising £4.5 billion per year, with some of this money used for at least a one for one replacement. Yesterday Labour launched their manifesto. Our Economics Editor Robert Peston has been looking at some of the numbers in the manifestos to see if they add up.
0835
Genetic technology is being used on a larger scale than ever before to better match bowl cancer patients with the most effective therapies. Cancer Research UK and the Medical Research Council are jointly launching a £5m consortium which will help patients receive more personalised treatments in the future. Professor Tim Maughan is professor of Clinical Oncology at Oxford University.
0840
The satire How to Succeed in Business Without Really Trying is being revived. The cautionary tale set in 60s New York charts the meteoric rise of a window cleaner to Chairman of the board and can be seen at this year's City of London Festival. What can a satire on the business world from a half century ago - sending up nepotism, sexism and mediocrity – teach us today? Paul Gudgin is director of City of London Festival and Lucy Kellaway is a Financial Times columnist.
0845
For most of us, the election is probably background noise, touching us only through our radios, televisions and websites, but not coming too close. Not, however, if you live in a closely fought marginal, there voters cannot rest in piece in this deadlocked election. Sima Kotecha has been to Warwickshire North, the most marginal Conservative seat in the country.
0850
The polls are continuing to suggest a dead heat between the two main parties. But in the last few days we have seen Labour claiming to be the party of fiscal responsibility, whereas the Conservatives have pledged to spend more on the NHS than Labour. Why have both the parties suddenly decided to reach out beyond their traditional supporters – and will be successful in appealing to swing voters? Philip Blond is director of the think tank Respublica and Elizabeth Rigby is deputy political editor at the Financial Times.v
All subject to change.