Main content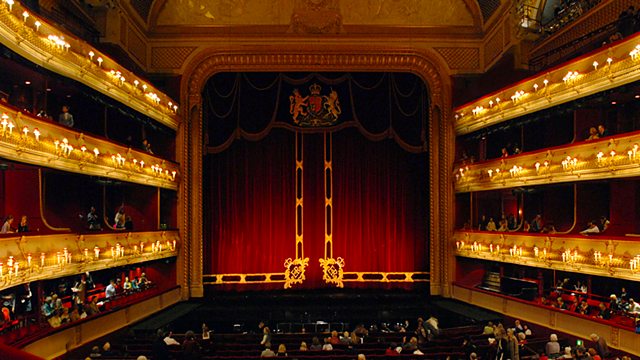 Mozart's Die Zauberflote
From the Royal Opera House, Covent Garden, a revival of David McVicar's production of Mozart's late opera Die Zauberflote. With Christiane Karg and Markus Werba.
From the Royal Opera House, Covent Garden, Mary King presents a revival of David McVicar's acclaimed production of Die Zauberflote, with a stellar cast including Christiane Karg, Pavol Breslik and Markus Werba. Pamina, the daughter of the Queen of the Night has been captured by Sarastro. On seeing a picture of her, Tamino resolves to rescue her, with only a magic flute, and a somewhat unhelpful birdcatcher called Papageno to help him. Mozart's late, great singspiel combines the serious and the comic, with pantomime and Freemasonry thrown in for good measure. Writer and musicologist Gavin Plumley joins Mary to discuss this operatic hybrid, and what we know of the performance conditions of the original production in 1791.
Presented by Mary King
Tamino.....Pavol Breslik (Tenor)
Pamina.....Christiane Karg (Soprano)
Papageno.....Markus Werba (Baritone)
Papagena.....Lauren Fagan (Soprano)
Queen of the Night.....Anna Siminska (Soprano)
Sarastro.....Georg Zeppenfeld (Bass)
Monostatos.....Colin Judson (Tenor)
Speaker of the Temple.....Robert Lloyd (Bass)
First Lady.....Sinead Mulhern (Soprano)
Second Lady.....Nadezhda Karyazina (Mezzo-soprano)
Third Lady.....Claudia Huckle (Mezzo-soprano)
First Boy.....Emerson Murphy (Treble)
Second Boy.....Harry Featherstonhaugh (Treble)
Third Boy.....Conor Quinn (Treble)
First Priest.....Harry Nicoll (Tenor)
Second Priest.....Donald Maxwell (Baritone)
First Man in Armour.....Andrew Macnair (Tenor)
Second Man in Armour.....James Platt (Bass)
Royal Opera House Orchestra
Royal Opera House Chorus
Cornelius Meister (Conductor).
Last on
Synopsis
ACT I
Tamino is pursued by a monstrous serpent and appeals to the gods to save him. He falls unconscious. Three Ladies arrive and slay the monster. They admire the handsome youth and argue about who should go and tell their mistress, the Queen of the Night, about him and who should stay (Ich sollte fort?). They reluctantly decide they must all go. Tamino wakes, hears someone approaching and hides. It is Papageno, chasing birds and describing his way of life (Der Vogelfänger bin ich ja). Tamino introduces himself to Papageno. Papageno is only too happy that Tamino has assumed that it was he, Papageno, who killed the serpent. But the Ladies have overheard and, instead of the expected wine and bread, bring Papageno water, a stone and a padlock for his mouth. They also give Tamino a present: a portrait of the Queen's daughter, Pamina. Tamino is enraptured by it and begins to fall in love with Pamina (Dies Bildnis ist bezaubernd schön).
The Ladies return, saying that the Queen has chosen Tamino to rescue Pamina from the clutches of the evil Sarastro, who has abducted her. With a clap of thunder, the Queen of the Night herself appears (O zitt're nicht, mein lieber Sohn!). She says that if Tamino can rescue her beloved daughter, he may marry Pamina. When she has left, Papageno returns, his mouth still padlocked. The Ladies bring him the Queen's pardon and unlock him. Everyone draws the moral: if liars were silenced, brotherly love would prevail (Bekämen doch die Lügner alle ein solches Schloss vor ihren Mund). The Ladies give Tamino a magic flute, which will protect him and which has the power to turn sorrow to joy. They order Papageno, to his dismay, to accompany Tamino.
The Ladies give Papageno magic bells for protection and tell him and Tamino that Three Boys will guide them on their journey (Drei Knäbchen, jung, schön, hold und weise). Pamina is trying to escape from Monostatos. He orders that she be tied up, then sends his slaves away. Pamina faints. Papageno appears; having checked Pamina's identity against the portrait, he tells her of the prince her mother has sent to rescue her. Papageno tells her that he has nobody. He and Pamina reflect that when man and wife are united in love, their lives are sanctified (Bei Männern, welche Liebe fühlen).
The Three Boys leave Tamino, telling him to be steadfast, patient and silent. He sees three Temple doors and, realizing he is in a sanctified place, reaffirms his vow to save Pamina. Tamino approaches the Temple of Reason only to be turned back by voices from inside. The same happens when he goes to the Temple of Nature. But from the Temple of Wisdom there appears a priest, the Speaker. He asks Tamino what has led him to this sanctuary, and Tamino replies that he has come in search of love and truth. The Speaker reprimands Tamino for confusing these virtues with revenge and hatred and says that Tamino has been deceived over Sarastro.  
Alone, Tamino asks whether there is an end to the darkness that has befallen him. Voices from the Temple tell Tamino that Pamina is alive. Ecstatic, he starts to play his flute: strange animals gather round him – but Pamina does not come, in spite of his calls.
Suddenly Tamino hears Papageno's pipe and rushes off to find him. Papageno and Pamina enter, and are seized by Monostatos and his slaves. Papageno remembers his magic bells. As he plays them, the slaves become entranced and, with Monostatos, dance happily away (Das klinget so herrlich). Fanfares announce the arrival of Sarastro. Papageno is frightened but Pamina tells him to be truthful. She tells Sarastro that she fled not from him but from Monostatos. Sarastro reassures her but says he cannot return her to her  mother, whose pride is beyond forgiveness.
Monostatos brings in Tamino. Recognizing each other, Tamino and Pamina embrace, to Monostatos's fury. Sarastro rewards Monostatos's service by sending him for a whipping. Tamino and Papageno are led away to Sarastro's sanctuary. The people praise Sarastro's wisdom and declare that virtue and forgiveness will sanctify life on earth (Wenn Tugend und Gerechtigkeit).
ACT II
The Priests assemble and Sarastro tells them that Tamino wants to undergo the ordeals that will allow him to become enlightened. Sarastro says that Pamina has been chosen as Tamino's bride, and together the couple will defend the brotherhood against the evil of the Queen of the Night. The Speaker enquires whether Tamino is equal to the ordeal, as he is a prince. Sarastro replies that he is more: he is a man.
The brotherhood calls on Isis and Osiris to give the couple courage to achieve their goal (O Isis und Osiris). Tamino and Papageno, blindfolded, are led in with their tutor-priests. Papageno is frightened. The Priests test their commitment to the trials ahead. Papageno is hesitant until he is told that he will not otherwise find a wife. The Priests warn Tamino and
Papageno of the temptations ahead and the risks of failure and swear them to silence (Bewahret euch vor Weibertücken). The Priests leave and the Three Ladies appear. They ask why Tamino and Papageno are in this place of death: the pair are doomed if they disobey the Queen of the Night. Papageno starts to respond but Tamino silences him.
The Ladies try tempting them, but admit defeat and disappear. Papageno faints. The Priests return to lead Tamino and Papageno to the next trial. Monostatos discovers Pamina asleep and resolves to rape her. He asks the moon
to close its eyes while he kisses her (Alles fühlt der Liebe Freuden). He is stopped by the Queen of the Night, who asks her daughter where Tamino is. When Pamina replies that he has joined the brotherhood her mother reveals her true plan: her dying husband gave up the sevenfold circle of the sun to the brotherhood and she wants to regain its power (Der Hölle Rache). The Queen gives Pamina a knife to kill Sarastro.
Monostatos has overheard and threatens Pamina. Sarastro intervenes and sends Monostatos away. Pamina begs Sarastro to spare her mother. He explains that in his sacred halls it is love, not vengeance, that overcomes evil (In diesen heil'gen Hallen). The Priests leave Tamino and  Papageno, telling them to remain silent. Papageno says he is thirsty. An old woman brings him drink and he forgets his vow of silence: he chats to her and she tells him she is 18 and that her boyfriend is Papageno.
The Three Boys bring Sarastro's gift of food and drink and the magic flute and bells (Seid uns zum zweiten Mal willkommen). As Papageno eats, Tamino plays the flute, and Pamina answers its call. Overjoyed, she tries to talk to him, but he turns away. His rejection of her is worse than death (Ach, ich fühl's). The Priests praise Tamino's virtues in a hymn to Isis and Osiris. Sarastro brings Pamina to him and tells the couple to bid each other a last farewell before the greater trials ahead.
Tamino is confident but Pamina is fearful; Sarastro reassures them. They leave. Papageno runs in, looking for Tamino. Voices tell him to go back. The Priests tell Papageno he will never achieve enlightenment, and they grant his one request: for a drink. To the accompaniment of his bells he says that all he really wants is a wife (Ein Mädchen oder Weibchen). The old woman dances in and says unless he marries her he will be locked up. When he swears he will be faithful to her she is transformed into Papagena, but sent away.
The Three Boys welcome the rising sun, which banishes darkness and death. They see the grief-stricken Pamina, who is clutching her mother's knife, vowing to kill herself. The boys stop her and reassure her of Tamino's love. Trusting them, Pamina allows the Boys to lead her to him. Two Men in Armour guard the entrance to the place of trial. They recite to Tamino the words inscribed there: the man who treads this dangerous path will be purified by fire, water, air and earth. Tamino asks to be let in. Pamina's voice is heard, saying she will go with him. Tamino is overjoyed: even death cannot separate them now. Pamina rushes in (Tamino mein! o welch ein Glück). She tells Tamino to play the flute, which her father, in a magic hour of violent storms, carved from an ancient tree. Together they pass through the trials of fire and water. Voices from the Temple praise their triumph and welcome the couple inside.
Papageno is searching for Papagena but there is no answer to his pipes. In despair, he prepares to hang himself. The Three Boys stop him and remind him of the bells. Their magic summons Papagena, and she and Papageno plan their future, which they hope will be blessed with many children. Monostatos leads the Queen of the Night and her Ladies to attack Sarastro. The Queen has promised Pamina to Monostatos. But the sun shines brightly, banishing the forces of evil to infinite darkness.  Sarastro, with Tamino and Pamina, proclaims the sun's victory over the night. Everyone sings a hymn of thanks to Isis and Osiris: virtue has been rewarded (Heil sei euch Geweihten!). 
Broadcast