Main content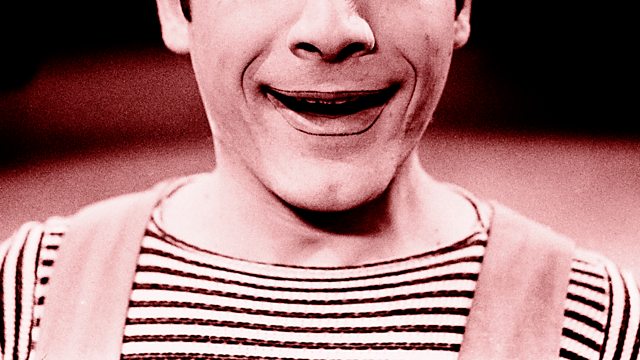 Pastiche, Parody and Passing Off
A sequence of poetry, prose and music on the theme of pastiche, parody and passing off, with readings by Debra Stephenson and John Sessions.
Nothing is quite what it seems in this edition of Words and Music. We have authors and composers imitating the style of others as affectionate tribute or humorous parody. We have new music written to sound like old music. We have imitation as a plot device, where characters in novels or operas pretend to be something, or someone, they are not. And we have out-and-out fakery. Extracts are read by a variety of actors including Maggie Smith, Judi Dench, Alan Rickman and Rex Harrison. Or are they really Debra Stephenson and John Sessions?
Producer - Ellie Mant.
Music Played
Timings (where shown) are from the start of the programme in hours and minutes
James Macpherson

Poems of Ossian, read by John Sessions

Shakespeare

Twelfth Night, read as Judi Dench (Debra Stephenson)

Craig Brown

The Lost Diaries, read as Alan Rickman (John Sessions)

William Makepeace Thackeray

Vanity Fair, read by Debra Stephenson

Louis Untermeyer

Ode 1.22 [In the Style of Edgar Allan Poe], read as Ian McKellen (John Sessions)

Patricia Highsmith

The Talented Mr Ripley, read by Debra Stephenson

Robert Harris

Selling Hitler, read by John Sessions

Guy Wetmore Carryl

The Embarrassing Episode of Little Miss Muffet, read as Maggie Smith (Debra Stephenson)

F. Scott Fitzgerald

The Great Gatsby, read by John Sessions

Catherine Maria Fanshawe

Fragment in Imitation of Wordsworth, read as Penelope Wilton (Debra Stephenson)

Ern Malley (James McAuley and Harold Stewart):

The Darkening Ecliptic, read by John Sessions

David Lodge

Small World, read by Debra Stephenson

The Rt. Hon. Sir Robin Jacob, Daniel Alexander, Lindsay Lane

A Guidebook to Intellectual Property, Patents, Trade Marks, Copyright and Designs, read by John Sessions

Elijah Fenton:

To Mr. Pope. An Imitation of a Greek Epigram in Homer, read as Helena Bonham Carter (Debra Stephenson)

George Bernard Shaw

Pygmalion, read a Rex Harrison (John Sessions)

Henry Austin Dobson

The Ballad of Imitation, read as Imelda Staunton (Debra Stephenson)

Producer note

Nothing is quite what it seems in this edition of Words and Music. We have authors and composers imitating the style of others as affectionate tribute or humorous parody. We have new music written to sound like old music.  We have imitation as a plot device, where characters in novels or operas pretend to be something, or someone, they are not. And we have out-and-out fakery. Extracts are read by a variety of actors including Maggie Smith, Judi Dench, Alan Rickman and Ian McKellen. Or are they really Debra Stephenson and John Sessions?

The programme begins with one of the most famous literary falsehoods; the ancient Gaelic poet Ossian was actually invented by his 18th century publisher James Macpherson, who wrote the epic poems himself. This is paired with Peter Maxwell Davies' re-working of an early Scottish Motet. Viola in Twelfth Night passes herself off as a man, and so can't declare her love for Duke Orsino. There are of course many examples in opera of female characters disguising themselves as men – I've chosen one from Handel's Serse, where Amastre sings 'Though I change my appearance, I shall never change my heart, for my love will always remain the same.' Then to the first example of parody with Craig Brown's spoof of Thomas Hardy's melancholy writing. I've followed this with a movement from Mozart's Requiem, which is a double case of passing off. The eccentric count who commissioned it through an intermediary was intending to claim it as his own work. And when Constanze was left with an unfinished Requiem after Mozart's death, she claimed Süssmayr's completion was all genuine Mozart in order to collect the commission fee. (Süssmayr actually wrote all but the first eight bars of the Lacrimosa we'll hear.)

Thackeray's Becky Sharp passes herself off as a born woman of fashion, accompanied by Stravinsky in neo-classical style (his Pulcinella was based on music by Pergolesi, much of which subsequently turned out to be by other composers).  Louis Untermeyer parodies the style of Edgar Allan Poe, along with Tchaikovsky parodying Mozart. In The Talented Mr Ripley, the envious Tom Ripley murders Dickie Greenleaf and then pretends to be him. This is followed by Richard Addinsell's Rachmaninov pastiche Warsaw Concerto, written for the film Dangerous Moonlight. There aren't many more audacious examples of passing off than the diaries purporting to be by Adolf Hitler, which were serialised by the Sunday Times before being found to be fakes. This is paired with the 'Albinoni' Adagio, actually written by the 20th Century composer and critic Remo Giazotto.  Guy Wetmore Carryl's version of Little Miss Muffet is followed by Dudley Moore's cruelly accurate parody of Benjamin Britten's music, and Peter Pears' singing.  By all accounts Britten was not amused, but wasn't above a bit of parodying himself, as this Donizetti-esque passage in A Midsummer Night's Dream demonstrates. Jay Gatsby is another character pretending to be something he is not, which sits well with Charles Ives' parody of a not entirely accurate country band. Ern Malley was a fictitious Australian poet invented by two academics who threw random words together to sound like modern poetry. Fellow Australian Percy Grainger's Mock Morris, was a pastiche so convincing that many believed it to be based on original sources. This is followed by David Lodge parodying Chaucer, and Malcolm Arnold writing in an English folk dance style.

In his dissection of the Jif Lemon court case, the Rt Hon Robin Jacob observes that 'get-up cases are rare precisely because most people do read the label on most things'. Indeed, most people believed the label on their Joyce Hatto CDs until it was found that on many of them it wasn't actually Hatto playing: Other pianists' recordings had been substituted by her record producer husband. In the example I've chosen, the orchestra and conductor listed were found not actually to exist. A pastiche of a Greek epigram in Homer is paired with that master of parody, Arthur Sullivan in Offenbach mode. In Shaw's Pygmalion, common flowergirl Eliza Doolittle tries to convince everyone she's a lady; in the subsequent film adaption My Fair Lady, the singer Marni Nixon famously passed herself off as Audrey Hepburn to record the song vocals for the soundtrack. The final piece of music is the strange case of Rosemary Brown, who claimed that dead composers dictated music to her, astonishing musical experts. We'll hear her channel 'Chopin's' Impromptu in E flat major. Genuine? Pastiche? Passing off? The jury's still out on that one.       

Producer – Ellie Mant

The hidden history of plant-based diets