Main content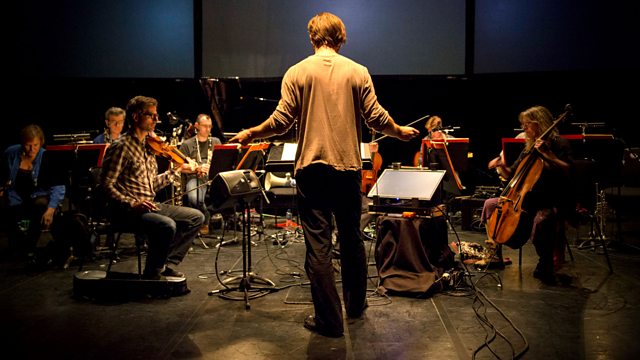 London Sinfonietta
Robert Worby presents music for strings by Xenakis, Vivier, Mica Levi and GF Haas. Plus composer Gerald Barry and soprano Barbara Hannigan talking about their working relationship.
Robert Worby presents 20th- and 21st-century music for strings with the London Sinfonietta conducted by André de Ridder, from Xenakis's 1971 exploration of texture and timbre 'Aroura', to a world premiere from Mica Levi, BAFTA-nominated for her recent 'Under the Skin' film score.
Plus Modern Muses, a new, downloadable series looking behind some of the key composer-performer partnerships of our times. Down the centuries, individual performers have frequently played a part in inspiring composers and shaping their music. Think of Handel's operas as a vehicle for the castrato Farinelli, or Mozart's late, great Clarinet Concerto for Anton Stadler, through to Britten's outpouring of songs and operatic roles for Peter Pears. Today's composers, too, often find themselves drawn to particular performers and develop a close and fruitful working relationship. To begin Modern Muses is just such a partnership: Gerald Barry and soprano Barbara Hannigan. Together they discuss past and future collaborations, including the role of Cecily in Barry's 2010 comic opera The Importance of Being Earnest.
And from January's Total Immersion event, Mauricio Kagel's 'Rrrrrrr...': a playful sequence of duos, drawing at once on standard percussion and every day sounds, noises, and objects.
Iannis Xenakis: Aroura
ClaudeVivier: Zipangu
London Sinfonietta
André de Ridder (conductor)
Modern Muses:
Gerald Barry and Barbara Hannigan
Gerald Barry: The Bitter Tears of Petra von Kant (Act 4, excerpt)
Barbara Hannigan....Gabi (soprano)
Stephanie Friede....Petra (soprano)
Orchestra of English National Opera
André de Ridder (conductor)
Mica Levi: Greezy
Georg Friedrich Haas: Open Spaces
London Sinfonietta
André de Ridder (conductor)
Mauricio Kagel: Rrrrrrr...
Merlin Jones and Sam Wilson (percussion).
Stockhausen's Gruppen – What's the Big Deal?