Main content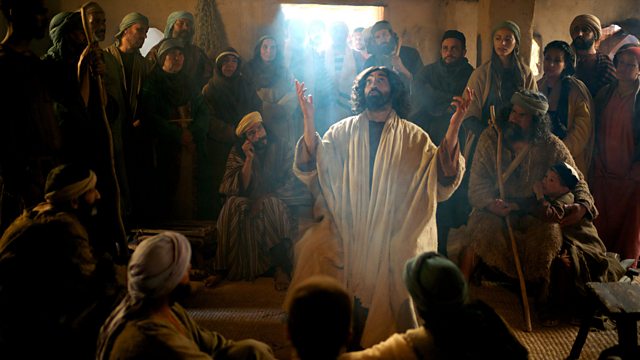 An account of the life of Jesus of Nazareth based on the Gospel of John. Narrated by David Harewood.
An account of the life of Jesus of Nazareth. In the opening of the Gospel, Jesus is introduced as the Word of God appearing in human form. He will bring light and salvation to the world, opening up a way to God, but he will ultimately be rejected.
Jesus is baptised and gathers around him a circle of disciples. He begins his ministry of preaching, teaching and performing miracles. He changes water into wine, heals a paralysed man, walks on water and feeds 5,000 people with just two loaves and fishes. These are signs of his God-given power.
Jesus emerges as a powerful and charismatic teacher with encouraging words about the Kingdom of God and how membership can be achieved by following him. Whilst many are attracted towards Jesus's message, the Jewish authorities become hostile, particularly when Jesus overturns the tables of the moneylenders in the temple in Jerusalem. They challenge his authority, accusing him of breaking Jewish law and making himself equal with God.
More episodes
Previous
You are at the first episode
Credits
| Role | Contributor |
| --- | --- |
| Narrator | David Harewood |
| Jesus | Selva Rasalingam |
| John | Mourad Zaoui |
| Simon Peter | El Muhmoudi M'Barek |
| James Son of Zebedee | Abdelilah Wahbi |
| Andrew | Abdelaziz N'Mila |
| Philip | Ait Youssef Youssef |
| Bartholomew | Mohamed N'Mila |
| Thomas | Abderrahim Khira |
| Matthew | Mohamed El Korchi |
| James Son of Alphaeus | Noureddina Cherfaoui |
| Mary | Karima Gouit |
| Thaddaeus | Mostafa Charfaoui |
| Simon the Zealot | Dahabi Bouragate |
| Judas Iscariot | El Dejjiti |
| Mary Magdalene | Leila El Fadili |
| Nicodemus | Hassan Mejlale |
| Samaritan Woman | Ilhan Oujri Oujri |
| Pharisee | Ahmed El Harrak |
| Pharisee | Mosaid Abderrahim |
| Pharisee | Baala Mohamed |
| Production Company | Big Book Media |
| Production Company | CTVC |
| Director | David Batty |
| Producer | Hannah Leader |
| Associate Producer | Ray Bruce |