Main content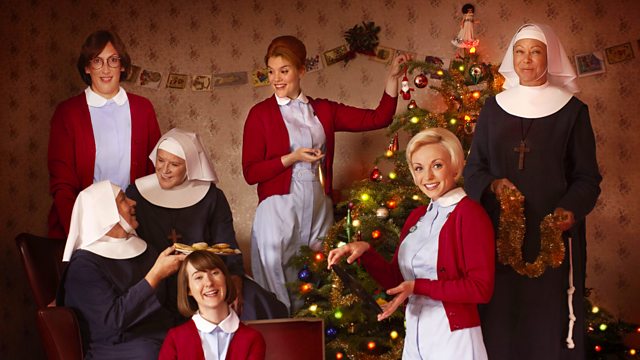 Christmas Special 2014
Drama series about a group of midwives. 1959 is drawing to a close as the residents of Poplar prepare for Christmas, and the midwives are busier than ever.
The episode opens in 2005 with Jennifer Worth at home preparing for Christmas with husband Philip. She reminisces about the friends and colleagues of her youth at Nonnatus House, and as she talks we cut back to 1959.
Rehearsals are under way for the Sunday School Christmas concert and while Chummy tries to choreograph dancing snowflakes, Trixie sets to work designing a Father Christmas outfit for Fred to wear.
Chummy is enlisted to help run a poorly managed mother and baby home and with Patsy's help succeeds in bringing some Christmas joy into the residents' lives.
Cynthia is drawn deeply into a case concerning two former residents of a Victorian mental hospital who have been left to fend for themselves and are barely coping. This causes Cynthia to make a life-changing decision.
There is but one question in all of their hearts, though it goes unspoken - what will 1960 bring?
Clips

Credits
| Role | Contributor |
| --- | --- |
| Sister Julienne | Jenny Agutter |
| Sister Evangelina | Pam Ferris |
| Chummy Noakes | Miranda Hart |
| Sister Monica Joan | Judy Parfitt |
| Trixie Franklin | Helen George |
| Cynthia Miller | Bryony Hannah |
| Shelagh Turner | Laura Main |
| Patsy Mount | Emerald Fennell |
| Sister Winifred | Victoria Yeates |
| PC Peter Noakes | Ben Caplan |
| Dr Patrick Turner | Stephen McGann |
| Fred Buckle | Cliff Parisi |
| Mature Jennifer Worth | Vanessa Redgrave |
| Philip Worth | Ronald Pickup |
| Freddie Noakes | Liam Kiff |
| Timothy Turner | Max Macmillan |
| Tom Hereward | Jack Ashton |
| Maxine | Juliana Rose Cotton |
| Avril Fox | Louisa Connolly-Burnham |
| Denise Henshall | Lea Jackson |
| Mrs Henshall | Lucy Black |
| Stall Holder | Simon Sherlock |
| Victor | Daniel Cerqueira |
| Nancy | Kacey Ainsworth |
| Sister Maltby | Ruth Sheen |
| Yvonne Corless | Josie Farmiloe |
| Miss French | Anna Farnworth |
| Writer | Heidi Thomas |
| Director | Thaddeus O'Sullivan |
| Producer | Ann Tricklebank |
| Director | Philippa Lowthorpe |
| Len Warren | Tim Faraday |
| Producer | Hugh Warren |
| Pearl Winston | Lorraine Stanley |
| Registrar | David Annen |
| Muriel | Sarah Ridgeway |
| Jenny Lee | Jessica Raine |
| Mrs Hawkes | Lacey Bond |
| Eddy | Benjamin Wilkin |
| Maureen Warren | Hayley Squires |
| Conchita Warren | Carolina Valdes |