Main content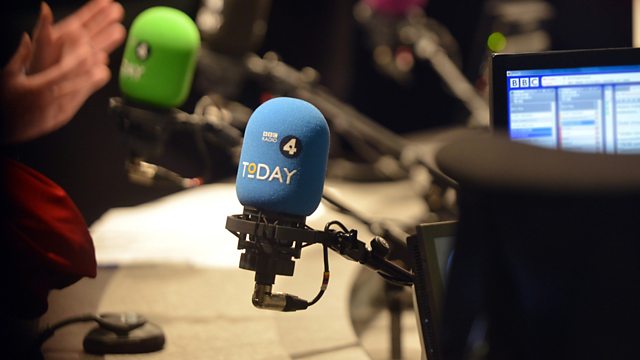 10/04/2015
Morning news and current affairs. Including Sports Desk, Weather and Thought for the Day.
Today's running order
0650
Cambridge is a rapidly growing city; its population is expected to rise by 20 per cent over the next 20 years. New roads and thousands of homes need to be built, but there's been controversy over whether that means large swathes of the green belt will have to go. Simon Payne is director of Environment at Cambridge City Council and Michael Monk is chairman of the Campaign to Protect Rural England in Cambridgeshire.
0655
The medicine charity MSF has launched a medical aid operation in the Mediterranean Sea to provide search and operation services to migrants who attempt to come to Europe from Africa. The joint operation between MSF and MOAS (Migrant Offshore Aid Station) will run from May to October, when thousands of people are expected to risk their lives attempting to make the journey. Last year 170,000 migrants were rescued, with a known death toll of 3400. The Italian navy's search and rescue operation, Mare Nostrum, was discontinued in November 2014 due to a lack of funding from European governments and has not been replaced. Hernan del Valle is MSF's head of Humanitarian Affairs.
0710
Former Australia captain and legendary cricket commentator Richie Benaud has died at the age of 84. Bill Awry is a former Australian cricketer.
0715
The police watchdog is to investigate the former head of the Metropolitan Police Lord Stevens over evidence he gave to the Macpherson inquiry into the murder of the black teenager Stephen Lawrence. Ben Ando is a BBC Correspondent.
0720
Public sector workers and people employed in large private companies will be entitled to three extra days of paid leave to do volunteering, if the Conservatives win the election. The Prime Minister has said the move will affect up to 15 million people. The Labour Party has said the scheme would put huge extra pressure on public services already facing cuts. Eric Pickles is the Communities Secretary.
0725
The population in the east of England this morning is growing rapidly. Large scale housebuilding is having an impact on transport. Our reporter Tom Bateman is at Colchester North Station.
0730
Doctors and nurses who treated Ashya King, the five-year-old boy with a brain tumour who was taken from hospital by his parents last year to undergo a new kind of cancer treatment, have spoken for the first time about the case.  Staff at the hospital in Southampton were subjected to widespread public abuse after Ashya's parents were arrested and then imprisoned in Spain. Speaking exclusively to the BBC they said they still believed the parents were wrong to take him, and that the case has raised difficult questions for the NHS. Dr Peter Wilson is clinical director for the children's hospital at Southampton General Hospital.
0740
Ahead of the election, the debate on immigration is not only about the numbers of people who come into the country but also about skills. The East of England is an area of high migration, attracting foreign workers from the highly skilled to the low or unskilled. But how do you strike the right balance between the economic and the social arguments on immigration? Mishal Husain reports.
0750
Parts of England are facing high levels of air pollution later today. Health officials are warning that people with heart and lung problems could be particularly vulnerable. The worst-affected area is expected to be around Brighton, Eastbourne and Hastings, where the forecast is for "very high" pollution, or ten on a scale of one to ten. Nigel Jenkins is Project Manager at Sussex Air (an organisation which promotes better air quality in Sussex, members are mostly local councils, Environment Agency, Health Protection Agency) and Professor Paul Monks is professor of Atmospheric Chemistry at the University of Leicester and chair of the Air Quality Expert Group which advises the Department for the Environment, Food and Rural Affairs.
0810
With one of the fastest growing populations in England, the Eastern region faces big problems over infrastructure and housing provision. Also high on voters' agendas is immigration. The region has one of the highest total net migration rates and saw an increase of 70% in the foreign-born population of the region between 2001-2011. That includes both low skilled workers essential for the agricultural industry but also high skilled international migrants fuelling the boom in the bio-tech sector around Cambridge. Stuart Agnew is a UKIP MEP for the East of England and Professor Sir Leszek Borysiewicz is vice Chancellor of Cambridge University.
0820                                                            
Former Australia captain and legendary cricket commentator Richie Benaud has died at the age of 84.
0830
Cuba and the United States are to hold meetings today and the presidents will meet at a regional summit in Panama tomorrow. Will Grant is our correspondent at the talks.
0835
New research suggests middle aged people who are underweight are more than a third more likely to develop dementia than those with a healthy BMI. The findings directly contradict previous evidence which cited being overweight as a risk factor. Dr Nawab Qizilbash is head of OXON epidemiology a company that does observational research for the pharmaceutical industry.
0840
Detectives investigating a raid on a safe deposit firm in London's famous jewellery quarter believe up to 70 boxes were opened during the burglary. A gang used heavy equipment to break in to a vault at Hatton Garden Safe Deposit company over the Easter weekend before police were alerted two days ago. Yan Glassey is the Chief Inspector of the Swiss Central Brigade and is the Lead Investigator on the international investigation into the Pink Panther gang of jewellery thieves.
0845
It is the Oxford Cambridge boat race this weekend and finally the women's teams will race on the Thames too.  It has been a long time coming. Jane Kingsbury rowed for Cambridge ('71/'72) and has written "Cambridge University Women's Boat Club 1941-2014; the Struggle against Inequality".
0850
Grown-up children stuck living with their parents would be able to claim a Government loan of up to £2,000 to move out and rent their own home under proposals set out by Nick Clegg. The Liberal Democrat plan - called "Help to Rent" - would mean people in work aged between 18 and 30 could use a low-interest loan to fund the deposit needed to rent a property. The scheme applies to England only. Simon Hughes is the Liberal Democrat Minister of State for Justice and Civil Liberties.
0855
We speak to three of the BBC's 'Generation 2015' group of younger voters - all from different parts of the East of England Region about what they think of the election campaign. Ross Mumford, lives in Whittam near Colchester; Francesca Keig, 21 lives in Colchester and Tom Diamond, lives in Norwich.
All subject to change.