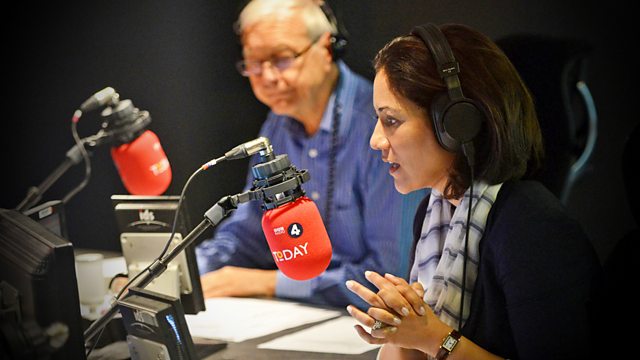 08/04/2015
Morning news and current affairs. Including Sports Desk, Weather and Thought for the Day.
Last on
Today's running order
0645
The American election cycle is an even longer one than it is here. Campaigning has already started for the election next year.  Senator Rand Paul has now officially announced his intention to run for President on the Republican ticket. Aleem Maqbool reports from Louisville , Kentucky.
0650
Hundreds of safety deposit boxes have been emptied on a raid in Hatton Garden, London's most exclusive jewellery district. Burglars are believed to have used heavy cutting equipment to access the vault over the Easter weekend. Around 300 boxes are believed to have been accessed by raiders. The Flying Squad is investigating. Roy Ramm is former commander of the Flying Squad at Scotland Yard.
0655
The secret communication of gibbons has been interpreted for the first time in a study published in the open access journal BMC Evolutionary Biology. The research reveals the likely meaning of a number of distinct gibbon whispers, or 'hoo' calls, responding to particular events and types of predator, and could provide clues on the evolution of human speech. Esther Clarke is lead author of the research and a Research Fellow in the Department of Anthropology at Durham University.
0710
New exit checks will take place at all airports and ports in the UK from today. Information that is included in passports or travel documents will be collected for passengers leaving the country on scheduled commercial international air, sea and rail routes. But after concerns about delays and congestion at ferry ports and terminals, the government has allowed on a phased introduction. The new system is meant to crack down on illegal immigration and those overstaying their visas. Phasing in the criteria will mean that the government's promise to introduce exit checks by April 2015 will not be met in full. John Keefe is the Director of Public Affairs for Eurotunnel UK.
0715
British Gas has confirmed that it is in "advanced discussions" with the UK's biggest oil company Shell over a possible merger. Kamal Ahmed is the BBC's Business editor.
0720
Nicola Sturgeon has said the SNP would help make Ed Miliband Prime Minister if the Conservatives failed to win a majority in the general election. During his response in a live TV debate last night, Scottish Labour leader Jim Murphy said his party did not need any SNP help. Sturgeon and Murphy were taking part in a debate broadcast on the STV network in Scotland, which also featured Ruth Davidson (Conservative) and Willie Rennie (Lib Dem). Our reporter Colin Blane.
0725
A white South Carolina police officer in the city of North Charleston has been charged with murder over the shooting death of a black man who appeared to be fleeing from him. The New York Times has published video footage of the shooting, which shows the officer, Michael T. Slager, firing eight times into the back of Walter L. Scott as he fled, following some kind of scuffle. Laura Gaton is digital editor at The Post and Courier, Charleston's local newspaper.
0730
Labour will abolish the non-domicile rule if elected.  They say it could raise millions of pounds. Ed Balls is the Shadow Chancellor of the Exchequer.
0740
Live broadcasting, by streaming video of yourself has become the latest trend on social media. An app called Meerkat was showcased in the US earlier this year and took off with thousands of people watching broadcasts streamed through it. Then at the end of March a rival app, Periscope, was launched by Twitter. Periscope's already demonstrated its potential with users sharing world events including the protests in Ferguson, Missouri and even going behind the scenes at last week's leaders' debate. But who's broadcasting on it and is there anything worth watching happening? Rory Cellan-Jones is the BBC's Technology correspondent.
0750
A new camp for migrants has opened at Calais, 12 years after the closure of the original Sangatte refugee camp. Yesterday fifty women and children were taken to the new Jules Ferry camp. Men are not allowed to live in the camp but can set up their tents on council-owned land next door. Sanchia Berg reports.
0810
Labour will abolish the non-domicile rule if elected (see 0730). Lord Paul is a Labour peer who gave up non-dom status in 2010 and Robert Peston is the BBC Economics Editor.
0820                                                            
New exit checks will take place at all airports and ports in the UK from today (see 0710). Rebecca Williams is a BBC correspondent in Folkestone and John Vine is the former Independent Chief Inspector of Borders and Immigration.
0825
Last night was the BBC Music Magazine Awards, a big event in the classical music calendar. This year, the Recording of the Year has been awarded to Norwegian pianist Leif Ove Andsnes's recording of the Beethoven Piano Concertos. This is a recording that almost didn't happen - just before he went into the studio, Leif Ove's wife went into labour and gave birth prematurely to their twins. Leif Ove Andsnes joins us.
0830
New measures announced by the Conservatives to improve numeracy and literacy at the junction between primary and secondary. They say that those who fail aged 12 go on to fail GCSEs – so they want to intervene more positively. At the moment there is a fund that schools receive for every child that fails the English and Maths exam at the end of primary but they want this to be better used to improve a child's chance of success. Nicky Morgan is the Education Secretary.
0840
Greek Prime Minister Alexis Tsipras is preparing for talks with President Vladimir Putin during his visit to Moscow, which begin today. Experts, officials and European leaders have been left guessing whether the two men might be able to hammer out an economic deal. The meeting was announced last month as Greece ran into trouble in its debt negotiations with the European Union. Earlier this week, Greece has confirmed it will repay a €450m (£330m) International Monetary Fund (IMF) debt. Katya Adler is the BBC Europe editor.
0845
Islamic State has begun broadcasting English language news bulletins on their radio network al-Banyan – showing the increasing sophistication of the group's propaganda strategy. Laura Smith is an Arab media Analyst who has been monitoring al-Banyan.
0850
Our reporter Tom Bateman spoke to a voter in Bridgewater yesterday, who said we should replace politicians with a computer. Could an algorithm run the government? Kate Bevan is a technology writer for the Financial Times and The Guardian and Andrew Martin is secretary of the Society for the study of Artificial Intelligence (AISB) & PhD student at Goldsmith University.
All subject to change.
So you think you know the Today programme?