Main content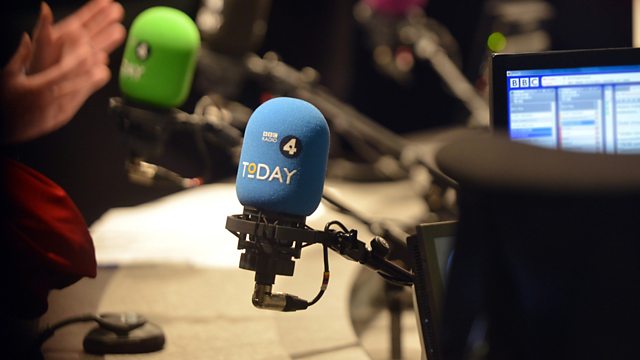 06/04/2015
Morning news and current affairs. Including Sports Desk, Weather and Thought for the Day.
Last on
Today's running order
0635
People over the age of 65 are seven times more likely to get skin cancer compared to 40-years ago, according to the charity Cancer Research UK. Older men are at the greatest risk from what health experts say is one of the most preventable cancers. Professor Richard Marais is director of the Cancer Research UK Manchester Institute.
0640
Young people should be made to vote in the first election that is scheduled after they have turned 18. The centre-left think tank the Institute for Public Policy Research recommends that making young people vote in the first election they are eligible for and adding a "none of the above" option on ballot papers will encourage teenagers to continue to vote as they grow older. Matthew Lawrence is the report author and research fellow for the centre-left think tank the IPPR.
0645
A lack of safeguards in place in Chinese boarding schools means pupils are at "high risk" of sexual and physical abuse. That's according to the international charity Save the Children. 30 million children attend boarding schools in China - usually the sons and daughters of farmers and migrant workers. Cases of abuse by teachers are regularly reported in Chinese media and the lack of government oversight at these schools is becoming a serious issue. Our China correspondent, Celia Hatton, has been speaking to one family about their battle to find justice for their son.
0650
Scientists have for a long time been trying to work out why humans appear to be the only mammals with chins. Researchers now think it may be down to the fact that humans started cooking food, which over time has meant our teeth have got smaller and that resulted in a larger jaw and the formation of the chin. Dr James Pampush is from the Department of Anthropology at the University of Florida.
0655
Ten years ago there was another election campaign underway, when, with just weeks to go, Britain's largest motor manufacturer MG Rover went into administration. The government tried and failed to find a buyer, and then set up a taskforce to provide support for the six and a half thousand workers who lost their jobs. Our Midlands correspondent Phil Mackie, who reported on the closure at the time, has been back to Longbridge to see how things have changed.
0710
Substantial changes to the pensions system come into force today.  People who are retiring no longer have to take out an annuity to provide them with a regular income. They can in theory withdraw their entire pension pot in a lump sum and spend on whatever they want.  The Chancellor described the changes as "the most comprehensive reforms in a century". Paul Lewis is the presenter of BBC Radio 4's Money Box and Gregg Mclymont is Shadow Minister for Pensions.
0715
The Scottish Secretary Alistair Carmichael has confirmed that the leaked memo claiming Nicola Sturgeon said she would prefer David Cameron in power was written in the UK Government's Scotland Office.  On Saturday the head of the civil service, Sir Jeremy Heywood, ordered an investigation into how the document came to be published in the Daily Telegraph. Ms Sturgeon says the account of her conversation with the French ambassador was "100% untrue" and French officials deny that she expressed a preference for PM. Stewart Hosie MSP is deputy Leader of the SNP.
0720
The International Committee of the Red Cross plans to send emergency aid to those caught up in the fighting in Yemen today. A coalition led by Saudi Arabia has been carrying out airstrikes on Houthi rebels in the country for the past two weeks, while Yemeni government forces have been fighting rebels in the port of Aden. The ICRC says it will send a cargo plane carrying medical supplies, and a small passenger plane of aid workers. Marie Claire Feghali is a spokesman for the charity.
0730
Young people should be made to vote in the first election that is scheduled after they have turned 18 (see 0640). Rick Edwards is  a writer and broadcaster and author of "None of the Above", Michael Yip, is a student at Warwick University and Durr- E Maknoon Tariq is student at King's College London.
0740
The Large Hadron Collider has restarted, with protons circling the machine's 27km tunnel for the first time since 2013. Particle beams are now travelling in both directions, inside parallel pipes, just below the speed of light. It will be another month though before anything starts colliding. Professor Andy Parker is head of the Cavendish Laboratory at Cambridge University.
0750
After days of street fighting in Yarmouk - a Palestinian refugee camp in Damascus - it's emerged that hundreds of civilians have managed to flee. The violence began last week when Islamic State militants pushed into the camp and clashed with Palestinians who are defending it. UN aid workers said more than ninety civilians escaped on Sunday, but conditions for those who remain are said to be desperate, after days of street fighting. Lyse Doucet is the BBC's chief international correspondent and Jan Egeland is Secretary General of Norway Refugee Council and former UN Undersecretary General for Humanitarian affairs and emergency relief coordinator.
0810
Substantial changes to the pensions system come into force today (see 0710). Today reporter Sanchia Berg has been out in west London to speak to people about what effect the new pension rules were having on their retirement plans. Steve Webb is a Liberal Democrat MP and the Minister of State for Pensions.
0820                                                            
Election battles in Northern Ireland can be divisive affairs, but next month's vote carries the added intrigue that the 18 seats there may well matter if there is a hung parliament. Sinn Fein don't take their seats at Westminster but the Democratic Unionist Party have already made clear that they are prepared to talk to both Labour and the Conservatives about offering them support in the Commons if the price is right. Our Ireland Correspondent Chris Buckler has been looking at the race and what the parties would do in the event of a close finish.
0830
Kenya's government has identified one of the al-Shabaab gunmen they believe is responsible for killing nearly 150 people in a brutal attack at a university on Thursday as the son of a Kenyan government official. Kenya's interior ministry said the gunman, named as Abdirahim Abdullahi, had been known to police as his father had reported his disappearance to security officials. Mary Harper is the World Service's  Africa Editor and an al-Shabaab expert and Manoah Esipisu is a State House Spokesman for the Kenyan Government.
0840
The biggest political story over the weekend was the claim in The Telegraph that Nicola Sturgeon told a French diplomat she would rather see David Cameron in Downing Street than Ed Miliband. The story was quickly and categorically denied by Ms Sturgeon. But Scotland and the potential role of the SNP in the event of a hung Parliament is fast becoming one of the defining issues of this election campaign – why else would the Daily Mail call Nicola Sturgeon "The Most Dangerous Woman in Britain" or Ed Miliband rush to condemn her over the Telegraph story even when it was so strongly contested. Norman Smith is our Assistant Political Editor.
0845
Many Christians are vocal about their opposition to issues such as equal marriage rights for gay people and sex before marriage. Such traditionalist Christians have had these principles challenged by an age of sexual tolerance and equality. But a new BBC2 documentary suggests it is an illusion to think that Christian views on sex and gender roles have ever been fixed. Diarmaid Macculloch is Professor of the History of the Church at the University of Oxford and presenter of the new BBC2 series 'Sex And The Church'.
0850
Image is important in politics, so David Cameron will probably be pleased by the amount of coverage his nuzzling up to a baby lamb got yesterday. How much are voters swayed by these kind of pictures? Or are we so aware of what politicians are trying to do now that they have little effect? And what about the things that politicians don't want you to see, how do you stop pictures going viral? Jim Waterson is deputy editor of Buzzfeed UK and Tom Mludzinski is head of political polling at ComRes.
0855
Substantial changes to the pensions system come into force today. People who are retiring no longer have to take out an annuity to provide them with a regular income. They can, in theory, withdraw their entire pension pot in a lump sum and spend on whatever they want. The Chancellor described the changes as the most comprehensive pension reforms in a century. We speak to two financial advisers to ask what people approaching retirement should do now the new rules are in place. Ros Altman is an independent pensions expert and Tom Mcphail is head of Pensions Research at Hargreaves Lansdown.
All subject to change.
Broadcast