Main content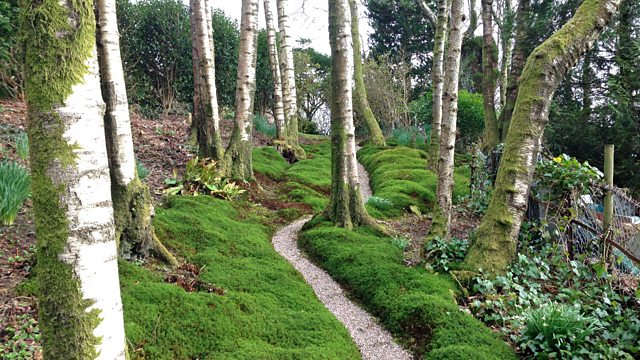 Tyneside
Eric Robson chairs the horticultural panel programme from Newcastle. Bob Flowerdew, Bunny Guinness and Matthew Wilson answer questions from an audience of local gardeners.
Eric Robson chairs the programme from Tyneside. Bob Flowerdew, Bunny Guinness and Matthew Wilson answer questions from an audience of local gardeners.
Eric explores the moss garden at Windy Hall and Bob visits James Wong's garden.
Produced by Darby Dorras
Assistant Producer: Hannah Newton
A Somethin' Else production for BBC Radio 4.
Last on
Windy Hall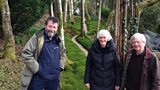 Eric Robson looks round the moss garden with Diane Hewitt and David Kinsman

This Week's Questions
Q. I have a plastic greenhouse that keeps blowing away. What would the panel recommend for renters who can't install a permanent structure?

A. Bob – A greenhouse is really only needed in March, April and May. A large cold frame will do the same thing. You can grow your own greenhouse by creating a frame from old sunflowers with a canopy thrown over. Polytunnels are quite sturdy as they are held down by the soil on either side.

Q. Could you recommend a seed potato suitable for a small garden? Last year slugs attacked my potatoes.

A. Bob - When I have grown lots of potatoes, Cara seems to have been attacked more than other types. Try rocket as it provides quick crops and is a good potato for boiling. Try putting out some old vegetables as bait for the slugs and to distract them from your crop.

Bunny – I would go for new potatoes. For the new potato taste later in the year, try Pink Fir Apple. Anya is a good flavourful, waxy potato.

Q. What can I plant beneath Copper Beech trees for some summer colour?

A. Matthew – They are very shallow rooting and have a large root network. They tend to remove any goodness from the soil and prefer thinner soils. The copper beech will remove even more light than the standard beech. Bulbs will be the best option if you plant them in dense carpets, starting with snowdrops, crocus and small narcissi. You could also add cvyclamen. Add a layer of organic mulch to prevent damage to the root system.

Bunny – For a more exotic option, try planting Lilium Martagon. They do very well in dry, shaded areas. For some ground cover, try Euonymus Silver Queen with its variegated leaves. Brunnera have many varieties and pretty blue flowers. Provide them with long soaks regularly.

Q. I run a plant-growing scheme and have a sale in September. Could the panel recommend some plants that will be ready in time?

Bob – The Parrot Plant or Congo Cockatoo plant would work. They are part of Busy Lizzie family and root very easily.

Matthew – Pennisetum Rubrum is a very impressive grass. It should be taken indoors over winter.

Q.  What is the best way to propagate Camellias?

A. Matthew – They produce decent seed. I use sand paper on the seed first, place them in a tray with some vermiculite and place outside.

Bunny – Take cuttings in late summer and take newer growth. Put it in a tray of fifty grit and fifty peat. They do well in a mist house, but you can use a polybag instead.

Matthew – They are prone to disease so be very vigilant.


Broadcast