Main content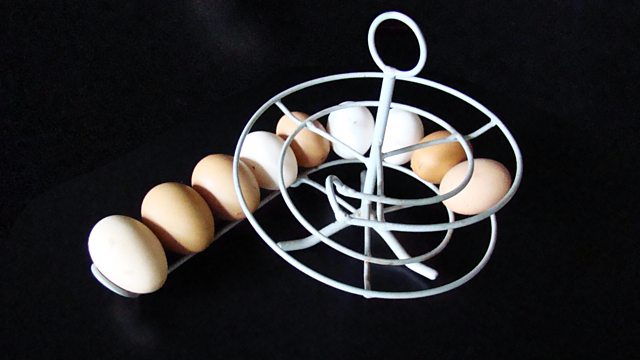 The Joy of Eggs
As limits on egg consumption are revised in the US, Sheila Dillon asks if the humble hen's egg is shaking off a once-tarnished reputation to become celebrated again.
We were once told 'Go to work on an egg' but health warnings later saw us cut the number we eat. As the US Dietary Advisory Committee drops its advice on restricting egg consumption Sheila Dillon asks if we're falling back in love with the egg. Similar limits in the UK were lifted several years ago after evidence suggested their cholesterol did not have a significant effect on our blood cholesterol after all.
The amount we eat in the UK is now continuing to rise and the trend for keeping hens at home or in community projects has seen many people collecting their own too. Sheila Dillon asks if the humble egg is breaking free of a tarnished reputation and proving itself to be a versatile protein provider worth celebrating.
She hears reports from US where yolk-dodgers have demanded white-only 'heart healthy omelettes' and similar concoctions while in Silicon Valley a 'solution' to the egg has been created in a plant protein based alternative which they claim can mimic many of the egg's functions.
But back in the UK she finds a more celebratory atmosphere - a major retailer has begun supplying guaranteed double yolkers, Neil Rankin, founder of 'Bad Egg' Restaurant has kept his supplier in steady business while Genevieve Taylor found her hens laid so many she had to create new recipes to use them all.
Has the egg been given too much of a bad rap and is now breaking free and what does the future hold?
Presented by Sheila Dillon and Produced in Bristol by Anne-Marie Bullock.
Genevieve Taylor's spicy fried eggs with tomatoes, avocado & coriander
This is just the sort of thing I often make for lunch if I'm working at home - ready in just a few minutes, its quicker, and to my mind way more satisfying, than a sandwich. If you don't have an avocado, simply leave it out, or substitute it for something else, perhaps a handful of rocket or other salad leaves. Be generous with the spices and herbs, they are the making of this dish! I usually make this as a solitary lunch and eat it straight from the pan to save on washing up but do slide the lot onto a plate if you prefer. 
enough for 1
You need
a pinch each of cumin seeds & dried chilli flakes
a good glug of olive oil
a clove garlic, thinly sliced
a handful of cherry tomatoes, halved
2 large eggs
a generous sprinkle of freshly chopped coriander
a ripe avocado, peeled & roughly chopped
a dollop of Greek yogurt, full fat or half fat, as you please
salt & freshly ground black pepper to taste
a sprinkle of smoked paprika, to taste
What to do
Add the cumin and chilli flakes to a dry frying pan and set over a medium heat. Allow to toast for about 30 second or so. This step really wakes up the flavours in the spices so is definitely worth the tiny bit of extra effort it takes. Add the oil to the pan, followed by the garlic, and stir fry for another 30 seconds or so. Then toss in the tomatoes and keep stir frying for about a minute until they are just softening. Push the tomatoes aside, making a little well, then crack in one of the eggs. Make another little well in the tomatoes on the other side of the pan and crack in the other egg. Season the tops of the eggs with a little salt and pepper and a sprinkle of smoked coriander, to taste and allow the eggs to cook over a medium low heat for a few minutes until they are set to your liking. Turn off the heat and scatter over the avocado and coriander. Finally dollop the yogurt into the middle of the pan and tuck in whilst its piping hot.
Genevieve Taylor's hot cross bun & butter pudding, with pears & dark chocolate
Bread and butter pudding is a complete leftovers classic, and a pack of slightly stale hot cross buns - the result of one of those buy one get one free offers we're all suckers for - was the inspiration for this easy treat. Perfect comfort food for an Easter thats not quite as warm as we might hope. 
You need
5 hot cross buns
about 50g butter
2 juicy pears
100g dark chocolate
400ml milk
4 large eggs
a pinch each of grated nutmeg & cinnamon
a tablespoon of demerara sugar
What to do
Preheat the oven to 180°C / 160°C fan / gas 4)
Slice the buns downwards, from top to bottom, so that each is cut into about 5 one centimetre thick pieces. Butter each slice - be generous, the butter will add a richness that this pudding deserves and it means you can happily use just milk rather than a mixture of milk and cream. Arrange the buttered slices into a deep baking dish, overlapping them in rows so they resemble fish scales.
Peel and core the pears and cut each into 8 wedges, tucking them between the hot cross bun slices. Break up the chocolate into pieces and tuck those in too.
Crack the eggs into a bowl and whisk in 400ml milk, whole or semi, as you wish. Add a little extra grated nutmeg and ground cinnamon to taste. Pour gently into the dish, allowing it to slowly soak through the gaps as you go. Sprinkle over the demerara sugar and bake in the oven for about 30-35 minutes. Cover the top loosely with foil after about 25 minutes if it looks to be getting a little dark. It is done when the custard has just set but still has a slight wobble. Serve warm from the oven.
.
Credits
| Role | Contributor |
| --- | --- |
| Presenter | Sheila Dillon |
| Interviewed Guest | Neil Rankin |
| Interviewed Guest | Genevieve Taylor |
| Producer | Anne-Marie Bullock |