Main content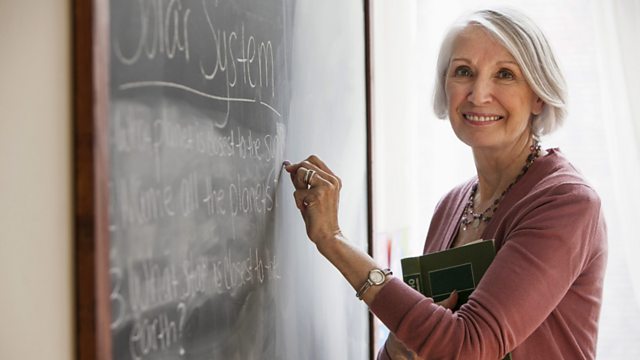 Sex by Numbers, Ageism in Teaching, Pregnant Women in Detention
British sex numbers, ageism in teacher recruitment, pregnant women in detention, blues pioneer Mamie Smith and business development projects for Syrian refugees. With Jenni Murray.
Sex by Numbers - What statistics can tell us about sexual behaviour. David Spiegelhalter, Professor of Statistics at Cambridge University, analyses new data from Britain's National Survey of Sexual Attitudes and Lifestyles and tells us how much sex Britons are really having.
Ageism in recruiting women teachers - Chris Keates from the teachers' union NASUWT says that discrimination against women aged 50-plus is on the increase.
Pregnant Women in Detention - Cross-party MPs have called for an end to the detention of pregnant women. Midwife Morag Forbes and Theresa Schleicher, casework manager at Medical Justice say they have evidence that some pregnant women in detention are receiving sub-standard medical care.
Mamie Smith was a celebrated black singer from the jazz era who in 1920 recorded the song Crazy Blues. This went on to sell a million copies in one year. Judi Herman reports on how Mamie was a pioneer, paving the way for other women blues singers who followed her.
Business development projects for women in Syrian Refugee Camps - A project led by the charity Women for Women International, has taught 20 Syrian widows business skills. Mandana Hendessi visits them in Kawergosk Camp.
Presenter: Jenni Murray
Producer: Rebecca Myatt.
Last on
Chapters
Sex by Numbers

Duration: 07:20

Agesism In Teacher Recruitment

Duration: 06:22

Spoons Feature

Duration: 05:33

Detaining Pregnant Women

Duration: 08:07

Mamie Smith

Duration: 08:34

Mandana Hendessi

Duration: 05:57

Sex by Numbers

How much sex are Britons really having? Less than they used to, according to the latest major survey of sexual behaviour.  David Spiegelhalter, author of Sex by Numbers and Professor of Statistics at Cambridge University, analyses the new data and explains what we are all doing, how often, and how it has changed. 

Agesism In Teacher Recruitment

Excessive monitoring, denied pay progression and feeling undervalued are sentiments that older female teachers have portrayed, according to the latest survey carried out by the Teacher's Union (NASUWT). They say that discrimination towards this age group is on the increase and as a consequence, a significant percentage – 78% - admitted that they've "seriously considered leaving their job in the last 12 months".  The survey conducted in February and March, attracted over 550 responses from despondent female teachers aged over 50. A massive 75% said that they would not recommend teaching as a career, which reflects their attitudes towards the profession in its current state. Jenni talks to the union's General Secretary, Chris Keates about why prejudice against this particular age group appears to be forcing older women out of the profession. 

Spoons Feature

The history of the world is usually told through the invention of weapons or industrial machines. But food journalist Bee Wilson argues that the history of how we prepare the food we eat is far more revealing. From the birth of the fork in Italy – perfect for pasta – to the reasons Americans - and no one else - use cups to bake, 'Consider the Fork' is a history of the art of cooking through the implements we use to prepare our food. Bee invited Catherine Carr to her house, where they started with the humble wooden spoon.

Detaining Pregnant Women

A recent report from a cross-party group of MPs called for an end to the detention of pregnant women, a recommendation made previously by over 300 organisations, including the Royal College of Midwives and the Royal College of Obstetricians and Gynaecologists. Jenni speaks to the charity Medical Justice who say they have evidence that some pregnant women in detention are receiving sub-standard medical care, putting the life of both mother and child at risk. 

Mamie Smith

In August 1920 Mamie Smith recorded the song Crazy Blues and it  went on to sell a million copies in one year alone. She was a pioneer in many respects paving the way for the perhaps more famous women blues singers who followed her. Judi Herman spoke to Buzzy Jackson, author of 'A Bad Woman feeling Good - Blues and the Women who sing them' … and to Adam Gussow, Associate Professor of English and Southern Studies at the University of Mississippi as well as to Gill and Gary Atkinson, the couple who run Document Records which has collected her work.




Mandana Hendessi

Bringing up a family inside a refugee camp has many challenges such as threats to personal safety, lack of basic resources and the monotony of day to day life. However for some entrepreneurial Syrian women, setting up their own  small businesses has helped them to look forward to better futures for them and their families. A new project, led by Women for Women International, has seen 20  Syrian widows  being taught business  skills and given psycho-social counselling. Mandana Hendessi  has seen the life changing effects of this from her recent visit to the  Kawergosk Camp where the women are based.

Credits

| Role | Contributor |
| --- | --- |
| Presenter | Jenni Murray |
| Producer | Rebecca Myatt |
| Interviewed Guest | David Spiegelhalter |
| Interviewed Guest | Chris Keates |
| Interviewed Guest | Morag Forbes |
| Interviewed Guest | Theresa Schleicher |
| Interviewed Guest | Judi Herman |
| Interviewed Guest | Buzzy Jackson |
| Interviewed Guest | Adam Gussow |
| Interviewed Guest | Gill Atkinson |
| Interviewed Guest | Gary Atkinson |
| Interviewed Guest | Mandana Hendessi |

Broadcast