Main content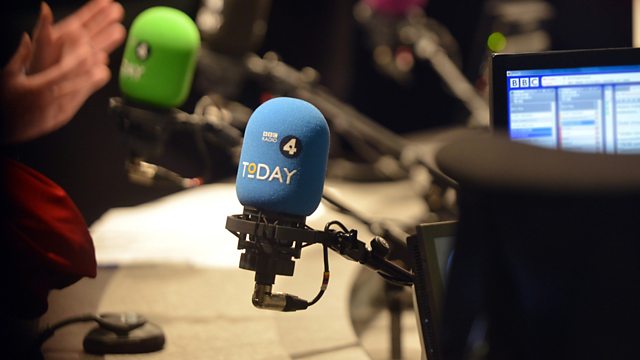 31/03/2015
Morning news and current affairs. Including Sports Desk, Weather and Thought for the Day.
Last on
Today's running order
0650
A colonial-era statue of Cecil Rhodes on campus at the University of Cape Town has now been boarded up after a two week campaign from students demanding its removal. Dr Max Price is the Vice Chancellor of the University of Cape Town.
0655
The RSPCA has launched an appeal for homes for horses after an unprecedented number have been found abandoned. Duncan Kennedy is on the line from Odiham in Hampshire.
0710
The verdict of Zulkipli Abdullah charged with the murder of two UK medical students in Borneo is due out. Neil Dalton and Aidan Brunger, both 22, were Newcastle University students on a placement at Sarawak General Hospital when they were stabbed to death after a bar brawl in Kuching. If found guilty Abdullah faces the death penalty. Our Malaysia correspondent Jennifer Pak reports.
0712
Our economics editor Robert Peston reports on tax.
0719
Plaid Cymru launch their election manifesto today - with a call for Wales to receive the same level of funding as Scotland. In the latest of our 100 constituencies in a 100 days series, Hywel Griffiths has been to Llanelli - where Plaid hope they can be first past the post.
0723
Some people thought David Cameron was a little out of order yesterday when he made his election announcement on the steps of Downing St -- was he too personal in his references to Ed Milliband? Or was he simply more direct than others have been in recent years.
0730
Aid workers in Yemen say an air strike at a refugee camp in the north of the country has killed 40 people and wounded at least 200 others. State media said Saudi planes were responsible, but Yemen's foreign minister said the deaths and injuries at the Al-Mazrak camp in Hajjia province had been caused by what he called artillery strikes by Iranian-backed Houthi rebels. Our security correspondent Frank Gardner reports.
0740
This year is the 60th anniversary of the Eurovision Song Contest. To mark the event, a special concert celebrating Eurovision's greatest hits is being held at the Hammersmith Apollo in London tonight (and will be shown on Friday night on BBC1). We hear from Richard Herrey of the 'Herreys' who won in 1984, and author John Kennedy O'Connor.
0750
For more than 60 years, a small village nestled in the North Yorkshire countryside has provided a unique way of life for people with learning disabilities. They live and and work side by side with those who support them on a voluntary basis - called co-workers. But now a battle between the villagers and the charity which runs the project is being tested in the High Court today. Camphill Village Trust says the support workers must become paid employees or face eviction. We speak to Jonathan Reid, a co-worker for four people with learning disabilities in Botton village, and Huw John, Chief Executive of Camphill Village Trust.
0810
We hear from Prime Minister David Cameron.
0830
Plaid Cymru launch their election manifesto today - with a call for Wales to receive the same level of funding as Scotland. The Welsh nationalist party has failed to build the same support as its Scottish counterpart the SNP in recent years and one of its former leaders, Lord Elis-Thomas, says he can't blame Welsh voters for sticking with Labour. We hear from Plaid Cymru leader, Leanne Wood.
0839
We speak to author Suki Kim, who has written a book about her six months teaching English to the sons of the North Korean elite at Pyongyang University of Science and Technology.
0843
Today marks a year since the new inquests began into the deaths at the Hillsborough disaster. A woman who lost her brother has told the BBC she can't face going to any more of the hearings than is absolutely necessary. Julie Fallon says sitting through traumatic evidence is tough - and having to stay silent in court makes it doubly difficult. Our reporter Ben Schofield has caught up with Julie and other families - and looks at some of the evidence heard over the past year.
0848
Our correspondent Will Ross reports on Nigeria.
0850
US political commentator and satirist, PJ O'Rourke will be reflecting on the election from a US perspective as part of a documentary.
Broadcast