Main content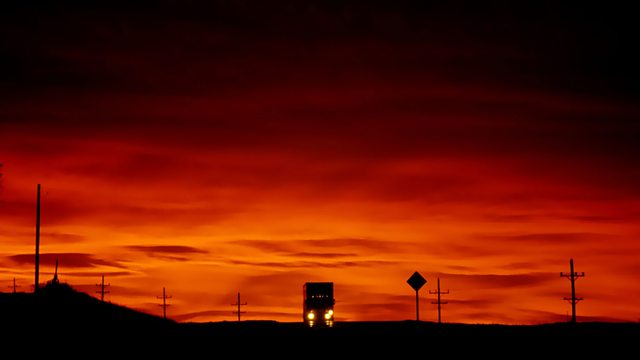 Bach's St John Passion
Jonathan Swain presents a performance of Bach's St John Passion given at the 2014 Proms. Roger Norrington conducts the Zurich Chamber Orchestra.
Jonathan Swain presents a performance of Bach's St John Passion from the 2014 BBC Proms conducted by Roger Norrington.
1:01 AM
Bach, Johann Sebastian [1685-1750]
Johannespassion BWV.245
James Gilchrist (Evangelist, tenor), Neal Davies (Christus, bass-baritone), Lucy Crowe (soprano), Clint van der Linde (countertenor), Joshua Ellicott (tenor), Hanno Muller-Brachmann (bass), Zürcher Sing-Akademie, Zurich Chamber Orchestra, Roger Norrington (conductor)
2:42 AM
Bach, Johann Sebastian (1685-1750)
Violin Concerto in E major (BWV1042)
Terje Tonnesen (violin), Norwegian Chamber Orchestra
3:01 AM
Beethoven, Ludwig van (1770-1827)
Symphony No.1 in C major, Op.21 ]
Netherlands Radio Chamber Philharmonic, Frans Brüggen (conductor)
3:30 AM
Liszt, Franz (1811-1886)
Harmonies poétiques et religieuses - 10 pieces for piano (excerpts); 1. Invocation; 2. Pater Noster; 3. Hymne de l'enfant à son réveil; 4. Funérailles
Steven Osborne (piano)
4:00 AM
Vivaldi, Antonio [1678-1741]
Concerto in C major, RV.444 for recorder, strings & continuo
Il Giardino Armonico, Giovanni Antonini (recorder)
4:10 AM
Dvorák, Antonín (1841-1904)
Klid, for cello and orchestra (B.182) arr. from no.5 of 'From the Bohemian forest'
Shauna Rolston (cello), Edmonton Symphony Orchestra, Uri Mayer (conductor)
4:16 AM
Pärt, Arvo (b. 1935)
Spiegel im Spiegel
Morten Carlsen (viola), Sergej Osadchuk (piano)
4:24 AM
Haydn, Joseph (1732-1809)
Divertimento in C major (Hob.IV No.1) (London Trio No.1)
Carol Wincenc (flute), Philip Setzer (violin), Carter Brey (cello)
4:34 AM
Mozart, Wolfgang Amadeus (1756-1791)
Ch'io mi scordi di te...? Non temer, amato bene (K.505) (concert aria)
Andrea Rost (soprano), Zoltán Kocsis (piano), Hungarian National Philharmonic Orchestra
4:44 AM
Schumann, Robert (1810-1856)
Toccata for piano (Op.7) in C major
Francesco Piemontesi (piano)
4:50 AM
Corelli, Arcangelo (1653-1713)
Concerto Grosso in F major (Op.6 No.9)
The King's Consort, Robert King (director)
5:01 AM
Saint-Saëns, Camille (1835-1921)
Danse macabre (Op.40) transcribed for 2 pianos by the composer
Ouellet-Murray Duo: Claire Ouellet & Sandra Murray (pianos)
5:08 AM
Haapalainen, Väinö (1893-1945)
Lemminkainen Overture (1925)
Finnish Radio Symphony Orchestra, Atso Almila (conductor)
5:16 AM
Palestrina, Giovanni Pierluigi da (c.1525-1594)
Agnus Dei - Missa super ut-re-mi-fa-sol-la (for 6 and 7 voices)
Huelgas Ensemble; Paul van Nevel (director)
5:24 AM
Dukas, Paul (1865-1935)
Villanelle for horn and orchestra
Esa Tukia (horn), Finnish Radio Symphony Orchestra, Michel Adelson (conductor)
5:31 AM
Beethoven, Ludwig van (1770-1827)
32 Piano Variations in C minor (Wo0.80)
Antti Siirala (piano)
5:43 AM
Albinoni, Tomasi (1671-1750)
Oboe Concerto in D minor (Op.9 No.2)
Carin van Heerden (oboe), L'Orfeo Barockorchester, Michi Gaigg (director)
5:54 AM
Holten, Bo (b. 1948)
Nordisk Suite
Det Jyske Kammerkor (soloists: Hanne Hohwü and Birgitte Moller), Mogens Dahl (conductor)
6:05 AM
Ravel, Maurice (1875-1937)
Ma mere l'oye (Mother Goose) - ballet
BBC Symphony Orchestra, Sakari Oramo (conductor)
6:24 AM
Debussy, Claude (1862-1918)
Estampes
Lars-David Nilsson (piano)
6:39 AM
Grieg, Edvard Hagerup (1843-1907)
Holberg Suite (Op.40) vers. for string orchestra
Bergen Philharmonic Orchestra, Andrew Litton (conductor).