Main content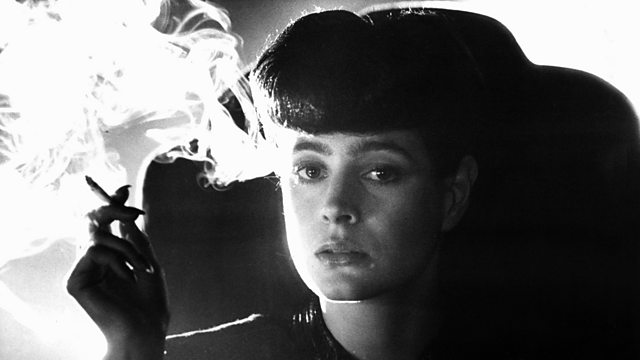 New Media Culture and Blade Runner
Matthew Sweet is joined by critics Roger Luckhurst and Sarah Churchwell and philosopher Max de Gaynesford to discuss the enduring significance of the film Blade Runner.
Matthew Sweet discusses Ridley Scott's science fiction extravaganza, Blade Runner. A film noir set in the future, critics have argued it's a movie that uses classic cinematic techniques to pose fundamental questions about what it means to be human.
As the film is re-released, Matthew is joined by the critics Roger Luckhurst and Sarah Churchwell, and by the philosopher Max de Gaynesford, to discuss its enduring significance.
And, we're used to hearing about social media in the context of political and social debate. But where do Twitter and its like sit in the longer history of reading and writing? Matthew talks to Eric Jarosinski, a writer who claims he found his creative voice on twitter under the name @NeinQuarterly, and to linguist and medievalist Kate Wiles, and book historian Sjoerd Levelt, about the parallels between the tweets of today and the marginalia of Medieval readers.
Producer: Luke Mulhall.
Chapters
Blade Runner

Roger Luckhurst, Sarah Churchwell & Max de Gaynesford discuss Ridley Scott's sci-fi film

Duration: 22:46

Eric Jarosinski

Matthew talks to Eric Jarosinski about his creative use of twitter as @NeinQuarterly

Duration: 10:34

Twitter & Marginalia

Kate Wiles and Sjoerd Levelt discuss the parallels between Tweets and Medieval marginalia

Duration: 10:37

Credits

| Role | Contributor |
| --- | --- |
| Presenter | Matthew Sweet |
| Interviewed Guest | Roger Luckhurst |
| Interviewed Guest | Sarah Churchwell |
| Interviewed Guest | Max de Gaynesford |
| Interviewed Guest | Eric Jarosinski |
| Interviewed Guest | Kate Wiles |
| Interviewed Guest | Sjoerd Levelt |
| Producer | Luke Mulhall |