Main content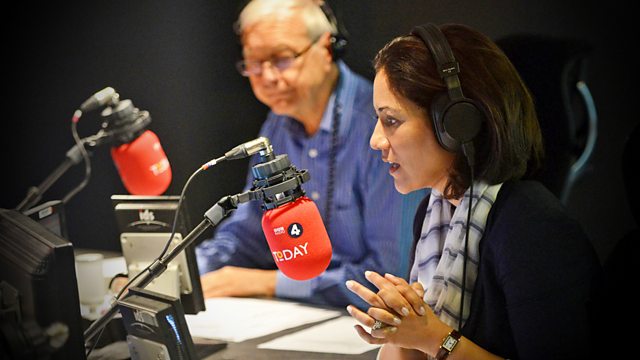 30/03/2015
Morning news and current affairs. Including Sports Desk, Weather and Thought for the Day.
Today's Running Order
0650
Tens of millions of people turned out to vote on Saturday in Nigeria's elections. Tension is high as it looks set to be an extremely tight race between President Goodluck Jonathan, and the former military ruler Muhammad Buhari. Our Nigeria correspondent, Will Ross, joins us from the capital Abuja.
0655
Alex Salmond has suggested that if Labour wins the election, but without a majority, then the price of securing the SNP's support could be that HS2, the new high-speed rail link, starts in Scotland and comes south via Newcastle, rather than starting in London. To consider that and the other effects of devolution, we hear from the leader of Newcastle City Council, Nick Forbes.
0710
One of the things you hear again and again in the North east is that people feel left behind, that they are ignored by politicians in London who think the north means Manchester - 100 miles south. The region has the highest unemployment of anywhere in the country and the highest levels of child poverty. Sarah Montague reports.
0720
Ed Miliband will launch what Labour's calling its "Business Manifesto" today, with a warning that the Conservative strategy on Britain's membership of Europe is a "clear and present danger" to the long term future of the UK economy. The party has a difficult relationship with business leaders - so is this an attempt to neutralise them or to actually win them over? Shadow business secretary, Chuka Umunna.
0725
If someone is obese - really overweight - it should be obvious. But a study shows that when it comes to children, parents seem to be unable to recognise that their offspring have a weight problem - unless it is an extreme weight problem. And, research by the London School of Hygiene and Tropical Medicine and UCL found that parents were more likely to underestimate their child's weight if they are from black, south Asian, deprived backgrounds or male. A questionnaire of nearly 3000 children in five primary care trusts found that 31% of parents underestimated their child's weight. Only 4 described their child as being very overweight despite 369 of them being officially identified as obese. We speak to Marissa Robson, whose daughter weighed 13 stone at the age of 11.
0735
The Daily Mail have found that people's private financial data including pensions is being passed on and ending up in the hands of potential fraudsters - all without the knowledge of the person. The investigation comes just before government reforms next week - which will allow millions of people to cash in on their pension funds. It's now feared that this access could result in huge scale scams. Information commissioner, Christopher Graham.
0744
We've been broadcasting this morning from the café at the Tyneside Cinema. It first opened its doors before the war - then it was just showing news film such as Pathe. Now it is the last remaining newsreel cinema that is still working as a full time cinema. The projectionist Philip Scales gave us a tour.
0750
Iran and six world powers are moving closer to a framework agreement on Tehran's controversial nuclear programme. Foreign ministers are holding intense negotiations at Lausanne in Switzerland ahead of Tuesday's deadline. US officials said both sides were exploring possible compromises. Western countries say they want to limit Iran's ability to build a nuclear weapon. But there's still disagreement on how free Tehran would be to pursue advanced nuclear research, and how quickly sanctions against it should be lifted. We hear from chief international correspondent Lyse Doucet, and Reza Marashi, Research Director of the National Iranian American Council.
0810
Deputy Prime Minister for the past five years, like David Cameron, he will be off to Buckingham Palace today for a private audience with the Queen and a meeting of the Privy Council. We speak to Nick Clegg, Liberal Democrat leader and deputy prime minister.
0820
They're a team at the top of the league and brimming with confidence - is it time the people of the North East forgot about football and rugby league and got behind their basketball team? And if there's an appetite for basketball, should it be funded for future Olympic success? We hear from Paul Blake, managing director of the Newcastle Eagles basketball team.
0830
Look at how people vote here in the north east and they appear to have made their mind up decades ago: 25 of the 29 seats in the region are labour. But a feature of this election appears to be that nothing can be taken for granted. According to a recent IPSOS MORI poll, 44% of people who say they will definitely vote still haven't decided which party to vote for. It might seem surprising given that all the party leaders have been in place for so long. The polls are so close that the "undecideds" matter more than ever.
0840
The world stands on the brink of a medical catastrophe: At least that's what we're told as the rise of antibiotic resistance threatens to plunge us back into the 'dark ages' - an era when common infections and minor cuts and bruises could once again kill. But it could be that the "dark ages" - the early medieval period of Alfred the Great and Ethelred the Unready - actually holds the key to solving the problem. Scientists at Nottingham University have been testing a 9th century anglo-saxon remedy for eye infections, our science editor Tom Feilden reports.
0845
Newcastle University hosts SOLE Central, a "global experiment into self-organised learning environments (SOLEs) and home of the School in the Cloud". The SOLE concept is the brain child of Professor Sugata Mitra and the centre - of which he is director - builds on his work. He used his TED prize money to fund SOLE projects in two NE schools and has established five SOLE schools in London. Amy-Leigh Hope, Head of Design and Art at George Stephenson High School.
0850
Which three words or phrases would voters use to sum up how they feel about the upcoming General Election campaign? The BBC has asked Ipsos MORI to gather some suggestions from a number of voters. So far they have gathered responses from 768 people with more to follow. The most common suggestions included 'interested' and 'excited' but also 'bored', 'concerned' and 'confused'. We hear from assistant political editor, Norman Smith, and Gideon Skinner, Reaserch Director at Ipsos MORI.