Main content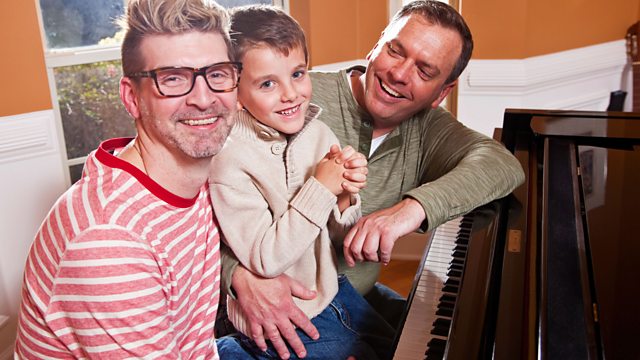 New Families, Equalism v Feminism, Paedophile Vigilantes
Research on new families, differences between feminism and equalism, a possible minister for men, and if vigilantes should be allowed to trap paedophiles online. With Jenni Murray.
Do gay men make better dads? How close are children born through surrogacy to their parents? We get the latest research from Prof Susan Golombok, author of Modern Families. Should vigilante groups should be catching paedophiles online - are they helping the police or getting in the way? Are feminism and equalism the same thing? Tim Samuels, presenter of Men's Hour argues for a Minister for Men; and the curious 1930's friendship between middle-aged 'spinster' Edith Olivier and the young artist Rex Whistler.
Presenter: Jenni Murray
Producer: Sarah Crawley.
Last on

Chapters
Feminism v Equalism

Duration: 08:27

Do we need a Minister for Men?

Duration: 02:35

A Curious Friendship

Duration: 07:47

Vigilantes

Duration: 09:37

Susan Golombok – Modern Families

Duration: 09:08

Feminism v Equalism

Are you a feminist or an equalist? The quest for gender equality is almost universally accepted as the definition of feminism. But are feminism and equalism the same thing? Barrister Charlotte Proudman and scientist, Dr Laura Waters don't think they are, and join Jenni to discuss. 

Do we need a Minister for Men?

According to Tim Samuels, 'Fish have greater ministerial representation than men'. He says 'nowhere, in any of the 24 government departments and their numerous subdivisions, is the welfare of men given a look-in'. His answer? We need a Minister for Men. He joins Jenni to explain why.

A Curious Friendship

In the 1920s, Edith Olivier, an unmarried 51-year-old daughter of a vicar became great friends with 19 year old art student Rex Whistler.  Despite the age gap, the friendship was mutually beneficial: Edith helped to introduce Rex into society and Rex enhanced Edith's creativity, encouraging her to dress young and hang out with Stephen Tennant, Cecil Beaton, Siegfried Sasson and William Walton.  Edith had several novels and biographies published and Rex created great art, a collection of murals and paintings.  Author Anna Thomasson joins Jenni to talk about the unlikely pairing and how each meeting the other created positivity in their lives.

Vigilantes

On Friday, a man who has pleaded guilty to attempting to meet a child following sexual grooming will be sentenced. The internet group Dark Justice set up a fake profile on a dating website – posing as a shy 14 year old girl. 57-year-old John Rudd from Newcastle travelled to meet the girl and was instead "caught" by the online vigilantes. But is such vigilante action to be encouraged? Or could it be counter-productive and in fact, be putting lives at risk? We discuss the issue with a member of Dark Justice and Sharon Girling – the former policewoman who set up CEOP – the Child Exploitation and Online Protection Centre. 


Susan Golombok – Modern Families

Do gay men make better dads?  If  so, why? Jenni speaks to Professor Susan Golombok of Cambridge University about her latest research into the newest family forms – including gay father adoptive families and single mothers by choice.   Susan says the findings contradict  many previous assumptions about how children being raised in these families are affected socially and psychologically. 

Credits

| Role | Contributor |
| --- | --- |
| Presenter | Jenni Murray |
| Producer | Sarah Crawley |
| Interviewed Guest | Susan Golombok |
| Interviewed Guest | Sharon Girling |
| Interviewed Guest | 'Scott' from Dark Justice |
| Interviewed Guest | Charlotte Proudman |
| Interviewed Guest | Laura Waters |
| Interviewed Guest | Tim Samuels |
| Interviewed Guest | Anna Thomasson |

Broadcast