Main content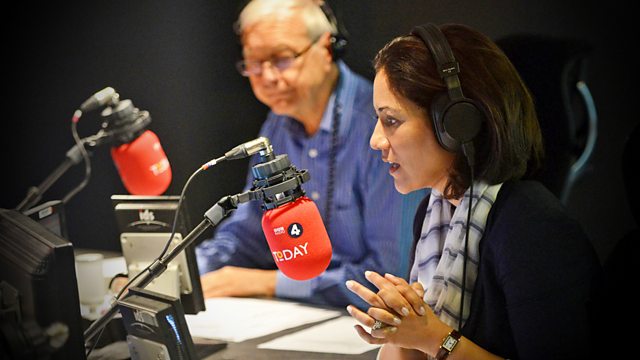 24/03/2015
Morning news and current affairs. Including Sports Desk, Yesterday in Parliament, Weather and Thought for the Day.
Today's running order
0650
The only wild beavers in England have been released back into their river home after being given a clean bill of health. The beavers were temporarily captured for disease testing from the River Otter in Devon, where they have been living wild for at least three years. Five beavers had been temporarily homed in captivity in Devon with access to water and artificial lodges. Tests revealed they were free of bovine TB and a parasitic tapeworm that can cause serious harm in humans. Experts at Devon Wildlife Trust, which has been given a licence to monitor and manage the population, said they were "delighted and relieved" that the beavers were disease-free and were being returned to the river. 
0655
Mathematicians at the universities of Nottingham and Oxford have been given a £2.3m EU grant to work on solutions to some of the most famous unsolved maths problems called "The Millennium Problems".  These are seven mathematical questions which were chosen by a committee of world-leading mathematicians in 2000. One problem was solved in 2004 but the remaining six are still testing mathematical brains all over the world today. Now, thanks to funding from the Engineering and Physical Sciences Research Council (EPSRC), Ivan Fesenko, Professor of Pure Mathematics at The University of Nottingham, will lead a team of 'big names' in the field to intensify efforts to solve some of the questions. Professor Ivan Fesenko is chair in pure mathematics at the University of Nottingham
0710
David Cameron has told BBC News that he will not serve a third term as Prime Minister, if the Conservatives remain in government after the general election. Mr Cameron says he will be standing for a full second term but after that, it would be good to have "fresh leadership". Lady Sally Morgan is a Labour Peer and former senior adviser to Tony Blair and Sean Worth is a former Downing Street special adviser to David Cameron and is now director of the Westminster Policy Institute.
0715
Utah is the first state in the US to legalise execution by firing squad. It will be used as a back-up when drugs become unavailable for use in lethal injection.  The Governor Gary Herbert who signed the law allowing for the controversial method  has said he finds the firing squad ``a little bit gruesome,'' but Utah is a capital punishment state and needs a backup execution method in case a shortage of the drugs persists. Paul Ray is a member of the Utah House of Representatives and a sponsor of bill to make state firing squad legal in Utah.
0720
Subsidies for solar are to be cut at the end of the month and installers are working flat out to get huge new solar farms plugged into the grid before the 31st of March deadline. The dash for the sun has been fuelled by an extraordinary 70% fall in the cost of solar panels – a development the industry itself now admits is beyond its wildest dreams. Our environment analyst Roger Harrabin asks if the government has reduced support for this fledgling industry too fast.
0730
A mother of two is believed to have fled to Syria with her two young children, to join Islamic State. Friends of 33-year old Rehana Begum Islam told us that she left her house in Enfield in the middle of the night with her eight- year old son and three- year old daughter, abandoning her husband of 14 years. The Metropolitan Police say they know for sure that she made it to Turkey - and are working with the Turkish authorities to find her. Our reporter Sima Kotecha has spoken to a friend of Rehana Begum.
0740
James Corden has made his debut as host of the iconic American TV chat show "The Late Late Show" on CBS last night, taking over from the Scottish comedian/actor Craig Ferguson. There have been concerns that the US audience won't understand his accent or his humour. James Corden himself has admitted it will take America a while to get used to him. Jay Leno is a former presenter of The Tonight Show on NBC and recorded sketch with James Corden for the opening of the first show.
0750
Should the Government and HM Revenue and Customs be doing more to crack down on care providers who are failing to pay their carers the minimum wage? The Today programme has been speaking to two care workers in South West Wales who say their former employer failed to pay them for the time spent travelling between visits to their clients' homes. And they say visits routinely had to be cut short because they hadn't been allocated enough time on their work schedules to get to their next clients. This is the latest in several reports Zoe Conway has done for this programme on this issue and organisations including the TUC, Unison and the think tank the Resolution Foundation have also highlighted the problem. Last month HMRC, which is responsible for compliance with the National Minimum Wage, announced that it is investigating six of the country's biggest providers of social care for elderly and disabled adults. But is that enough? Zoe Conway has spoken to two care workers about their work and schedules and Norman Lamb the Minister for Care and Support.
0810
Britain's failure to maintain the NATO target of spending 2% of national income on defence risks undermining the Western alliance, according to MPs on the Defence Select Committee. They say Britain urgently needs to rebuild defence capabilities abandoned after the Cold War in the face of the growing threat from Russia. And they say more aircraft, warships, tanks and missiles are needed to provide a convincing deterrent to further aggression by Russian president Vladimir Putin. With defence spending set to drop below 2% of GDP after 2015-16 on current plans, the findings will add to the pressure on David Cameron to declare his commitment to the NATO target. Michael Fallon is the Defence Secretary.
0820                                                            
The publisher Pan Macmillan announces today that it will publish the long-awaited sequel to Nelson Mandela's "Long Walk to Freedom". The book, yet to be titled, will be published in 2016 and will focus on Nelson Mandela's time as a President of South Africa (1994-1999). A team of researchers will work on the huge amount of archive material he left behind (interviews, speeches, notes and diaries) and on the 10 chapters he had already written for this project. Verne Harris is director of research and archive at the Nelson Mandela Foundation and will be working on the book and Georgina Morley is editorial director of non-fiction at Publisher at Pan Macmillan.
0830
Staff absences for mental health problems have doubled at hospital trusts across England in the past four years. Figures obtained by the BBC revealed 41,112 staff were off sick with anxiety, stress and depression in 2014 - up from 20,207 in 2010.
0835
A survivor of the Srebrenica genocide is marking the 20th anniversary of the atrocity by telling his story to UK school children. Bosnian Muslim Hasan Hasanović walked 63 miles across gruelling terrain to escape death at the hands of Bosnian Serbs in July 1995. This week he is speaking to students at four schools across West London - enabling the next generation learn about the genocide at first hand. Hasan Hasanovic survived the massacre in Srebrenica 20 years ago, he is now a curator at the Srebrenica-Potočari Cemetery and Memorial Centre (the Srebrenica genocide memorial), he is joined in the studio by JAMES INGRAM, a pupil at Hampton School in west London and Samanvitha Bhiraju, a pupil at Reach Academy in Feltham, west London.
0840
Palaeontologists have discovered a new species of giant amphibian that lived 220 million years ago. Researchers from the University of Edinburgh excavated what they believe is a mass grave of the animals in southern Portugal. The animals were related to modern day salamanders and newts, but were actually fearsome predators, snapping up fish like crocodiles. Dr Stephen Brusatte is the study leader from Edinburgh University School of Geosciences.
0845
We've got used to hearing news of local libraries closing, but a new book explores the surprisingly innovative ways people have found to lend and borrow books. "Improbable Libraries" by Alex Johnson is a survey of the most unusual and intriguing libraries around the world. We speak to Alex Johnson and to Sara Wingate Gray who has travelled around North America and Europe with a library of 200 books in her rucksack. Alex Johnson is the author of 'Improbable Libraries' and Sara Wingate Gray is founder of the "Itinerant Poetry Library" and goes around the world carrying a rucksack of books which she lends out to people.
0850
David Cameron has told BBC News that he will not serve a third term as Prime Minister, if the Conservatives remain in government after the general election (see 0710).
All subject to change.