Main content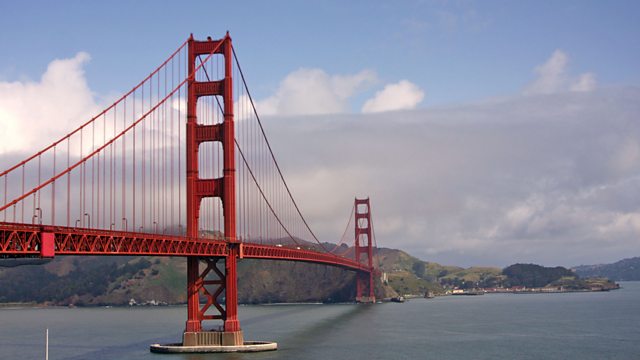 California: Paradise Lost
Historian Adam Smith travels through California to discover how it has long been home to conflicting visions of paradise, from the Wild West to the tech boom in San Francisco.
Historian Adam Smith discovers how the Golden State has long been shaped by conflicting visions of paradise - and what this can tell us about America.
Adam visits the site of a gun battle, where, in 1880, a local farmers' land dispute with a railroad company exploded in bloody violence.
The settlers were trying to defend their hard-won 'little Eden'. Railroad magnate Leland Stanford had a grand vision of an interconnected America.
Each was a version of the American Dream - a vision of a better existence, won through hard work. But in California's golden land, these two dreams clashed.
Adam argues that this is a story that has played out in the state ever since, because ever since its 19th century birth, it has been seen as the ultimate place for Americans to go to make a new, better life. But one person's version of the good life is not always compatible with another's.
And if you can't hold on to paradise in California, what's left?
Adam explores how, through the twentieth century, millions moved to California and created new 'little Edens' in the suburbs - but how these were often based on racial exclusion.
He meets Dorothy Mulkey, an African-American woman whose dream of a new apartment in 1960s Orange County led her to spend years battling against legalised racism in housing - ending in victory in the Supreme Court.
Meanwhile, a radically different version of paradise was conceived in the hippie enclaves of San Francisco - and rapidly found itself at war with the suburban version of the good life.
Adam discovers how, in today's San Francisco, two legacies of the city's revolution are banging into each other. It has long been home to many kinds of 'outsiders' - not least gay people.
But now many feel the tech boom, based in Silicon Valley, is challenging the ecosystem that makes the city special.
And finally, moving between opposed groups of protestors in a square in Santa Barbara, each yelling slogans at the other, Adam explores how new laws making life easier for illegal immigrants are stirring a debate about the very nature of California, and America, drawing on centuries of history.
Is the hope so long invested in America in general and in California in particular, he asks, one reason why disagreements there can take on such intensity?
Contributors include: Robin Hvidston, Isabel James, Tommi Avicolli Mecca, Lisa McGirr, Dorothy Mulkey, Becky Nicolaides, Rick Perlstein, Stephen Schwartz, Sonja Trauss.
Dr Adam Smith is a British historian of America, based at University College London.
PRODUCER: PHIL TINLINE.
Last on
Broadcast