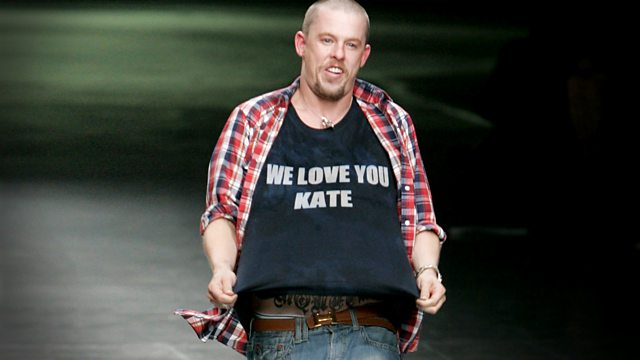 Alexander McQueen, Gender Pay Reporting, Stylish Maternity Dressing
Fashion designer Alexander McQueen through the eyes of his sister Janet, how to have the best dressed bump without spending a fortune, Helen Forrester's story of her 1930's Merseyside family and how it's become a musical and a now stage play, and are differences in pay between women and men about to become more transparent?
Presented by: Jane Garvey
Producer: Anne Peacock.
Last on
Alexander McQueen
"I want people to be afraid of the women I dress" said fashion designer Alexander McQueen, whose work is the subject of the V&A's major new exhibition, 'Alexander McQueen: Savage Beauty'.
Known to his family as 'Lee', Alexander McQueen's career – first as chief designer at Givenchy, later going on to found his own label – saw the East End boy and unlikely darling of the fashion world become as well known for his ability to shock and provoke as for his creations.  His extravagant runway shows featured Gothic makeup, dresses made from fresh flowers, towering heels, butterflies and amputee models, while his designs exaggerated silhouettes and made low-slung jeans fashionable.  But the shows also invited controversy - with names like 'Cocaine Nights' and 'Highland Rape', critics labelled his work 'misogynistic' – something he always denied.   In February 2010, on the eve of his mother's funeral, he took his own life, aged just 40.
Jane speaks to his sister Janet McQueen, and Andrew Wilson who has written a biography of the designer.
'Alexander McQueen: Blood Beneath the Skin' by Andrew Wilson is out now, published by Simon & Schuster UK

Equal Pay Audits
How much women are paid in comparison to men working for the same organisation should become more transparent as a result of new legislation going through parliament this week. In future, companies employing more than 250 people will be forced to publish information about the difference in pay between men and women. Under the current voluntary system, companies aren't obliged to publish gender pay gap information and only five have done so. TUC Head of Equality and Employment Rights Sarah Veale joins Jane to discuss what the law will mean in practice. 
Twopence to Cross the Mersey
Best-selling author Helen Forrester's book Twopence To Cross The Mersey told the story of her family, who were thrown into poverty during the Great Depression of the 1930s. After creating a successful musical, Rob Fennah has just written a play adaptation of the book. Rob talks to Jane about the appeal of the book, getting to know Helen Forrester and how the play differs from the original text.
Twopence To Cross The Mersey is at the Epstein Theatre in Liverpool until the 28th March and then travels to Southport Theatre, Theatre Royal,St Helens, and then the Floral Pavilion, New Brighton, until 23rd April.
The Art of Maternity Dressing
You're over the moon, you're having a baby. But thinking about not being able to fit into that little black dress you truly love and giving up all your trendy clothes is making you cry. You try to forget your partner's advice about stocking up on some tents from IKEA which according to him would be just perfect… Do you need to change your entire wardrobe to feel and look good during pregnancy? Not anymore. The Duchess of Cambridge made headlines last week in a black and white polka dot maternity dress costing £35 – it was reported to have sold out online within minutes. Jane is joined by maternity fashion blogger Jessica Clark and stylist Melissa Murrell to discuss how to dress well during pregnancy and avoid spending a fortune on new garments. 
Credits
| Role | Contributor |
| --- | --- |
| Presenter | Jane Garvey |
| Interviewed Guest | Janet McQueen |
| Producer | Anne Peacock |