Main content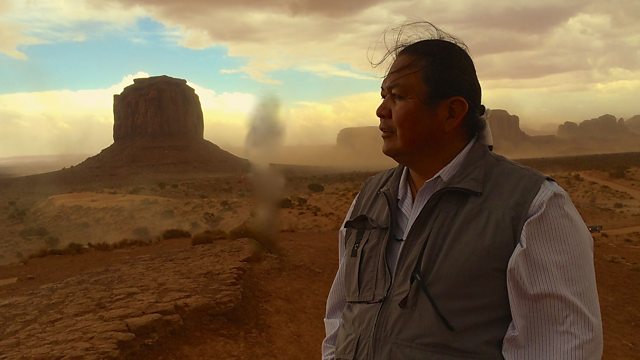 Into the Valley
Mark Burman presents an audio portrait of the Monument Valley region on the border of Utah and Arizona, with the help of Navajo guide Larry Y Holiday.
Monument Valley, which straddles the state lines of Arizona & Utah, is a place most of us have seen & never visited or listened to. The 'true West' of John Ford movies and endless car adverts. Mark Burman takes his microphone through the red dust of history with Navajo guide Larry Y. Holiday. Chased by the storm clouds and lightning, theirs is a trip through nature's own movie set.
At the turn of the 20th Century very few outsiders had penetrated its mysterious spaces. Spanish priests, American soldiers and silver hungry prospectors had vied with warring Ute and Navajo Indians amidst the red rock. Then came isolated trading posts and the first flourishings of tourism in the 1920's. American's eager to 'discover' what was still a largely blank space on the map but was firmly part of the Navajo Nation, who had returned to their land of rock and sand after defeat and exile.
Exactly 60 years ago a teenage Pippa Scott made what was then an arduous journey to act in John Ford's The Searchers. In 1955 it was a remote and inaccessible place. No running water, power or telephones but it offered a towering landscape of eroded rock like no other. An ancient place , still home to a small community of Navajo's who eke out a living in a place of deep spiritual significance to them and exercising a powerful pull on all our imaginations via the words of writers like Zane Grey & Willa Cather & the films of John Ford. Lose yourself in the swirling dust.
Last on
Broadcast