Main content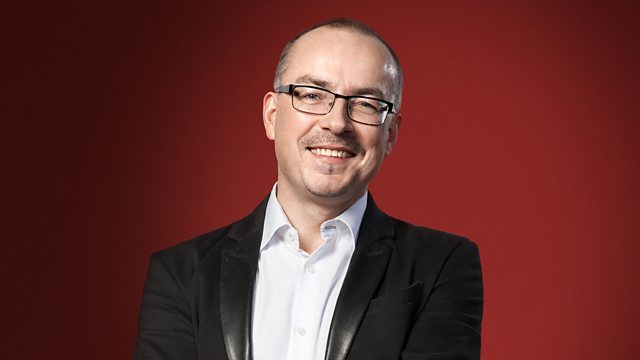 Building a Library: Haydn: Missa in Angustiis (Nelson Mass)
With Andrew McGregor. Building a Library: Haydn: Missa in Angustiis (Nelson Mass); lieder from from Gerald Finley, Anke Vondung, Ruby Hughes and Ben Johnson; Disc of the Week.
9.00am
Schumann: Violin Concerto
SCHUMANN: Violin Concerto in D minor, WoO 2; Piano Trio No. 3 in G minor Op. 110
Isabelle Faust (violin), Jean-Guihen Queyras (cello), Alexander Melnikov (piano), Freiburger Barockorchester, Pablo Heras-Casado (conductor)
HARMONIA MUNDI HMC902196 (CD + DVD)
Castelnuovo-Tedesco: Concerto Italiano & Violin Concerto No. 2
CASTELNUOVO-TEDESCO: Concerto Italiano; Violin Concerto No. 2 'The Prophets'
Tianwa Yang (violin), SWR Sinfonieorchester Baden Baden und Freiburg, Pieter-Jelle de Boer
NAXOS 8573135 (CD budget)
The Twenty-Fifth Hour: Chamber Music of Thomas Ades
ADES: Piano Quintet; The Four Quarters; Arcadiana
Thomas Ades (piano), Calder Quartet
SIGNUM SIGCD413 (CD)
09.30am Building a Library
Jeremy Summerly joins Andrew live to survey recordings of Haydn's Missa in Angustiis (Nelson Mass) and makes a personal recommendation: 
Top recommendation CD:
HAYDN: Mass, Hob. XXII:11 in D minor 'Nelsonmesse'; Mass, Hob. XXII:13 in B flat major 'Schopfungmesse'
Lothar Odinius (Tenor), Roxana Constantinescu (Alto), Markus Eiche (Bass), Letizia Scherrer (Soprano), Michael Nagy (Bass), Maximilian Schmitt (Tenor), Oregon Bach Festival Chorus, Oregon Bach Festival Orchestra, Stuttgart Bach Collegium, Gachinger Kantorei Stuttgart, Helmuth Rilling (conductor)
HANSSLER HAEN98279 (CD mid-price)
10.20am
Handel: Messiah
HANDEL: Messiah; Messiah
Judith Nelson, Emma Kirkby, Carolyn Watkinson, Paul Elliott, David Thomas, Choir of Christ Church Cathedral, Oxford, The Academy of Ancient Music, Christopher Hogwood (conductor)
DECCA 4788160 (3CD + Blu-ray audio mid-price)
Brahms: Klavierwerke
BRAHMS: Klavierstucke (4) Op. 119; Klavierstucke (6) Op. 118; Intermezzi (3) Op. 117; Canon in F minor, Anh. III/2; Gavottes; Albumblatt, WoO; Sarabande in A Minor, WoO 5 posth.
Sophie-Mayuko Vetter (piano)
HANSSLER HAEN98048 (CD)
BRAHMS: Ein Deutsches Requiem Op. 45
Christina Landshamer (soprano), Florian Boesch (basso), Radio-Sinfonieorchester Stuttgart des SWR, SWR Vokalensemble Stuttgart, NDR Chor, Sir Roger Norrington (conductor)
HANSSLER HAEN93327 (CD)
Standford: Symphony No. 1, Cello Concerto & Prelude to a Fantasy
STANDFORD: First Symphony (The Seasons – An English Year); Cello Concerto; Prelude to a Fantasy (The Naiades)
Raphael Wallfisch (cello), Royal Scottish National Orchestra, David Lloyd-Jones (conductor)
NAXOS 8571356 (CD budget)
Brahms: The Hungarian Connection
BRAHMS: Clarinet Quintet in B minor Op. 115; Hungarian Dance No. 7; Hungarian Dance No. 1 in G minor; Ein kleiner, hubscher Vogel nahm den Flug Op. 52, No. 6; Dances From Transylvania
WEINER, LEO: Busulo Juhasz (Woeful Shepherd); Csurdongolo (Barn Dance)
Andreas Ottensamer (clarinet), Leonidas Kavakos (violin), Antoine Tamestit (viola), Christoph and Stephan Koncz (violin, cello), Odon Racz (double bass), Predrag Tomic (accordion), Oskar Okros (cimbalom)
DG 4811409 (CD)
Nemanja Radulovic: Journey East
BRAHMS: Hungarian Dance No. 1 in G minor
DVORAK: Songs My Mother Taught Me Op. 55 No. 4
KALAJIC: Vatra suze
KHACHATURIAN: Sabre Dance from Gayane; Masquerade Suite: Nocturne
MONTI, V: Csardas
PROKOFIEV: The Love for Three Oranges: March
SARIEVSKI: Zajdi, zajdi, jasno sonce
SHOSTAKOVICH: Romance (from The Gadfly)
SIMJANOVIC: Theme (from the film Petrijin venac)
TCHAIKOVSKY: Swan Lake: Danse Russe; Pašona kolo; Niška banja
WILLIAMS, JOHN: Schindler's List - theme
Nemanja Radulovic (violin); Les Trilles du Diable (ensemble), Double Sens (ensemble), Laure Favre-Kahn (piano), Deutsches Symphonie-Orchester Berlin, Michail Jurowski (conductor)
DG 4793361 (CD)
10:50am – New Releases with Natasha Loges
Natasha Loges discusses recent releases of song repertoire from Gerald Finley, Anke Vondung, Ruby Hughes, Ben Johnson, Ashley Riches, and Rupert Charlesworth   
Fin de Siecle
BERG: Vier Lieder Op. 2
MAHLER: Fruhlingsmorgen (Lieder und Gesange aus der Jugendzeit); Verlorne Muh' (Des Knaben Wunderhorn); Nicht wiedersehen (Lieder und Gesange aus der Jugendzeit); Erinnerung (Lieder und Gesange aus der Jugendzeit); Rheinlegendchen (Des Knaben Wunderhorn); Wer hat dies' Liedlein Erdacht? (Des Knaben Wunderhorn); Aus! Aus! (Lieder und Gesange aus der Jugendzeit)
SCHOENBERG: 4 Lieder Op. 2
SCHREKER: Lieder Op. 4
ZEMLINSKY: Songs (6) to poems by Maurice Maeterlinck Op. 13
Anke Vondung (mezzo), Christoph Berner (piano)
AVI MUSIC AVI8553313 (CD)
Liszt: The Complete Songs Volume 3 - Gerald Finley
LISZT: Morgens steh ich auf und frage, S290; Ein Fichtenbaum steht einsam, S309; Anfangs wollt ich fast verzagen, S311; Weimars Toten, S303; Wer nie sein Brot mit Tranen ass, S.297; Sonetti di Petrarca (3) for voice & piano, S270; Die Fischerstochter; Und wir dachten der Toten; Die Vatergruft, S.281; Gastibelza; La tombe et la rose, S285; Le vieux vagabond, S304; Go not, happy day
Gerald Finley (baritone), Julius Drake (piano)
HYPERION CDA67956 (CD)
CASTELNUOVO-TEDESCO: Shakespeare Sonnets
Ashley Riches (baritone), Emma Abbate (piano)
RESONUS CLASSICS RES10141 (CD)
Richard Strauss: The Complete Songs 7
STRAUSS, R: Weihnachtsgefuhl, WoO. 94; Weihnachtslied Op. 2; Einkehr Op. 47 No. 4; Der mude Wanderer Op. 13; Husarenlied, AV14 TrV42; Der Fischer, AV33 TrV48; Die Drossel; Lass ruh'n die Toten, WoO. 35; Lust und Qual, AV36 TrV51; Spielmann und Zither, AV40 TrV58; Wiegenlied            , TrV59; Abend- und Morgenrot, WoO. 42; Im Walde, AV43 TrV62; Nebel; Soldatenlied,      TrV66; Ein Roslein zog ich mir im Garten Op. 49; Waldesgesang            , TrV75; Alphorn Op. 29; Sinnspruch, AV105; Durch allen Schall und Klang, AV111; Zugemessne Rhythmen, AV122; Xenion, AV131; Auf ein Kind Op. 47 No. 1; Ruckleben Op. 47 No. 3; Von den sieben Zechbrudern Op. 47 No. 5; Sankt Michael  Op. 88 No. 3; Winterreise, AV4 TrV4
Ed Lockwood (French horn), Ruby Hughes (soprano), Ben Johnson (tenor), Gunter Haumer (baritone), Roger Vignoles (piano)
HYPERION CDA68074 (CD)
Nocturnes
BAX: The White Peace (Fiona Macleod)
BERKELEY, L: Eyes look into the well (No. 4 from Five Poems of W.H. Auden Op. 53); Five Poems of W.H. Auden Op. 53, No. 5: Carry her over the water; Silver (No. 5 from Five Songs Op. 26)
BOULANGER, L: Vous m'avez regarde avec toute votre ame
BRAHMS: Standchen Op. 106 No. 1; Der Gang zum Liebchen, No. 1 Op. 48
BRITTEN: Night covers up the rigid land (No. 2 from Fish in the Unruffled Lakes)
DEBUSSY: Nuit d'etoiles
DUPARC: Serenade Florentine
FAURE: La Lune blanche luit dans les bois (No. 3 from La Bonne Chanson Op. 61); Clair de Lune Op. 46 No. 2
FINZI: A Young Man's Exhortation Op. 14, No. 5: The Comet at Yell'ham
FRANCK, C: Nocturne
GURNEY: Sleep
HAHN, R: L'heure exquise
LISZT: Kling Leise, mein Lied, S301
MENDELSSOHN: So schlaf in Ruh!
SCHUBERT: An die Laute D905; Der Jungling und der Tod, D545 (Spaun); Der Wanderer an den Mond D870 (Seidl)
Rupert Charlesworth (tenor), Edwige Herchenroder (piano)
ZIGZAG ZZT355 (CD)
11.45am Disc of the Week
BACH, J S: Sonatas & Partitas for solo violin, BWV1001-1006
Gil Shaham (violin)
CANARY CLASSICS CC14 (2CD mid-price)