Main content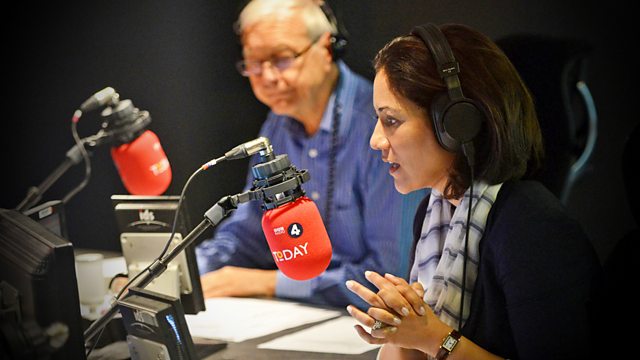 21/03/2015
Morning news and current affairs. Including Yesterday in Parliament, Sports Desk, Thought for the Day and Weather.
Today's running order
0710

This week has focused on police corruption, with fourteen separate referrals to the IPCC into allegations that child abuse was covered up by the Metropolitan Police from the 1970s to the 2000s.  The Met has up to 18 investigations into historical abuse, some looking into allegations that high profile individuals abused children. Today the force is launching a fresh appeal for witnesses to come forward.  BBC Home Affairs Correspondent, Tom Symonds.
0720

A huge wooden temple will be burnt in Derry tonight in honour of those who died in the Troubles. Bonfires are popular in Northern Ireland but often involve burning effigies of rivals. Event director Helen Marriage says she is trying to "take that tradition and turn it inside out". Tonight's bonfire will be about reconciliation and letting go of the pain of the past. Members from all sides of the community have helped to build the temple. David Best is the artist who designed the temple, and Helen Marriage is the event director of the giant bonfire in Derry.
0730
How can the NHS reduce its costs without sacrificing frontline care? While politicians discuss the merits of tax increases versus budget cuts, one healthcare organisation in the Netherlands has shown that it may be possible to do things differently. Buurtzorg (which roughly translates as neighbourhood health) has stripped away the middle management. An audit firm reported that 40% fewer hours of care are required by Buurtzorg's patients. The figures suggest that if all of the Netherlands nursing organisations operated this way, the country could make savings of €2bn each year. Translated to the UK, that would be almost £6 billion. BBC Correspondent Anna Holligan, and Mark Thompson is senior lecturer in information systems at Cambridge Judge Business School, and Strategy Director at Methods Group.
0740

See a lightning bolt suspended in mid-strike, a bullet ripping through a lemon, an Xray angelfish – photographs taken since 1875 that see what you can't.  The pictures are on display at the Science Museum in London, which is looking at how early scientific photography has influenced both contemporary art and modern photography. It's called Revelations: Experiments in Photography.  Dr Ben Burbridge is co-curator of the exhibition Revelations: Experiments in Photography and art historian at Sussex University and Sarah Pickering is a photographer whose work Muzzle Flash is in the exhibition.
0750
Health campaigners say they're "deeply concerned" about a delay in introducing a vaccine that protects against a deadly form of meningitis. A year ago expert advisers for the government recommended the Meningitis B vaccine be made available on the NHS for babies across the UK, subject to price negotiations with the manufacturers. Caroline Williams lost her two year old son Cayden to Meningitis B just over a year ago and Simon Nadel is a paediatric consultant at Saint Mary's hospital in London - campaigning to have the vaccine introduced.
0810  

Four former Sun journalists were cleared on Friday of conspiracy to commit misconduct by paying public officials for stories. Ex-chief reporter John Kay, 71, and former royal editor Duncan Larcombe, 39, were cleared of wrongdoing over their contact with two military sources following a trial at the Old Bailey. Former deputy editors Fergus Shanahan, 60, and Geoff Webster, 55, were also found not guilty over allegations that they signed off payments. Duncan Larcombe said the police investigation had been a 'witch-hunt'. Elsie Manning is the mother of Staff Sergeant Sharron Elliott, and Geoffrey Cox Qc, defence counsel for Geoff Webster, (and also the Conservative MP for Torridge and West Devon).  
0815

French prisons have come under the spotlight in the past two months, as a key recruiting ground for Islamist extremists. The attacks in Paris in January by brothers Cherif and Said Kouachi and Ahmedy Coulibaly, which killed 17 people, led to fresh questions about the links they made in prison. Half of all inmates in France are thought to be Muslim and the government is now pushing forward with a series of measures designed to counter radicalism. BBC Paris Correspondent Lucy Williamson reports.
0820  

Events leading up to the reburial of King Richard III start tomorrow.  It's the culmination of a two year search in which the last Plantagent King's remains were found under a city car park.  Crowds will begin gathering in Leicester for a procession of his cortege through the city, stopping on the way at the site of the Battle of Bosworth and ending with a service at Leicester Cathedral at sun down.  The coffin with then lay in repose for 3 days for members of the public to visit the Cathedral before the reinterment on Thursday. Canon Pete Hobson is project manager of the Richard III reburial.
0830   

This week has focused on police corruption, with fourteen separate referrals to the IPCC into allegations that child abuse was covered up by the Metropolitan Police from the 1970s to the 2000s. (See 0710). Deputy Assistant Commissioner Steve Rodhouse is head of Crime and Operations.
0840

Tom Ballard has just completed his "Starlight and Storm" project to climb the six great North Faces of the Alps in winter, alone and in just one season. He's 26 and has become the first one to climb all six Alps faces in one winter season.  He's also the son of a famous female climber, Alison Hargreaves who died whilst climbing just before Tom's 7th birthday. 2015 marks the 20th anniversary of his mother's death. Interestingly, Alison Hargreaves was the first person to climb all six faces in a summer season.  Climber Alison Hargreaves, speaking to Woman's Hour in Nov 1994, and Tom Ballard is British alpinist and son of Alison Hargreaves.
0850   

Millions of people saw the sun being partially eclipsed and the earth plunged into semi darkness yesterday with the once in a generation near total solar eclipse. But eventually the eclipse will be seen more like once in 10 generations with a little bit less darkness and a little bit more light - as the sun dies out. Dr Matt Owens is space physicist at the Meteorology Department.
0855

The housing crisis in the UK has loomed large again this week with the budget announcement of a Housing ISA and a major rally calling for more house building. With two months till the election and austerity forecast for another 4 years, why is it that housing continues to boom and what can be done to rectify the situation? Will Hutton is principle of Hertford College, Oxford, and Naomi Clayton is senior analyst at the Centre for Cities.

All subject to change.