Main content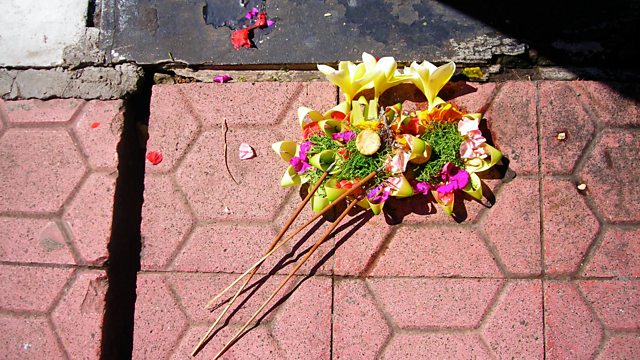 The Quietest New Year On Earth
No Phones, TV's or speaking. Imagine an entire country staying silent for 24 hours – it's Bali on New Year's Day. From 2015.
Black-clad security men stalk the streets hunting down people making noise and silencing them.
No music, no laughter, no engines, no computer games.
Instead maybe a barking dog, a fly buzzing against a window pane, or a mother stifling a child's cry. In the paddy fields the crickets, the frogs and the beetles chirrup on, but the roads are empty, the skies free from vapour trails.
No human noise at all. Just silence.
This is not a scenario from some chilling science-fiction tale, but New Year's Day on the Hindu island of Bali, where Nyepi, as the day is known, is welcomed in by a day of silence - a day to fool the evil spirits into believing that everyone has gone and their work is done.
Of course, in one of the fastest growing property markets in the world, there is pressure for change, as overseas visitors exert more influence, and Muslim influence from the Indonesian mainland increases. But somehow Nyepi still has a powerful hold on the lives and imaginations of the Balinese, as the entire population falls silent for 24 hours – an island population known for one of the noisiest music traditions in the world - gamelan.
It's a tradition that most locals take part in gladly, taking a chance to contemplate the year to come and using the time to meditate - whilst increasingly tourists are drawn to experience this unique atmosphere.
Would you prefer a day of contemplating or a hangover to start the New Year?
From the exorcisms the night before, through the day of silence itself, we hear the tensions mount – till the morning after.
Producer: Sara Jane Hall
With additional material gathered by:
Maria Bakkalapulo: reporter
Niall Macaulay: field recordist
Wayan Tilik: assistant
John Stanmeyer: translator
Audio contributors: Melasti and Ogoh Ogoh
First broadcast on BBC Radio 4 in March 2015.
Last on
New Year's Day 2021
02:30
Broadcasts
New Year's Day 2018

06:30

New Year's Day 2018

13:30

New Year's Day 2018

20:30

New Year's Day 2020

16:00

New Year's Day 2021

02:30