Main content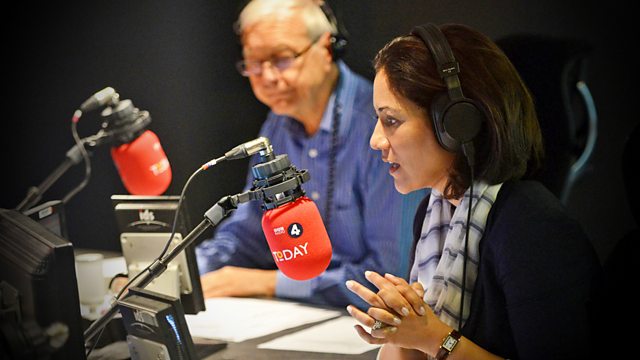 18/03/2015
Morning news and current affairs. Including Sports Desk, Yesterday in Parliament, Weather and Thought for the Day.
Today's Running Order
0640
MPs have said taxpayers must be told how much the failure of the NHS's first privately run hospital, has cost. Hinchingbrooke Hospital was taken over by the private firm Circle Holdings in 2012, but in January this year the company announced it was pulling out of the contract. The Commons Public Accounts Committee has criticised the Department of Health for playing down the risks involved and said officials were not "commercially skilled" enough. Sophie Hutchinson is our health correspondent.
0645
The industrial belt known as the M4 corridor - stretching out along the motorway west out of London - is home to many different kinds of businesses. The one we're based in today is called Bion - it produces perforated metal - large sheets for ceilings of offices and industrial spaces - small ones for speakers and - appropriately for us - radios. Mishal is with workers at Bion.
0650
Nearly 500 children were found to have been "at serious risk" of sexual exploitation in the West Midlands. But a report carried out for the police and seven local authorities has said that the figure is likely to be a 'significant underestimate' of the true scale of the problem. West Midlands Police says it has 70 active investigations into individuals and organised groups of people who are alleged to have abused and trafficked young children. Stephen Rimmer is the strategic lead on preventing violence against vulnerable people in the West Midlands.
0710
What do businesses, large and small in the M4 Corridor, want from today's budget? What does Ronan Dunne make of the Diverted Profits Tax which will affect companies like Budget – how will it affect a multinational business like O2? Nick Bion is manager of Bion Metals, supplying perforated metal and plastic into a variety of market sectors and Ronan Dunne is chief executive officer of O2.
0715
It's been five days since Cyclone Pam hit the tiny country of Vanuatu. Today, the government and aid agencies are fanning out across the archipelago, by plane and by boat, to try and reach the outlying islands where communications are down and the full impact of the storm is still unknown. Officials are still trying to assess how much damage has been done. BBC correspondent Phil Mercer.
0720
What's thought to be Britain's biggest-ever single scaffolding structure is being hoisted onto the roof of Winchester cathedral. The structure - that has been pre-made on the ground - is part of a restoration scheme costing nearly twenty million pounds.  Duncan Kennedy is our correspondent, and Annabelle Boyes is the Receiver General and Canon Treasurer of Winchester Cathedral.
0725
There was an unexpectedly strong auroral storm overnight - hitting 4 on a 1-5 scale -  and it meant that the Northern Lights were in fine form. The result of two pulses of electro-magnetic energy which left the sun on Sunday was a great display of Aurora Borealis, visible to many people further south than usual.  We hear from a number of people who watched the lights.
0735
Budget day - and we can expect the Chancellor today to spell out more details of his plans for getting rid of the deficit. But one thing we already know - Mr Osborne wants to do this entirely by spending cuts - avoiding any further tax rises. But is that possible - or even desirable?  Paul Johnson is Director of Institute for Fiscal Studies.
0745
Benjamin Netanyahu has claimed victory in the Israeli parliamentary election after television exit polls suggested his Likud Party had finished in a virtual tie with he left of centre Zionist Union. Mr. Netanyahu said he'd already spoken to the leaders of other right-of-centre parties about forming a new government, but the opposition leader Yitzha Herzog said the result showed his alliance couldn't be ignored. Our Middle East correspondent Kevin Connolly watched the results coming in.
0750
There's growing concern about the number of Britons joining Kurdish forces to fight IS. Konstandinos Erik Scurfield, known as Kosta, was the first Briton to be killed while fighting in Syria alongside Kurdish forces. His body was handed back to the family last weekend. In a very powerful speech at the House of Commons on Tuesday night, his mother Vasiliki Scurfield said that Kosta 'was not a mercenary, he was determined to make a difference'. She went on to ask everyone, as 'there are elections coming up, to get involved and ask your MP what their view is on so called IS and what they are going to do about it.' Vasiliki Scurfield is the mother of Kosta Scurfield.
0810
Today the Chancellor, George Osborne, will announce his sixth and final budget of this Parliament. Although he has promised a fiscally neutral budget, but will he be tempted to pull a rabbit of the hat to boost his party's chances in the general election? What is his room for manoeuvre? Our economics editor, Robert Peston, says that he has £6 billion more to play with than expected last year and possibly more if he relaxes his target for a £23 billion surplus by the end of the next Parliament. This is will be a Coalition budget, although in an unprecedented move, the Liberal Democrats will present alternative proposals at the despatch box on Thursday. Robert Peston is BBC's Economics Editor.
0820
It's 50 years today since the first human walked in space. USSR cosmonaut Alexei Leonov was undaunted as he exited the Voskhod 2 capsule for the momentous event even as his spacesuit expanded and he just about made it back into the capsule alive. Helen Sharman is Britain's first astronaut who docked with the Mir Space station in 1991 and trained under Alexei Leonov.
0825
The entrepreneur Sir John Majeski has been associated with Reading for several decades. Last year an Asian consortium took over Reading Football Club, although Majeski remains Co-Chairman of Reading FC. This week the Championship team reached the semi-finals of the FA Cup. Sir John Madjeski is Co-Chairman of Reading Football Club, which made it into the FA Cup semi-finals this week.
0830
Today the Chancellor, George Osborne, will announce his sixth and final budget of this Parliament (see 0810). Kitty Usher is former Labour treasury minister, and Ken Clarke is former Conservative Chancellor of the Exchequer.
0835
Benjamin Netanyahu - the leader of Israel's main right wing Likud party - has claimed victory in his country's general election after exit polls suggested that Likud would win roughly the same number of seats as its main rival - the centre-left Zionist Union. His supporters believe that with more right-wing parties in parliament, he has the best chance of forming a new coalition. But the leader of the Zionist Union, Yitzhak Herzog, has insisted that "everything is still open".  Lyse Doucet is chief international correspondent.
0840
The new Director of the National Gallery will be appointed at 0800. The appointment was confirmed by the Prime Minister. Current Director, Dr Nicholas Penny announced his retirement in summer 2014. Will Gompertz is our arts editor.
0845
We get a sense of how the economic recovery looks like at the Welsh end of the M4 where a local symbol of the heavy manufacturing industry of the 20th Century -- Llanwern Steelworks east of Newport -- is being turned into a massive housing and commercial development called Glan Llyn. The developers St Modwen are building the second phase of the 4,000 homes planned for the site; they say the project will deliver 6,000 jobs. But are they a substantial replacement for the jobs that went with the closure of the steelworks? Do they provide the same boost for the local economy?  Rupert Joseland is Regional Director for St. Modwen's South West and South Wales region and Dr Jonathan Deacon is director of Research in Entrepreneurship and Marketing at the University of South Wales.
0850
Unpublished letters by Sir Arthur Conan Doyle which successfully lead to a convicted man being pardoned go on sale at Bonhams today. Crucially the bundle includes a report by Captain Anson of the Staffordshire Police which reveals for the first time that police deliberately fabricated evidence to mislead and discredit the great writer in the case of George Edalji - a Birmingham solicitor wrongly accused of horse maiming and sending poison pen letters.  Sarah Lindberg is Manuscript Specialist at Bonhams and Catherine Cook manages the Sherlock Holmes collection at Westminster Libraries.
All subject to change.