Main content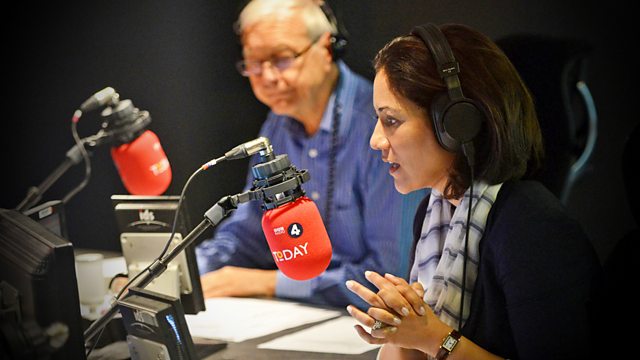 16/03/2015
Morning news and current affairs. Including Sports Desk, Weather and Thought for the Day.
Today's Running Order
0650
Art historian and author Julian Spalding has spent the last few years touring the world looking at some of the most important historic sites. His latest book 'Realisation: From Seeing to Understanding the Origins of Art' looks at what the sites tell us about the people who built them and their understanding of the world around them. One of the more startling theories is that Stonehenge was actually designed as a platform to bring worshippers closer to the heavens. Julian Spalding os a former director of Manchester's and Glasgow's Museums and Galleries, now an art critic and author.
0655                                                           
'Things We Won't Say About Race That Are True' is the Trevor Phillips documentary for Channel 4 that's created a media storm before it's even been aired. The former head of the Equalities and Human Rights Commission has interviewed Nigel Farage among other people and looks at whether or not our fear of causing offence has stopped us from being able to tackle major issues? Do we now live under a veil of self-censorship? Reporter Zoe Conway has been to Epping Forest in Essex – to find out how people there would like to talk about race and ethnic diversity.
0710
Emergency aid is arriving on the South Pacific islands of Vanuatu, where tens of thousands of people are living in temporary shelters following a massive cyclone.  The full scale of the devastation is not yet known, as there is no power yet across the country, and phone lines are also down.  However it is estimated that tens of thousands have been affected.  The BBC's Phil Mercer reports from the island and Nichola Krey is Save the Children's Head of Humanitarian Affair's and is in Port Vila, Vanuatu's capital.
0715
It looks like Tony Blair's role as an envoy to the Middle East may be about to change. The Financial Times is reporting this morning that he is stepping back from his role – they describe as "a peace envoy to the Middle East". Tony Blair couldn't do an interview with us this morning. Oliver Miles is former British Ambassador to Tripoli.
0720
Domenico Dolce & Stefano Gabbana have caused controversy by suggesting that children born by IVF are "synthetic". The two designers behind the Dolce & Gabbana fashion label spoke out against same-sex families, despite being gay themselves, saying: "We oppose gay adoptions. The only family is the traditional one." Ricky Martin and Jessie Ware are among the celebrities who condemned their comments on Sunday, and Sir Elton John called for a boycott the brand on his Instagram page. Patrick Strudwick is LGBT editor of BuzzFeed.
0730
The BBC's Tomi Oladipo reports from North East Nigeria where he is embedded with the Nigerian armed forces in their battle against Boko Haram.
0740
George Clinton has long been one of the most influential and original funk artists in the US. Colourful, flamboyant, prescient, 40 years ago his group Parliament released the seminal Chocolate City album, which highlighted the phenomenon of 'White Flight' in Washington DC, where black people were moving into the city, while their white neighbours moved out to the suburbs - even suggesting "they call it the White House but that's a temporary situation". How much has Washington DC changed since then? Have race relations in the US changed improved or worsened?
0750
Three British teenagers who were detained in Turkey on suspicion of heading to Syria to join Islamic State militants have been released on bail after they were questioned by police in London. Two seventeen-year-olds and a nineteen-year-old, all male, were arrested at an airport in Istanbul and deported to Britain following a tip-off from British police. The families of the two youngest boys are reported to have tipped off the police, according to The Times. Guney Yildiz is a Turkish specialist reporter for the BBC and Baroness Pauline Neville Jones is a former security minister.
0810
'Things We Won't Say About Race That Are True' is the Trevor Phillips documentary for Channel 4 that's created a media storm before it's even been aired (see 0655). Trevor Phillps is former Chairman of the Commission for Racial Equality.
0820                                                            
Britain may have a reputation as a country of bird lovers, but we haven't gone as far as officially adopting one to represent the nation. All that could be about to change, with an online poll asking people to vote for Britain's national bird. Ten birds have emerged as the frontrunners – among them the robin, which was unofficially voted as the national bird by a newspaper in the 1960s, and the wren, which once appeared on the old farthing coin. Ornithologist and urban birdwatcher David Lindo is the man behind the campaign, which starts today and closes on the day of the General election, May 7, and he says he will be asking the new Government to consider formally adopting the winner as Britain's official bird. David Lindo is an ornithologist and "urban birder" and; author Jilly Cooper.
0830
The Conservative Party has accepted for the first time that its chairman Grant Shapps did continue to pursue his business interests for a short time after he became an MP in 2005. Mr Shapps has previously insisted that his writing career - under the pen name Michael Green - ended when he took up his seat in the House of Commons. Labour has said David Cameron should establish an immediate inquiry to establish the facts. John Mann is Labour MP for Bassetlaw.
0840
Today is the last day of campaigning in an Israeli election campaign which is turning out to be a lot closer than the Prime Minister Benjamin Netanyahu would have liked. Late last year he decided that his right of centre coalition government wasn't working and he was hoping to be re-elected with a mandate to form a new one. But the last opinion polls before voting day showed his Likud Party trailing to an alliance headed by the Labour leader Yitzhak Herzog and the former foreign minister Tzipi Livni. Mr Netanyahu might still be better placed to form a government but as our Middle East Correspondent Kevin Connolly reports from Jerusalem on a race which has been unexpectedly tight.
0850
Schools in the most poorly funded areas of England receive the equivalent in funding of 40 teachers less than those in the best-funded areas, heads say. Association of School and College Leaders analysis suggests the poorest funded schools will receive £1.9m less than the best funded in the next year. Peter Kent is Head Teacher at Lawrence Sheriff School in Rugby and President of the Association of School and College Leaders.
0855
Election campaigning has begun and voters are met with two messages 'vote for the Tories and they'll ruin public services' or 'if you vote for Labour they'll ruin the economy'. So, where has the positive messaging gone? Sir Michael Barber is author of new book "How to Run a Government" and ran Tony Blair's Delivery Unit 2001-2005 and Dr Rosie Campbell is reader in Politics, Birkbeck University.
All subject to change.