Main content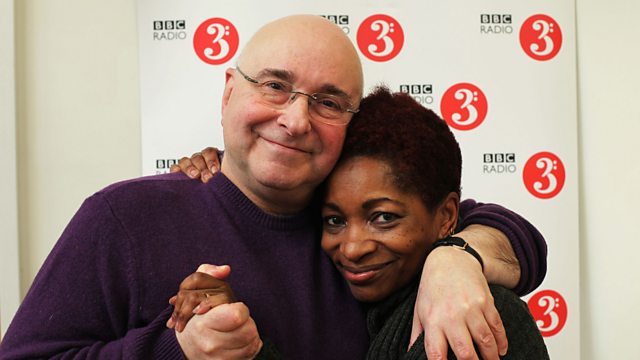 Monday - Rob Cowan with Bonnie Greer
With Rob Cowan. Including Five Reasons to Love Concert Overtures; Artist of the Week: Maria Joao Pires; Essential Choice: Bizet: Carmen (excerpt).
9am
A selection of music including '5 Reasons to Love... Concert Overtures'. Throughout the week Rob offers a selection of his favourite overtures which were composed specifically for the concert hall. His choice includes music by Szymanowski, Dvorak, Beethoven and Tchaikovsky.
9.30am
Mapping the Music: Take part in our daily musical challenge and guess the place associated with the piece of music.
10am
Rob's guest this week is playwright, novelist and critic Bonnie Greer. Originally from Chicago, now living in London, she is an award-winning playwright having gained a Verity Bargate Award and an OBE for her contribution to the arts in 2010. She has appeared regularly on Newsnight Review and has served on the boards of many leading arts organisations, including the Royal Opera House and the British Museum. She is a self-professed classical musical fan and wrote an opera in 2011 inspired by her appearance alongside BNP leader Nick Griffin on Question Time.
10.30am
This week Rob's Artist of the Week is Maria Joao Pires, one of the finest pianists of her generation, whose performances are celebrated for their integrity, eloquence, and vitality. Rob showcases her recordings of works by the great classical and romantic composer/pianists, including Mozart, Schubert and Chopin.
11am
Bizet
Carmen (excerpt)
The Building a Library recommendation from Saturday's CD Review.
Music Played
Artist of the Week: Maria Joao Pires

5 Reasons to love Concert Overtures

Bonnie Greer's Choice No. 1

Bonnie Greer's Choice No. 2

Bonnie Greer's Choice No. 3

Artist of the Week: Maria Joao Pires

The Building a Library Recommendation from last Saturday's CD Review
Mapping The Music
Trad. arr.  Canteloube
Baïlèro  (Set 1 no.2 of Songs of the Auvergne)
Victoria de los Angeles (soprano)
Lamoureux Concerts Orchestra
Jean-Pierre Jacquillat (conductor)
EMI