Main content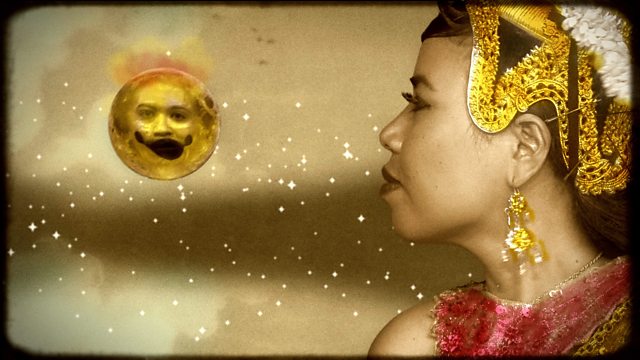 Rocking Cambodia: Rise of a Pop Diva
Documentary following Julien Poulson and Srey Thy, who together formed the band The Cambodian Space Project, and their struggle to overcome poverty, trauma and obscurity.
In a Phnom Penh karaoke bar in 2009, Australian musician Julien Poulson hears the extraordinary voice of poor village girl Srey Thy. The result is romance and the birth of the Cambodian Space Project, a thrilling musical explosion that wows audiences worldwide with sounds from the 1960s and 70s golden age of Cambodian rock. Filmed over five years, this intimate documentary tells the story of performers whose struggle to overcome poverty, trauma and obscurity has never been easy.
Music Played
Ros Serey Sothea

I'm Sixteen

Srey Thy

Bong Sroh'eim (Gold Tanned Man) - Karaoke

Srey Thy

&

Julien Poulson

I'm Young But You Look Me Old

Cambodian Space Project

Look Me Good?, No Good

Eum Songsem

If You Wish to Love Me

Pen Ran

&

Ros Serey Sothea

Preah Paey Popok

Cambodian Space Project

I'm Sixteen

Srey Thy

Big Water (Tek Tum)

Pen Ran

Don't Come to Woo Me

Todd Reynolds

Birds in the Sky

From the "These Birds Walk" Film Score

Cambodian Space Project

A Go-Go

Sinn Sisamouth

My Beloved Sweetheart

Cambodian Space Project

Whisky Cambodia

Cambodian Space Project

Unsatisfied

Srey Thy

Kangaroo Boy (Pros Kangaroo)

Srey Thy

&

Julien Poulson

Happy Marry

Cambodian Space Project

Have Visa No Have Rice

Cambodian Space Project

If You Go I Come Too

Cambodian Space Project

Have Visa No Have Rice

Cambodian Space Project

I'm Sixteen

Cambodian Space Project

Mondulkiri

Cambodian Space Project

Baby Lady Boy

Cambodian Space Project

Black to Gold

Cambodian Space Project

Whisky Cambodia

Cambodian Space Project

I Haven't Danced Enough

Cambodian Space Project

Unsatisfied
Marc Eberle, director of Rocking Cambodia: Rise of a Pop Diva, answers the Storyville Q&A
What made you first want to explore the subject?
One night in Phnom Penh in 2002, I heard small transistor radio playing an old song from the golden years of Cambodia's past. "I'm only 16 years old and my life opens up like a flower…lalalalalala"…sang the "Golden Voice of Phnom Penh" Ros Sereysothea. I didn't know the song back then and a Cambodian friend at the table told me that the singer was still very famous in Cambodia and that she'd been killed under Pol Pot. Then and there, I was hooked on the music. The voice kept singing, it gave me the shivers and I felt like I was looking straight into the Heart of Darkness.

Having lived in Phnom Penh for some years I learned more and more about the music and singers and was looking for an angle to tell the story of Cambodia's vibrant artistic past with a focus on the era of the 1960s until the Khmer Rouge takeover in 1975.

When I met Julien and Srey Thy in December 2009, and when they told me they were starting a band together that would be riffing on Cambodian rock evergreens from the 1960s it immediately clicked. As soon as I heard that I suggested I would make a film about them. Luckily they agreed!

I wanted to make a film that tells of the resurrection of arts and culture in a society that had undergone a complete cultural collapse, and a film that tries to capture the funkiness of the people and the culture that I thought was so prevalent in the whole place. Adopting that approach was a challenge in itself. During the course of filming far greater challenges would come my way.

How long did it take to get the film off the ground?
It has taken 5 years to complete, I started filming in December 2009 – 3 weeks after I'd met Julien and Srey Thy, right from the get go when the band started. When I began filming Srey Thy attempting to capture her thoughts and personality it became clear that my role of director/cameraman would go beyond simply following her in observational mode. It became a balancing act of maintaining the formal filmmaker-subject relationship while also supporting her in the massive transition her life was taking as the front lady in a rock'n'roll band. My main aide was Srey Roath, translator and sound-woman, who was also a student of psychology. Roath understood very well the dilemma and problems Srey Thy was facing trying to survive day by day seeking to build a future for both her family of five and herself. Currently approx. 40% of Cambodians live in abject poverty and are faced with the same problems, but it is mostly women who have to bear the weight of it and are sent out to bring home money–whichever way they can. Some people say that this is due to Cambodian tradition and the Woman's code of conduct, which is handed down from mother to daughter and also taught in schools. Yet, tradition also features the Man's code of conduct, which isn't practiced anymore and frowned upon like an artefact of the past.

Very early on in the shoot I talked with Srey Thy about what it meant for her to participate in a film and tell her story to the world. Unlike most women in her position she was neither shy nor scared to talk about her past as sex worker. Quite to the contrary she said that she hoped she could make a difference by telling other girls and young women out there what happened to her so that they would know and hopefully make better-informed choices than her.
I kept pitching the film project at festivals and markets, there was interest from broadcasters, but no contract and no budget, so I refreshed my skills as a bass player again and joined the band for their tour through Australia – the only way for me to pay for the shoot/trip.

What were you most surprised to learn in the course of production?
One of the biggest challenges was researching the historical background. Sadly as a result of the Khmer Rouge's attempt to obliterate Culture the availability of documents, films and songs from the period 1960-75 is poor. Research and exploration for this film involved pioneering work into the obscured fields of Cambodian rock'n'roll and Cambodia's cinematic legacy predating the Khmer Rouge-induced cultural collapse. This work was both uplifting and tragic. During the making of this film I unearthed musical recordings, precious scraps of Cambodian films believed to be completely lost, and other previously unseen archival material.

Filmmaker friend Jim Gerrand opened up his garage and went through reels of 16mm film that he filmed in Battambang in 1971 and found previously unused footage of band rehearsals with singer Song Seng Horn. We also found footage that demonstrated well how rock music and modern dance was brought to the countryside by the King. In the rushes of an old CBS TV show we found a reel of King Sihanouk visiting the provinces with uniformed dancers twisting on stage and the King clapping in the background. Priceless. We found rare documentary footage from Phnom Penh in the late 1960s shot by a French cameraman Jean-Pierre Janssen who was here filming for a feature film that he never completed. We came a cross a KR propaganda film I'd never seen anywhere that was originally produced for the international market with Chinese help, but then never had been released.

Last but not least, I came across the last few remaining photographs of Pen Ran, even one of her singing in the studio, when Seng Dara, music lover extraordinaire showed his archive to me.

A very important part of the archival process was finding high quality recordings of songs as they originally sounded. Most of Cambodia's rock'n'roll song recordings resurfaced in the 1990s – but with new overdubs that added a new, contemporary punch to the music. Many of the tracks sold at markets and available as downloads are these new and somewhat compromised versions. Enter Hen Sophal, a painter in his sixties, who had hunted down and amassed the biggest collection of songs, often by risking his own life in a time during the early 1980s when Rock'n'Roll was still outlawed in Cambodia. Himself a passionate connoisseur and in love with the music he happily agreed to provide original recordings of the songs for the soundtrack.

The pinnacle of shooting the historic backstory was finding out more about Pen Ran, Srey Thy's idol (and inspiration), and Cambodia's most famous yet enigmatic female singer of the so-called Golden Era. Everybody in Cambodia, whether young or old, knows her name and her voice. But nobody knows any details about her life. Today, a total of four photographs are all that remains and there is no moving (film) footage of her. With the help of a group of students we visited a village two hours south of Phnom Penh in order to find out what really happened to Cambodia's most celebrated and mysterious female singer.

What is more important, story or character?
It always depends on the grammar of the film and how much the story is plot driven or character driven. Each film has to find its own balance between plot and characters.
The crux that editor Andrea Lang and myself had to solve was, how much story and how much of the characters do we need to develop in the shortest amount of screen time and be able to pay it off at the end. Four years of rushes and roughly sixty years of history of Cambodia is a lot of ground to cover, so clearly this film is a plot driven story that requires many emotionally charged moments of telling and showing of character- all told in the best visual way possible.

Which documentary has most inspired you?
Little Dieter needs to fly (1997), Grizzly Man (2005), by Werner Herzog.
Hearts of Darkness – A filmmaker's Apocalypse (1991) by Fax Bahr, George Hickenlooper, Eleanor Coppola.


Favourite Website/blog?
Re Cambodia
http://blog.andybrouwer.co.uk/
http://blueladyblog.com/
http://www.movetocambodia.com/blog/
https://www.travelblog.org/Asia/Cambodia/

Person you'd most like to interview (living or dead?)
Hitler and Elvis.

Best piece of filmmaking advice you've ever been given?
It's only a film!

If money was no object, what is your dream documentary subject?
Life, the universe and everything.

Favourite film of all time?
Apocalypse Now!

Most difficult access?
Long Cheng, Laos-former CIA airbase.

Best recent read?
The Man with the Golden Mind.

Credits
| Role | Contributor |
| --- | --- |
| Producer | Marc Eberle |
| Director | Marc Eberle |
| Producer | Richard Kuipers |
| Camera Operator | Marc Eberle |
| Series Editor | Nick Fraser |