Main content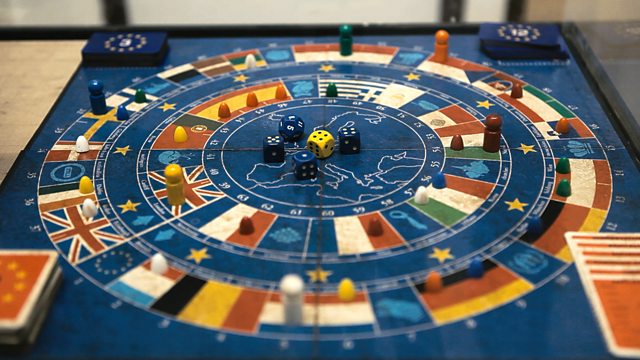 The Great European Disaster Movie
Through case studies of citizens in different countries, this film explores a range of factors that have led to the present crisis facing Europe, economic and identity challenges.
Authored documentary by Italian director Annalisa Piras and former editor of The Economist Bill Emmott, which explores the crisis facing Europe. Through case studies of citizens in different countries, the film explores a range of factors that have led to the present crisis, economic and identity challenges across Europe. High-level experts analyse how and why things are going so wrong.
The film includes fictional scenes, set in a post-EU future, which feature archaeologist Charles Granda (played by Angus Deayton) travelling on a flight through a menacing storm, explaining to a child passenger what the EU was. Sombre, thought-provoking and witty, the film frames Europe through the eyes of those who have most at stake - the Europeans themselves.
Robert Peston presents panel debate on issues raised in Storyville documentary on Europe
Annalisa Piras, director of The Great European Disaster Movie, answers the Storyville Q&A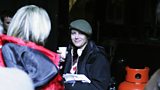 What is more important, story or character?
Equally important. You can't fly with one wing...
What made you first want to explore the subject?
Since studying Europe at university and then covering it as a journalist I have been fascinated by how little many people understand the European project whilst at the same time how much they loathe it.
How long did it take to get the film off the ground?
One year to get the European co-production deals together while writing and researching the treatment. Putting the financial plan together with many different producers was the hardest.
What were you most surprised to learn in the course of production?
I was puzzled that EU co-producers were equally keen to have a cross-national perspective on Europe and at the same time tailor the film to their national audiences.
What have been the differences in reception to the film in countries it has now travelled to?
The film is yet to travel but it is meant to go on a Europe wide tour of universities and indie cinemas followed by debates so I anticipate an interesting travelogue.
Which documentary has most inspired you?
Inside Job - top level committed journalism with beautiful cinematography and gripping storytelling.
What is your favourite website/blog?
The Daily Show for the best of world political satire. The Economist, The Guardian, The New York Times.
Who is the person you'd most like to interview, living or dead?
Silvio Berlusconi. As far as I am aware he has never given an interview which he has not controlled. Before he goes, I would love to film Silvio 'uncensored'.
What's the best piece of filmmaking advice you've ever been given?
Julien Temple on drowning in the cutting room under hundreds of hours of footage: "Get a machete out and cut the tentacles of the algae monster that obscures the daylight."
Which piece of filmmaking equipment can't you live without?
My smartphone and its film apps.
If money was no object, what is your dream documentary subject?
A history of "xxxxx" since the beginning of humanity. Give me the money and I'll tell you what...
What is your favourite film of all time?
Amarcord by Federico Fellini - visionary, poetic and sharp as a knife.
What's your best recent read?
Submission by Michel Houellebecq - an unprecedented case of synchronicity between art and news. Imagining a dystopian near future dominated by fundamentalism and then publishing the book on the same day as the Charlie Hebdo massacre sent a shiver down the spine of millions. Apart from Greece getting out from her debtor's prison, I hope we don't live to see the dystopian Europe I imagined in my film, but can't be sure.
Credits
| Role | Contributor |
| --- | --- |
| Director | Annalisa Piras |
| Series Editor | Nick Fraser |