Main content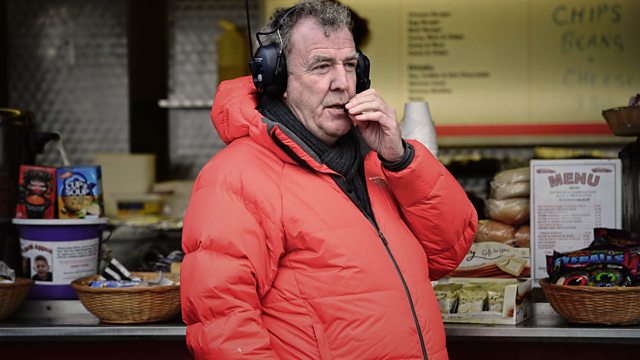 Older People in the Media, Clarkson and the Top Gear Brand, TV Election Debates
Media news, including how the absence of Clarkson could impact the Top Gear brand, how the media represents older people and the challenges of organising an election debate.
Top Gear presenter Jeremy Clarkson has been suspended by the BBC following a 'fracas' with a producer on the programme. The BBC has announced that the scheduled episode of Top Gear will not be broadcast this Sunday. Top Gear is one of the BBC's most popular exports worldwide and has a large UK fan base. PR consultant Mark Borkowski will discuss the brand, the decision to pull the show, the relationship between production staff and talent and who, if anybody, could fill Clarkson's shoes.
A government report out today says the media's representation of older people is 'prejudiced' and 'out of date'. Ros Altmann, the government's Older Workers Champion, is calling for an end to images in the press of wizened hands and walking sticks, which she says perpetuate unhelpful stereotypes. She also wants to see older presenters and journalists on air, and fewer references to age in stories. Emma Barnett asks Ros about the key findings, and speaks to Alexander Chancellor, editor of 'The Oldie', and Dame Joan Bakewell, former 'tsar' for older people, to discuss whether the media needs to change its attitude towards the older generation.
The former chairman of the BBC, Sir Michael Grade, has today said the way the broadcasters have acted in trying to organise the TV debates is a "shambles". This week, David Cameron said he would take part in one 7-way debate, but not the others. Emma Barnett speaks to former Chair of the Lords Communications committee Lord Inglewood who last year published a report which showed clear public support for the televised debates. And talking about the challenges of organising a debate is Chris Birkett, from the Digital Debate, which is trying to engage voters from a younger demographic.
Producer: Katy Takatsuki.
Chapters
How the media represents older people

With Ros Altmann, Alexander Chancellor and Dame Joan Bakwell

Duration: 12:35

Jeremy Clarkson's suspension from Top Gear

PR consultant Mark Borkowski on how Clarkson's absence could impact the Top Gear brand

Duration: 06:56

TV election debates

With Lord Inglewood, Chair, Lords Communications Comm & Chris Birkett, the Digital Debate

Duration: 07:14
Become a TV mogul and get rich
A celebration of Steve Hewlett, presenter of The Media Show