Main content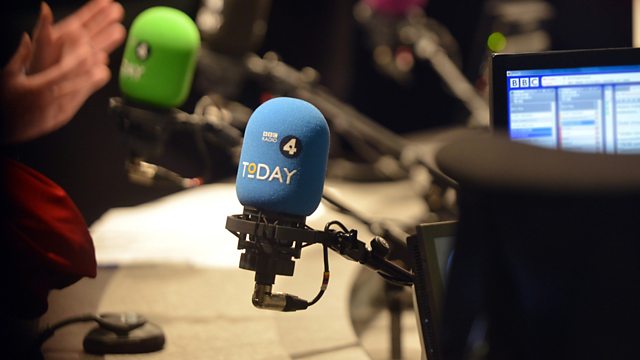 11/03/2015
Morning news and current affairs. Including Sports Desk, Yesterday in Parliament, Weather and Thought for the Day.
Last on
Today's running order
0655
Rona Fairhead's mauling before the Public Accounts Committee this week raises the question - just how much should we expect non-executive directors, working part time, to know about the companies like HSBC on whose boards they sit? To what extent can they really be held responsible for what goes on inside? John Kay is an economist who was a non-executive director of Halifax for nine years until the year 2000.
0710
David Cameron has denied that Britain is "shrinking its role in the world" as a result of defence cuts. Former head of the army General Sir Peter Wall warned that the funding squeeze was "playing out" in the UK's approach to dealing with Vladimir Putin, leaving the UK reticent to tackle Russian incursions into its airspace and offshore waters. And the US ambassador to the United Nations, Samantha Power, used a speech in Brussels last night to voice concern over declining defence spending in European countries at a time when an increasing number of missions require them to supply troops. Luke Coffey is a Margaret Thatcher Fellow at the Davis Institute for National Security and Foreign Policy at the Heritage Foundation in Washington DC and was special adviser to Liam Fox when he was Defence Secretary.
0715
The BBC has cancelled the next two episodes of Top Gear -- after the presenter, Jeremy Clarkson, was suspended for allegedly punching a producer in a row about food. Will Wyatt is a former director of BBC Television and was later President of the Royal Television Society.
0720
The Supreme Court will rule this morning on the case of a woman who has applied for a financial settlement from her former husband, nearly twenty years after they divorced. In the early 1980's Dale Vince and Kathleen Wyatt met, married, had a son and lived as new age travellers. Neither had assets or income and they separated after three years. Jo Edwards is chair of Resolution, an organisation of 6,500 family lawyers and other professionals in England and Wales.
0725
A jury in the United States has ruled that the writers of Blurred Lines - one of the best-selling singles of all time - copied a Marvin Gaye track. Jurors in Los Angeles decided that the 2013 single by Pharrell Williams and Robin Thicke breached the copyright of Gaye's 1977 hit Got To Give It Up. The family of the late soul singer has been awarded $7.3m (£4.8m) in damages. Is this a game changer for music producers? Arthur Baker is a music producer who has worked with artists including New Order, Bruce Springsteen, Bob Dylan and Diana Ross.
0730
The former chairman of the BBC and  executive chairman of ITV has written a letter in The Times today strongly criticising broadcasters for their 'grossly inflated and misguided ideas of their own importance' over the proposed Election Television Debates. Lord Grade is a former chairman of the BBC and executive chairman of ITV plc.
0740
A BBC investigation has revealed that babies are being sold openly online in China.  Despite police raids, child trafficking remains a huge problem in the country. It's estimated that up to 20,000 children are abducted every year and many are then sold into adoption. From the city of Chengde- Martin Patience - has this exclusive report.
0750
The Motor industry (the SMMT) is launching a campaign today to challenge what it describes as the "demonisation of diesel". The industry says that it fears that confusion about emissions from diesel cars could hit sales of new cleaner vehicles. Diesel cars produce less CO2 than petrol engines. But they emit particles and Nitrogen oxides which impact upon air quality and have led policymakers to consider introducing bans. Mike Hawes is CEO of the Society of Motor Manufacturers and Roy Harrison is Professor of Environmental Health at the University of Birmingham.
0810
Scientists at UCL are hoping that research they are conducting involving patients with inherited early-onset Alzheimer's disease will lead to greater understanding of the causes of dementia and ultimately new treatments. Professor Nick Fox has been investigating the problem which affects around 40,000 people in the UK.  Among them is former soldier Chris Graham, who's 39 and carries a gene mutation which affects just a few hundred families worldwide. His father died from the disease aged 42 and his 43 year old brother already needs full time care.
0820                                                            
With the advent of music streaming the intimate relationship that music lovers have long enjoyed with the album, in particular the album cover, is in danger of disappearing. However, a backlash is now under way to reinvent the album sleeve for a new generation. Mark Schifferli is a software engineer at Fathom Information Design and Matthew Cooper is a freelance designer who has worked for bands including Hot Chip, Franz Ferdinand, Arctic Monkeys and Four Tet.
0830
The campaign to retake Tikrit, the birthplace of Saddam Hussein, from insurgents of the so-called Islamic State is continuing in Northern Iraq. Chair of the US Joint Chiefs of Staff General Martin Dempsey, said he was confident that Iraq would ultimately defeat the Sunni militants. If the operation is successful, it would be the first time that the Iraqi forces had regained control of an area from the militants. However, some analysts and human rights groups have raised concerns about Hashd al-Shaabi, the umbrella group for Iraqi-backed Shia militias. They claim the group has a poor track record of human rights abuses and sectarian and ethnic cleansing. Colonel Derek J Harvey was Special Advisor to General David Petraeus while he commanded the Multi-National Force in Iraq during the Surge of the American forces and the "Sunni awakening".
0835
Government papers reveal that Winston Churchill was part of a secret plot to give an original copy of Magna Carta to the Americans, in return for their support in the Second World War. The documents were written in March 1941 at the height of the Blitz, nine months before the Americans actually joined the War. The papers are now going on public display for the first time at the British Library as part of the celebrations marking Magna Carta's 800th anniversary. Julian Harrison is curator of the Magna Carta exhibition at the British Library.
0840
It's four years since the earthquake and tsunami that set off the crisis at the Fukushima nuclear plant.  Families say they have given up hope of ever going back. Our reporter Rupert Wingfield Hayes has been back to Fukushima to see how the decontamination process is proceeding and met people from those villages restarting their lives elsewhere.
0845
Sierra Leone's National Olympic Committee has reacted to our interview with the Sierra Leonean athlete Jimmy Thoronka. The sprinter, who has been living rough on the streets of London, failed to return home following last year's Commonwealth Games in Glasgow. Yesterday he told us that he wasn't able to return home because of an Ebola flight ban and that his parents have died of Ebola.  Our reporter Umaru Fofana has been speaking to Joseph Nyande - the NOC Secretary General about Thoronka's story.
0850
Immigration has been one of the defining themes of the election campaign so far - but in some constituencies, its people leaving, rather than moving in which is of greatest concern. Ceredigion in mid-Wales is one of the most rural areas in Britain - and there is real trepidation that young people are leaving, and village life is dying out. Our correspondent, Hywel Griffith, reports in the latest of our visits to 100 constituencies before the election.
0855
Voices in people's heads are more varied and complex than previously thought, according to research by Durham and Stanford universities, published in The Lancet Psychiatry today. Auditory hallucinations are a common feature of many psychiatric disorders, such as psychosis, schizophrenia and bipolar disorder, but the study found that people without psychiatric conditions also experience them. The majority of voice-hearers hear multiple voices with distinct character-like qualities, with many also experiencing physical effects on their bodies. Dr Angela Woods is co-director of the Hearing The Voice project at Durham University and Rachel Waddingham is a training consultant and a trustee of the National Hearing Voices network - she was diagnosed with schizophrenia, lives with hearing 13 or so voices without medication.
All subject to change.
Broadcast