Main content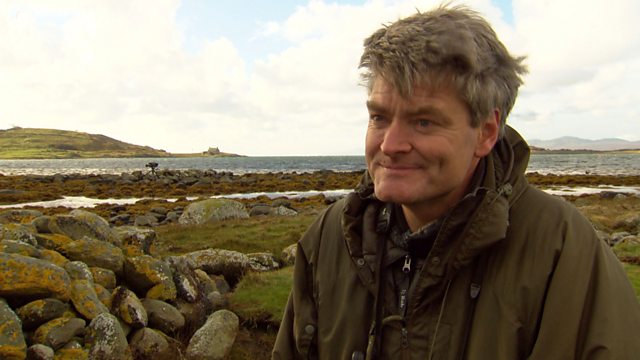 Martha: An Endling's Tale
John Aitchison explores the extinction of the passenger pigeon, a bird numbering in the billions when Europeans arrived in America. The last one, Martha, died in captivity in 1914.
Wildlife cameraman and filmmaker John Aitchison sets up his hide near a partially-frozen lake in Missouri, Midwestern United States, and waits for flocks of Lesser Snow Geese to fly over. Its spring and the birds are on migration. Lesser Snow Geese are one of the commonest birds in America; there are more than 5 million breeding pairs. Watching their huge flocks has been likened to watching snowflakes in a storm; there are just too many birds to count, and yet when the first Europeans arrived in America, populations of the Passenger Pigeon numbered billions not just millions. The early settlers could look up at the sky and see flocks of passenger pigeons as dense as these geese pass over, not just for minutes but for hours or even days. It's hard to imagine such a huge abundance of birds. One nesting colony reportedly covered 850 square miles.
The last passenger pigeon, a bird called Martha who was born and lived in captivity at Cincinnati zoo, died just over 100 years ago on Sept 1st 1914. In this programme, John travels to the States to see Martha, (after her death, she was packed in ice and sent to the Smithsonian Institution in Washington DC where she was preserved and is now kept) and learns about the history and lives of the Passenger Pigeons and discovers the causes of their extinction (a combination of deforestation, hunting, railroads, refrigeration and human greed). A century on, John reflects on what lessons we have learned from the birds' demise and explores the possibility of bringing the passenger pigeon back from extinction, using genomic technology and a living relative, the band-tailed pigeon. It's a fascinating and sobering journey; as John says when he comes face to face with Martha; "Extinction is a terrible thing". Producer Sarah Blunt.
Last on
John Aitchison - Presenter
John Aitchison is a wildlife cameraman, photographer, writer and broadcaster. He has worked on many television series including Frozen Planet, Hebrides, Life, Big Cat Diary, Springwatch and Yellowstone 
He has presented several radio series called
A View through a Lens
for BBC Radio 4 based on his filming experiences.
Martha - the last passenger pigeon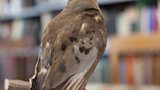 Photography by John Aitchison
Chris Milensky - Interviewee
Chris Milenksy is a Museum Specialist at the Smithsonian Institution, Washington DC where Martha is kept. He is responsible for collection management activities, including specimen preparation, cataloguing, curation, loans, information requests, and assisting visitors. Interests are in field work, specimen preparation, bird song recording and archiving, and South American birds.
Mark Avery - Interviewee
Mark Avery describes himself as a scientist by training and a naturalist by inclination. He writes about and comments on environmental issues. Mark worked for the RSPB for 25 years until he decided to go freelance.  He was the RSPB's Conservation Director of nearly 13 years.  Mark lives in Northamptonshire and is a member of the RSPB, the Wildlife Trusts the National Trust, Buglife, Butterfly Conservation, Plantlife, Pond Conservation, the BTO and the Wildfowl and Wetlands Trust.
He is also author of A message from Martha – the extinction of the Passenger Pigeon and its relevance today.
Paul Sweet - Interviewee
Paul Sweet is Collections Manager in the Division of Vertebrate Zoology - Ornithology at the American Museum of Natural History. His interests outside of the museum include birding and gardening.
Ben Novak- Interviewee
Ben Novak is Lead Researcher, The Great Passenger Pigeon Comeback.
Ben graduated from Montana State University studying Ecology and Evolution (2005). Novak specialized in paleontology, genetics, ecology and ornithology. Novak was trained in paleogenomics laboratory protocols at the McMaster Ancient DNA Centre under Dr. Hendrik Poinar, exploring DNA extraction and sequencing of Mastodon fossils (2010-2012). It was at this laboratory that Ben began his first studies of passenger pigeon genomics. With this experience he has taken on the challenge of leading The Great Passenger Pigeon Comeback which began in 2012. In 2013 he joined the UCSC Paleogenomics Laboratory, under Dr. Beth Shapiro, to initiate genome studies for passenger pigeon de-extinction.
Revive and Restore's The Great Passenger Pigeon Project
John Aitchison meeting Martha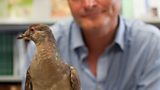 Photograph by John Aitchison
David Acton - Reader
Most recently on tour in A Midsummer Night's Dream and The Comedy of Errors with the all male Shakespeare company Propeller.
Previously with Propeller: Henry V and Twelfth Night. Other theatre includes: The Woman in Black (Fortune Theatre); Anjin: The Shogun and the Samurai (Tokyo and Sadler's Wells); The League of Youth, Vertigo, Burial at Thebes and I Have Been Here Before (Nottingham Playhouse); Relatively Speaking and Copenhagen (Newbury Watermill); The Dark Things (Edinburgh Traverse); Richard II (Old Vic Company); Much Ado About Nothing (Peter Hall Company); for the RSC: Hamlet, The Comedy of Errors, The Constant Couple, The Man of Mode, The Love of the Nightingale, King Lear, As You Like It, Henry V, Edward III, Eastward Ho!, The Roman Actor.
TV includes: Diaries of the Great War (to be broadcast in August 2014), Doctors, EastEnders, Silent Witness, Passage, Hollyoaks, Tchaikovsky, The Bill, Blair on Trial, Class of '76, Casanova's Love Letters, Fooling Hitler, The Wyvern Mystery, Randall and Hopkirk (Deceased). Film includes: After Death, Volume, Persuasion
Michael Bertenshaw - Reader
Michael's childhood was split between Lancashire and Yorkshire and he was educated at a minor public school in Cambridge from the ages of 13 to 18. He studied English and Fine Art at the University of Leeds then Lectured in General Studies, English and Art at a College of Further Education in Portsmouth until the winning of two consecutive New Writer competitions for BBC (one Radio and one TV) somehow turned him towards acting at around the age of thirty.
He entered RADA on a scholarship and left as Ronson Award Winner (Most Promising Actor of  The Year) in 1977. He spent three years with the RSC and since then has worked consistently in theatre, film and TV. For reasons he doesn't quite understand he has apparently appeared in more productions at The Theatre Royal Stratford East than any other actor EVER (involving about 19 pantos as Villain, Dame or Wolf along with appearances in a multitude of straight plays). His other main stamping ground of recent years has been at Shakespeare's Globe and the past five years have been spent very happily summering at Shakespeare's Globe and wintering at Stratford East with the odd TV and regional theatre job slotted in.
Elaine Claxton - Reader
Apart from a busy career in theatre, television and radio, including long seasons at the National Theatre, Elaine previously taught sight-reading and radio technique at RADA for five years and is proud to have taught quite a number of previous Carleton Hobbs Winners during that time. She has recently completed a very successful sell-out run of Carthage, a new play by Chris Thompson at the Finborough Theatre.
Martha and George on display at the Smithsonian Institution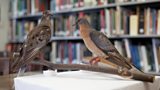 Photograph by John Aitchison
Chris Watson – wildlife sound recordist
Born in 1953 in Sheffield where he attended Rowlinson School and Stannington College, Watson was a founding member of the influential Sheffield based experimental music group Cabaret Voltaire during the 1970's and early 1980's. His sound recording career began in 1981 when he joined Tyne Tees Television. Since then he has developed a particular and passionate interest in recording the wildlife sounds of animals, habitats and atmospheres from around the world. As a freelance composer and recordist for Film, TV & Radio, Watson specialises in natural history and documentary location sound together with sound design in post-production.
His television work includes many programmes in the David Attenborough 'Life' series including 'The Life of Birds' which won a BAFTA Award for 'Best Factual Sound' in 1996. More recently Watson was the location sound recordist with David Attenborough on the BBC's series 'Frozen Planet' which also won a BAFTA Award for 'Best Factual Sound' (2012).
Watson has recorded and featured in many BBC Radio productions including; ' The Listeners' and 'The Wire' which won him the Broadcasting Press Guild's Broadcaster of The Year Award (2012), NATURE, Tweet of the Day, and The Cliff. His music is regularly featured on the BBC Radio 3 programme 'Late Junction'.
Extracts heard in the programme
Columbus Ohio 1855 – witness account
As the watchers stared, the hum increased to a mighty throbbing. ….The thunder of wings made shouting necessary for human communication"
Several extracts including the description of the bird being hunted were taken from the writings of John James Audubon (1785-1851)   Birds of America – a collection   (1827–1839). Eg.
The pigeons arriving by thousands, alighted everywhere, one above another, …..It was a scene of uproar and confusion.
John Muir 1838 – 1914 from The Story of my Boyhood and Youth  Boston: Houghton Mifflin, 1913.
The breast of the male is a fine rosy red, the lower part of the neck and behind ….. The females are scarcely less beautiful!
John Wheaton  1841- 1887
In the fall of 1859… I had an opportunity of observing a large flock while feeding. ….The noise was deafening and the sight confusing to the mind.
Simon Pokagon  1830-99) was a native Potawatomi from southwest Michigan who campaigned for Native American rights and wrote many books articles.  Of the passenger pigeon he wrote
.. I have seen them move in one unbroken column for hours ….sounding as though a  whirlwind was abroad in the land.
Commonwealth – a newspaper on Fond du lac, Wisconsin
"Imagine a thousand threshing machines running under full headway, …..  and you possibly have a faint conception of the terrific roar of a passenger pigeon flock ,"
Charles Bendire 1836-1897 in the Life of American Birds published in a series Washington, Smithsonian Institution 1892-1895.
The largest nesting ever visited was in 1876 or 1877. ….For the entire distance of 28miles every tree of any size had more or less nests and many trees were filled with them.  None were lower than 15 feet above the ground.
Broadcasts