Julie Andrews, Chelsea Clinton
After 50 years of the Sound of Music, Julie Andrews reflects on her award winning career as a child performer, a Broadway star, an Oscar winning film actress & author of children's books; Chelsea Clinton discusses the progress made by the family foundation after 20 years; Leader of Plaid Cymru, Leanne Wood, explains what they are offering women voters? What does it mean to be a Black feminist? Dina Brawer on becoming Britain's first Orthodox woman receiving rabbinical ordination; Psychotherapist, Philippa Perry, and her BBC4 documentary on the story of British Agony Aunts.
Last on
Chelsea Clinton
It's twenty years ago this September that Hillary Clinton told a United Nations conference in Beijing that "women's rights are human rights". Yesterday, the Bill, Hillary and Chelsea Clinton Foundation published the 'No Ceilings Report' assessing what progress had been made since 1995. It's concluded that maternal mortality rates have almost halved and almost as many girls as boys now go to primary school. However, it calls violence against women a "global epidemic", says women still earn less than men in every country, and that on average women only occupy 1 in 5 seats in national legislatures. Jane Little spoke to Chelsea Clinton about what difference she thought her family's foundation and its report could make.
Leanne Wood
Plaid Cymru held its Spring Conference in Caernarfon last week – their last before the General Election. Leader, Leanne Wood pledged to fight austerity politics and said "it's time Wales was a little less well behaved". Jane talks to Leanne Wood about Plaid Cymru's offer to women voters and what sort of Westminster government they'd like to see..
Julie Andrews
Fifty years since the iconic film The Sound of Music was released, Julie Andrews reflects on her award winning career in which she has been a child performer, a Broadway star, an Oscar winning film actress and an author of children's books. A DVD celebrating the 50th anniversary of the film has just been released and includes a new documentary in which Julie returns to Salzburg to retrace the story of the Von Trapp family.
Black Feminism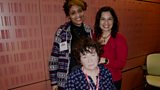 If you're a regular listener of Woman's Hour, you'll have heard different women discuss the values that underpin their feminism. We look at what it means to be a Black Feminist. What separates Black feminism from mainstream feminism and is it necessary? Chardine Taylor-Stone is a writer, musician, activist and the curator of an event celebrating Black feminism that'll be at the Black Cultural Archives in Brixton, South London this Saturday. Heidi Mirza is a professor of Race, Faith & Culture in the Sociology department at Goldsmiths University.
The Agony Aunt Story
Philippa Perry is a psychotherapist, author of a number of self-help books, an ex-Samaritan and has realised her dream of being an Agony Aunt. In a new BBC 4 documentary, Philippa has traced the story of British agony aunts, and uncles, from their origins in the 17th century to the present day. She talks to Jane about love-bites, the appeal of advice columns, and why they still have an important role.
Sex, Lies and Love Bites: The Agony Aunt Story is being broadcast on BBC 4 on Tuesday (10th) at 9pm.
Dina Brawer - Britain's first Jewish Orthodox Female Rabbi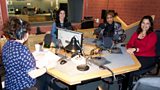 This year it will be 40 years since a woman Rabbi was ordained in Britain, from the progressive wing of Judaism. Now Dina Brawer is set to become the first Orthodox Jewish woman to train to become a rabbi in a tradition that has seen women and men's roles strictly segregated, with  religious ritual performed by men in the synagogue and women's roles associated with home and raising the family. Dina describes why she has taken this step, and talks about her work as a leader of a growing world-wide Jewish Orthodox feminist movement.
Credits
| Role | Contributor |
| --- | --- |
| Presenter | Jane Garvey |
| Interviewed Guest | Chelsea Clinton |
| Interviewed Guest | Leanne Wood |
| Interviewed Guest | Julie Andrews |
| Interviewed Guest | Chardine Taylor-Stone |
| Interviewed Guest | Heidi Mirza |
| Interviewed Guest | Dina Brawer |
| Interviewed Guest | Philippa Perry |
| Producer | Kirsty Starkey |