Main content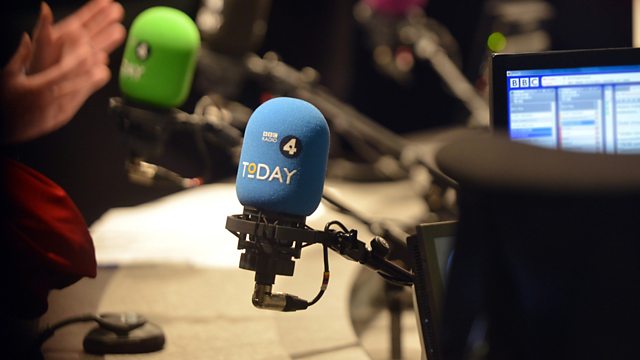 10/03/2015
Morning news and current affairs. Including Sports Desk, Yesterday in Parliament, Weather and Thought for the Day.
Today's running order
0650
Child social care in England is 'inadequate' or 'requires improvement' in three quarters of the local authorities inspected by Ofsted. It made more than 5,000 inspections of children's homes and other social care provisions run by 43 councils. Debbie Jones is Ofsted's National Director for Social Care.
0655
On its original release in 2013, the documentary "No Fire Zone: The Killing Fields of Sri Lanka" shone a light on the bloody horror of the final weeks of fighting in Sri Lanka's civil war. The UN has hailed the film as having had a key role in bringing to their attention the atrocities enacted on the Tamil people by government forces, but the Sri Lankan government still denies the extent of the killing. Now a Sinhalese version of the film is to be released in the hopes of reaching the population in Sri Lanka, where the film has thus far been banned. The new version is being launched at an event at the Palace of Westminster this morning, to coincide with the first visit of the new Sri Lankan president Maithripala Sirisena to the UK. Callum Macrae is the film's director.
0710
Police say the whereabouts of 396 convicted rapists, paedophiles and other sex offenders are unknown. Some have been missing for over a decade, according to police figures from 38 forces – following a FOI request for the Press Association. One convicted sex offender in Gloucestershire has been missing since the year 2000, another in Northumbria disappeared in May 2002. Registered sex offenders - including rapists and paedophiles - are required to inform police and probation officers of their addresses. The proportion of those missing is less than 1% of the total number who have to register, around 40,000. Sharon Girling is a former police officer and founder member of CEOP (Child Exploitation and Online Protection centre) who now advises on child safeguarding.
0715
England Cricket have been knocked out of the World Cup in embarrassing circumstances, losing to Bangladesh by 15 runs and failing to make it to the quarter finals. In losing to every Test-playing side in Pool A - their only win has come against Scotland - England have put in their worst showing since a first-round exit on home soil in 1999.  It's a shock because Bangladesh is an associate member on the same level as Ireland and Scotland. Coaches Peter Moores received widespread derision when he said after the game that he would 'have to look at the data" to see why they didn't win. ASHLEY GILES is a former England Cricketer and was a coach in the national team until last year and lost out to Peter Moores.
0720
28 years ago today, the private detective Daniel Morgan was found dead in a south London car park – he had been murdered with an axe. The panel investigating his murder – which was set up in 2013 - has made a new appeal for information. Baroness Nuala O'Loan is chair of the Daniel Morgan Independent Panel (DMIP) which is reviewing the police handling of the murder investigation.
0730
Sierra Leone's top sprinter Jimmy Thoronka, 20, vanished after the Commonwealth Games in Glasgow last summer. He was arrested last Friday after he was found in an emaciated state, living rough on the streets of London. Along with several other athletes he failed to return to Sierra Leone, and until now his whereabouts had been unclear. Thoronka now faces deportation.
0740
Archaeologists have started excavating around 3,000 skeletons from the Bedlam burial ground at Liverpool Street in the City of London. Jay Carver is Crossrail's lead archaeologist at the Liverpool Street Station excavation site.
0750
Earlier this month - we heard that a former British soldier had been killed in Syria. He'd been fighting alongside the Kurdish forces against Islamic State. The BBC understands about 100 volunteers from the western world - including some from the UK - are fighting as part of the 30,000-strong Kurdish forces. Yesterday, a German woman Ivana Hoffmann was reported to have been killed in Syria while fighting alongside Kurdish militia. She's thought to be the third foreign fighter to be killed fighting against Islamic State in the last two weeks. The British government advises against all travel to Syria and says that taking part in a conflict overseas, no matter what side you're fighting for, could be an offence under both criminal and terror laws. Our reporter Sima Kotecha has spoken to a former British soldier who says he's preparing to go to Syria to train and help the Peshmerga fight IS.  He doesn't wish to be named.  The programme has made every effort to try and verify his story. David Anderson QC is independent reviewer of Terrorism Legislation.
0810
A senior American diplomat has warned of a "dangerous" gulf emerging between what the US and Europe is spending on defence. Samantha Power, the US Ambassador to the United Nations, has told this programme that recent defence cuts in  European nations, including the UK, is "concerning and not sustainable". She called on NATO members to meet their target of spending 2 percent of their GDP on the military. Samantha Power is the US Ambassador to the United Nations.
0820                                                            
One hundred years ago today, allied troops launched a major offensive on the Western Front near the French town of Neuve Chapelle. Almost half of the attacking force was composed of troops from the Indian army fighting alongside British troops. Today commemorations are taking place to mark the contribution Indian troops made to that key battle and to the Great War as a whole. There'll be ceremonies at the Indian Memorial in France and at the Delhi Gate Memorial. During the course of the war an estimated four million colonial soldiers, porters and labourers served the Allied cause, many of them from India. Dr Sanatanu Das is Reader in English Literature at King's College London & author of "Indians on the Western Front 1914 - 1918" and Vedica Kant, author of "If I Die Here Who Will Remember Me?' India and the First World War".
0830
Police say the whereabouts of 396 convicted rapists, paedophiles and other sex offenders are unknown (see 0710). Michelle Skeer is National Policing Lead for the Management of Sexual Offenders and Violent Offenders.
0840
The Polar Music Prize is Music's equivalent of a Nobel Prize, previous winners have included Bob Dylan, Pink Floyd, Joni Mitchell, Dizzie Gillespie and Stevie Wonder. This morning it was announced this year's recipient is the Scottish Percussionist Dame Evelyn Glennie. She was the first person in history to have a full-time career as a solo percussionist - going on to win three Grammys and play at the opening of the 2012 Olympics. And she has been profoundly deaf since the age of 12. Our Entertainment Correspondent went to meet Evelyn Glennie ahead of today's announcement at her Head Quarters in Huntingdon, Cambridgeshire, home to her huge collection of instruments.
0850
New research on hormone replacement therapy shows that women who use it face a small increased risk of stroke or blood clots. However, the report says HRT remains a valid treatment, for moderate to severe symptoms associated with the menopause. Last month a separate study suggested that HRT slightly raised the risk of ovarian cancer. Dr Henry Boardman is author of Cochrane Library analysis, Department of Cardiovascular Medicine Oxford University.
0855
National Hunt racing's most prestigious event, the four day Cheltenham Festival starts today. AP McCoy, the sport's most outstanding jockey, announced his retirement earlier this year and so is taking part in his last festival. But what next for AP? Rob Bonnet went to meet him.
All subject to change.