Main content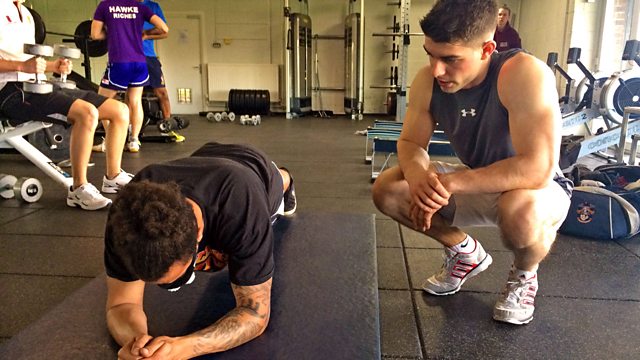 Do You Even Lift?
Dev finds out if there is such a thing as the 'perfect' male body. He pumps iron at the gym (sort of), discusses abs with a plastic surgeon and spends a lot of time on Instagram.
Dev's on a mission to find out if there is such thing as the 'perfect' body. Along the way he meets some guys who take the idea of perfection to the extreme and finds out if male body image is a bigger issue than we all think.
Young men are under more pressure than ever to look a certain way - gym selfies, instahealth hashtags, semi-naked underwear adverts and huge arms bulging out of tiny vests are everywhere. Is this just a move in a healthier and bigger direction or is this a trend that we need to be wary of?
So can you get a 'perfect' body? To find out Dev trains with a self-confessed gym addict, learns all about how ASOS cast the perfect boy and speaks to a teenager who has had plastic surgery. Plus, he'll find out how the Geordie Shore boys manage to stay ripped, while also partying all the time, and explores the dark side of body image obsession.
Last on
Steroids are sometimes used to help grow muscle, but there are often side effects
Music Played
Milky Chance

Stolen Dance

Blonde

Higher Ground (feat. Charli Taft)

Disciples

They Don't Know

The Presets

No Fun (Golden Features Remix)

Raleigh Ritchie

Stronger Than Ever (MJ Cole Remix)

Years & Years

Take Shelter

Jessie J

,

Ariana Grande

&

Nicki Minaj

Bang Bang

Oliver $

&

Jimi Jules

Pushing On

Tough Love

Show Me Love (Tough Love Remix)

Solo 45

Feed Em To The Lions

Sigma

Changing (feat. Paloma Faith)
Broadcasts