Main content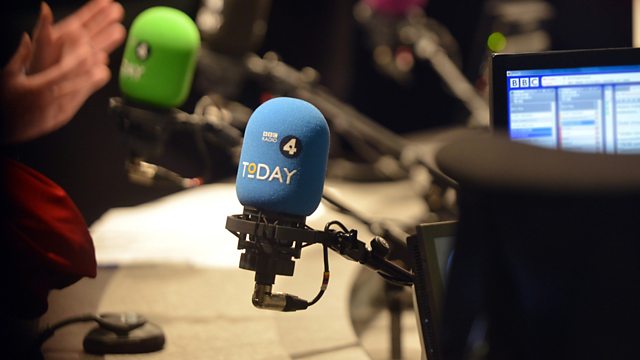 09/03/2015
Morning news and current affairs. Including Sports Desk, Weather and Thought for the Day.
Last on

Today's running order
0640
It's not every day that we get to put Justin Bieber and Pakistan in the same sentence, but two Pakistani teenage girls  have managed it - a video of their rendition of Justin Bieber's 'Baby' has gone viral on social media. Their new found fame is quite unusual for a conservative society like Pakistan where girls' singing is usually frowned upon. The two sisters however have the full support of their family. Our Pakistan correspondent Shaimaa Khalil went to Lahore to meet them.
0645
The Apple Watch will be unveiled later today. It's the first brand new product from the company since the iPad in 2010. Now it's not the first smartwatch in the industry - start-up group Pebble launched one two years ago and bigger hitters Google, Huawei and LG have launched them. But will Apple's new offering tempt more buyers? Sophie Charara is contributing editor at Wareable.com a website about wearable technology.
0650
Today the Prime Minister will announce funding for 49 new Free Schools in England in the final wave of approvals by the coalition government before the election – and a promise to create at least 500 more in the next parliament if the Conservatives win in May. He'll say that the over 300 Free Schools already open are: "not only outperforming other schools but they are raising the performance of others around them". This claim – crucial for the Conservatives, who contend that competition in education drives up standards – is based on a report by Policy Exchange, published today. Jonathan Simons is head of the education unit at Policy Exchange and Dr Rebecca Allen is director of think tank Education Datalab.
0655
The fees charges by the government to claimants filing cases in the civil courts go up today, by as much as 600% in some cases. The increases have been criticised by The Law Society, professional bodies, lawyers and judges. Lord Pannick is a crossbench peer and barrister.
0710
It's just over a week before the final budget before the election. Ahead of that, in a speech today, the Shadow Chancellor Ed Balls will say the Conservatives spending plans involve "risky and extreme cuts to public services". Chris Leslie is Shadow Chief Secretary to the Treasury.
0715
A plane has taken off from Abu Dhabi in the first attempt to fly around the world using only the energy of the sun. Solar Impulse Two, a one-seater plane, has solar panel-covered wings longer than those of a jumbo jet, but it weighs no more than a large family car. Much of that weight is taken up by batteries, so it can fly at night. The two Swiss pilots (Bertrand Piccard and Andre Borschberg) will take turns to fly the five month journey. The plane is heading first for Oman, and will then stop off in India, China, Hawaii and New York before heading back to Abu Dhabi, without using a drop of fossil fuel. Mark Lobel is the BBC's Middle East business correspondent.
0720
Cheap and readily available, legal highs are increasingly seen as a menace in some of the UK's smaller towns and cities. We sent our reporter Zoe Conway to one city which has a problem - Exeter in Devon.
0730
On Sunday, forces from Niger and Chad launched an offensive against Boko Haram militants in Nigeria. Boko Haram launched its first attacks in Chad last month. Yesterday, the Foreign Secretary Philip Hammond played down the significance of the weekend's news that Boko Haram has pledged allegiance to Islamic State. But what does the rise of both organisations; thousands of miles apart tell us about the sort of conditions that engender them? Are there parallels between them – and do those parallels shed any new light on why these groups gain a foothold? The BBC's West Africa correspondent Thomas Fessy reports from Chad with the African Union troops preparing to fight against Boko Haram and Sarah Chayes is author of 'Thieves of States: Why Corruption Threatens Global Security' and a senior associate at the Carnegie Endowment of International Peace.
0740
An investigation has begun into the death of a prize-winning Irish setter, a day after being exhibited at Crufts. There are claims that the dog was poisoned, after a vet found chunks of meat laced with toxins in the animal's stomach. Three-year-old Irish setter Thendara Satisfaction, known as Jagger, collapsed and died after returning from the show at Birmingham's NEC to Belgium where the dog lived with its other co-owner. Jeremy Botts is one of Jagger's co-owners.
0750
Today the Prime Minister will announce funding for 49 new Free Schools in England in the final wave of approvals by the coalition government before the election. Nicky Morgan is the Education Secretary.
0810
The Government's strategy for stopping violent extremism, known as "Prevent", has been labelled as "toxic" by a former senior Muslim police officer.  Dal Babu, who retired as a Chief Superintendent with the Metropolitan Police in 2013 said some of the officers involved in the programme lacked basic knowledge of race and faith issues. Mr Babu's comments are contained in a draft of an article for the London Evening Standard which is due to be published later today. Meanwhile, the Sunday Telegraph reported that a new counter extremism strategy is shortly to emerge from Whitehall, and will contain measures such as banning radical Islamists from working with children. Dal Babu is former Met Police Chief Superintendent, was one of the highest ranked Muslim police officers when he retired in 2013 and Rashad Ali is director of Centri a counter-extremism organisation which has been working on early intervention for the Prevent Strategy since 2009.
0820                                                            
Bill Bryson will announce the shortlist for the Wellcome Book Prize today. It's a prize that celebrates the best new books that feature some aspect of medicine, health or illness. Bill Bryson struggled with science at school; it was through literature that he explored his curiosity in the world around him, resulting in his bestselling A Short History of Nearly Everything. How can science writing help inspire people to engage with science and are we doing enough inspire future generations of scientists? Bill Bryson is chair of the Wellcome Book Prize and Barbara Sahakian is Professor of Clinical Neuropsychology at the University of Cambridge.
0830
Should developers of mixed social/private flats be prevented from creating "poor doors" – entrances for social tenants, separate from the "rich gates" used by the owner-occupiers of the more expensive private flats in the same development? A report from the (charity, not government-initiated) Social Integration Commission identifies thirteen areas where government and local authorities can act to improve integration – and this is one of them. It suggests the planning system could be used to stop the phenomenon of "poor doors", where social renters are effectively segregated from their more affluent neighbours. Tom Bateman has been to an estate where people are segregated, to talk to residents on both sides and Matthew Taylor is chair of the Social Integration Commission.
0840
Cheap and readily available, legal highs are increasingly seen as a menace in some of the UK's smaller towns and cities. Does the government need to do more to give local police and councils the powers to respond to the threat – or are the tools already there to do so? We asked for a government response but the Home Office says it is likely to make an announcement about legal highs later this week, so no one was available to speak to us. Norman Baker MP is the former Home Office Minister who had responsibility for Drugs Policy and who resigned in November last year.
0850
Most mothers listening to this programme will know how difficult it can be getting back into form and fitness after having a baby. But imagine what it's like for an elite athlete who's trying to get back to the top of their sport. Olympic heptathlon champion Jessica Ennis-Hill, who became a mother last July, is doing precisely that. She's currently hard in training, preparing for a return to action at the end of May. Chris Dennis reports and Paralympian champion Dame Tanni Grey-Thompson is in the studio.
All subject to change.
Broadcast