Main content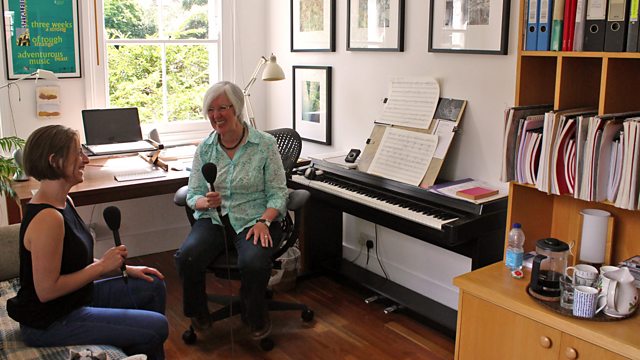 07/03/2015
Sara Mohr-Pietsch introduces music for low flutes performed by the group rarescale and visits the home studio of Judith Weir, master of the queen's music.
On the eve of this year's International Women's Day, Sara Mohr-Pietsch introduces an all-female edition featuring a concert by rarescale, the ensemble founded by alto flute player Carla Rees and which specializes in contemporary repertoire for low flutes. Tonight's programme also includes works by two of the young composers selected for the BBC Symphony Orchestra's Inspire competition; and in this week's Composers' Rooms, we visit the home studio of Judith Weir, Master of the Queen's Music.
Kaja Bjorntvedt: Skye Light
Sungji Hong: Black Arrow
Elizabeth Winters: Image Unfolding
Karen Gourlay: Dreamscape
Shiva Feshareki: she cried
Eve Beglarian: Until It Blazes
Kaija Saariaho: Spins and Spells
Pauline Oliveros: Bye Bye Butterfly
Sophie Viney: Sonatina in 7 & 5 (World Premiere)
rarescale
Recorded at The Forge, London, last October
Grace Mason: The Bitter Cut for viola and ensemble
Matthias Wiesner (viola)
Members of the BBC Symphony Orchestra
Michael Seal (conductor)
Lucinda Rimmer: Felucca on the Nile for cello and ensemble
Clare Hinton (cello)
Members of the BBC Symphony Orchestra
Duncan Ward (conductor)
@bbcradio3 #womensday.
Explore and learn more about women composers with rare recordings, programmes and a quiz.
Stockhausen's Gruppen – What's the Big Deal?