Main content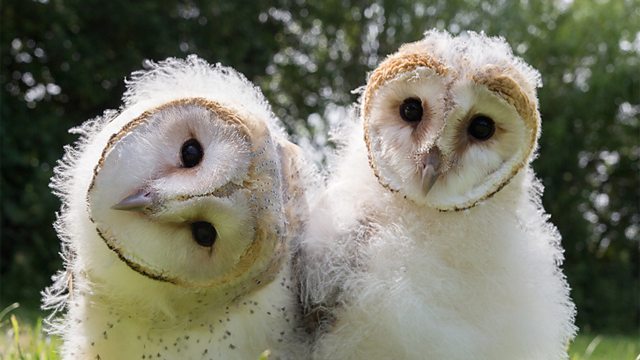 Wildlife documentary. Owls are one of our best-loved birds, yet it's rare to even catch a glimpse of one in the wild. Natural World reveals the magic behind owls' superpowers.
With their charismatic faces and extraordinary head-turning ability, owls are one of our best-loved birds. And yet it's rare to catch more than a glimpse of one in the wild. These mysterious birds haunt our night, floating through the darkness with an eerie silence. But how do they see in the dark? And how do they fly so silently?
Through the eyes of two special barn owl chicks, and with the help of leading scientists, Natural World reveals the magic behind owls' superpowers.
Lloyd on Luna
I was very despondent when Luna first left, as in all 35 years of handling these animals I had not lost an owl before. Luna was such a character, quite independent and very determined, but also very sweet, I missed her a great deal. However, I soon realised that my sadness was just down to human sentiment, not something that troubled Luna! She had chosen to go and that was her choice.
I taught Luna to be self-sufficient and so as far as she was concerned, my job as a parent was done. Unlike Lily, we never trained Luna to fly to our arms and so she was as wild as she could be, she wasn't particularly interested in, or reliant on humans. Plus, it was a bumper year for voles so there was plenty of food in the valley for her.
I went out looking for Luna every night for weeks, and did see her once, at dusk one evening. She flew towards me but would not come in. She looked very strong, which was nice to see. We had a few reports of local barn owl sightings over the autumn, which were very likely to be her. I would love to see her again, to know she made it through the winter.
What is really nice is that already Luna, Lily and Kensa have helped to inspire people about owls through our work with schools. We hope that this effect will be magnified through 'Super Powered Owls' and generate a lot more interest in these wonderful creatures.
Kensa is 12 this year, is now a master vole catcher and still flying beautifully. Lily will be celebrating her first birthday in a few weeks, she is flying well both to a beeper and to Rose's arm.
Credits
| Role | Contributor |
| --- | --- |
| Narrator | Paul McGann |
| Director | Lucy Smith |
| Producer | Lucy Smith |
| Series Editor | Roger Webb |
| Series Producer | Holly Spearing |
Broadcasts
BBC Two

except Northern Ireland & Scotland
Featured in...
Compelling wildlife documentaries, featuring amazing animals and stunning landscapes

Travel the natural world and meet its wild, weird and wonderful inhabitants.