Main content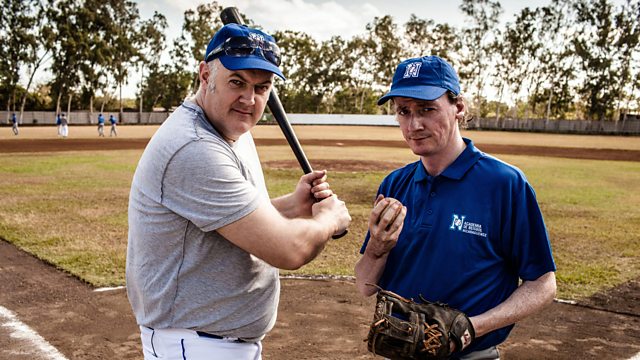 Ed Byrne and Dara O'Briain embark on a 4,000-mile pan-American adventure. The duo continue to Guatemala and head for the ancient colonial city of Antigua.
Using Sullivan Richardson's expedition journals as their guide, Dara and Ed continue their epic road trip into Guatemala. After crossing the border they head for Lake Atitlan, the deepest lake in Central America. In this traditionally Mayan area, they stop to pay their respects to the chain-smoking, rum-toting Mayan deity Maximon, who blesses their journey.
Back on the highway they find themselves dodging the colourfully painted chicken buses - the main form of transport used by the locals. Whilst Dara catches a ride on one with morning commuters, Ed goes in search of the engineers who take these clapped-out American school buses, modify and paint them for a new life in Guatemala. Dara discovers how dangerous life on the highway can be. The buses are regularly held up by gangs who force people to give them money under the threat of violence.
The intrepid duo drive on to the ancient colonial city of Antigua, now a World Heritage Site, before scaling the nearby active Pacaya volcano. Following the trail of the three adventurers, Dara and Ed head to San Salvador in El Salvador, where they track down the newspaper articles that covered the original expedition. Whilst stopping to pick up souvenirs in San Salvador market, they learn first-hand about the gangs that plague everyday life in El Salvador, making it one of the most violent countries in Central America.
Skirting through the southern tip of Honduras, Dara and Ed cross the Choluteca Bridge, one of the few to survive Hurricane Mitch, before heading on into Nicaragua.
Ed can't resist another volcano and climbs to the top of Cerro Negro to try out the brand new sport of volcano boarding. As they pass through Leon, Dara and Ed meet two Sandinista veterans who fought a vital battle on the Pan Am which helped to overthrow the despotic Somoza regime in the 1970s.
Reaching Managua, the duo witness a more optimistic side of Nicaragua as they hook up with international baseball star Dennis Martinez for a game with his young academy players. Dara and Ed's final stop is the beautiful Lake Nicaragua, the largest freshwater lake in Central America.
Clips

Credits
| Role | Contributor |
| --- | --- |
| Presenter | Dara O Briain |
| Presenter | Ed Byrne |
| Executive Producer | Fiona Caldwell |
| Series Producer | Leo Burley |
| Director | Leo Burley |
| Executive Producer | Piers Fletcher |