Main content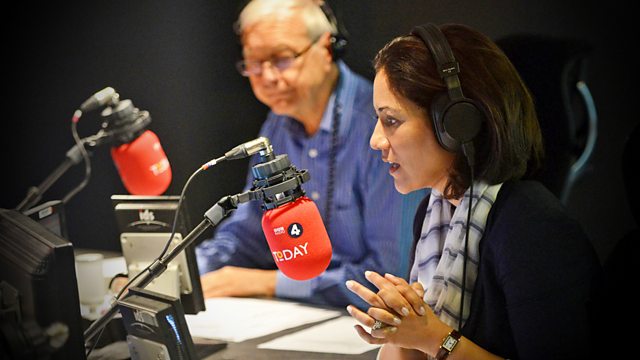 06/03/2015
Morning news and current affairs. Including Sports Desk, Yesterday in Parliament, Weather and Thought for the Day.
Clips

Today's running order
0650
A report published by the Transport Select Committee today warns that the UK risks missing out on the benefits of the multi-billion pound market in smart car technologies. Professor Phil Blythe is a transport technology expert from the Institution of Engineering and Technology and gave evidence to the transport committee as they were doing this report.
0655
If polling by Lord Ashcroft is to be believed, the Labour Party is about to suffer its worst ever result in Scotland at the general election in May. The SNP are poised to win 56 of Scotland's 59 parliamentary seats - snatching some key Labour constituencies including Kirkcaldy and Cowdenbeath, where the former Prime Minister Gordon Brown is standing down, and Charles Kennedy's seat in Ross, Skye and Lochaber. This morning, former Prime Minister John Major said Labour should rule out a coalition with the SNP for the sake of the Union.  Writing in today's Daily Telegraph, he said it was "shameful that Labour had not already ruled out even the suggestion" of a Coalition. What deal might the SNP be prepared to negotiate in May, and what could the party use their considerable increase in power for? And is the Labour party at panic stations? Ewan Crawford is a former SNP special adviser and Ian Murray is MP for Edinburgh South.
0710
The subject of immigration is a focal point of this general election – but it's a debate which has a tendency to generate more heat than light.  Now a major analysis by Oxford University has attempted to clarify just how many immigrants are currently living here –it estimates that England's population has risen by more than half a million since 2011 due to immigration. The figures suggest the migrant population of every local authority in the country may have risen - and most of the rise is European workers. The university has carried out the experimental calculations because there is no official figure for the current migrant population before the General Election and the last census figures were gathered in 2010. Professor Tony Travers is director of LSE London, a research centre at the London School of Economics and Sir Robin Wales is Mayor of Newham.
0715
European foreign ministers are meeting in Riga. Katya Adler is the BBC Europe Editor.
0720
Temperatures are set to rise to double digits by the end of the week – is spring finally coming? Claire Marshall is the BBC environment correspondent and will be talking to Sue Carter, head gardener at Lacock Abbey in Wiltshire.
0725
The dwarf planet Ceres (pron "SERIES") - the largest body in an asteroid belt that circles the Sun between the orbits of Mars and Jupiter - will on Friday become the first such body to be visited by a spacecraft when NASA's Dawn probe enters its orbit. Researchers believe the dwarf planet's interior is dominated by a rocky core topped by ice that is then insulated by rocky lag deposits at the surface. Scientists think Ceres is a fledgling planet that stalled, so it could have a lot to teach them about how our planet formed. They're also eager to learn the origin of two bright spots on its surface. Another big question the mission hopes to answer is whether there is a liquid ocean of water. Professor Alan Fitzsimmons from Queen's University, Belfast.
0730
John Humphrys has been to Watford, one of the 100 constituencies the programme is visiting before polling day to look at how political parties use marketing.
0740
Aristotle, Socrates, Plato… we still consider the ancient Greeks to be some of the greatest thinkers mankind has produced. But what would the ancient Greeks do if they were faced with the country's current crisis? Edith Hall, Professor of Classics at King's College London and author of 'Introducing the Ancient Greeks'.
0750
Iranian-backed Shiite militias and Sunni volunteers continued their fight to recapture key areas around Saddam Hussein's hometown, Tikrit, which fell to Islamic State militants in June.  Meanwhile concerns are mounting about the impact of the conflict on civilians, with the UN saying it is "very worried" about the humanitarian situation in the country. Last night, Iraqi officials also said militants were bulldozing the ancient Assyrian city of Nimrud - one of the most celebrated jewels of Iraq's archaeological heritage. Ahmed Maher is a BBC Correspondent in Baghdad and is just back from near the front line in Tikrit and Lise Grande is the UN Humanitarian Coordinator for Iraq.
0810
The subject of immigration is a focal point of this general election – but it's a debate which has a tendency to generate more heat than light (see 0710). Barbara Roche is co-founder of Migration Matters and a former Labour Immigration Minister; Mark Reckless is UKIP MP for Rochester and Strood and Witold Sobków is the Polish ambassador to the UK.
0820                                                            
Yesterday we were talking about World Book Day and the hordes of children going to school dressed as their favourite literary characters. Liam Scholes' day dressed as Christian Grey from 50 Shades of grey was short lived. His school, Sale High School in Greater Manchester, sent him home because of his costume. His mother is Nicola Scholes.
0825
This weekend will mark a year since the Malaysian Airliner MH370 disappeared soon after take-off on route from Kuala Lumpar to Beijing. There were 239 people on board. Twelve months on the plane's fate remains one of the world's great mysteries. The underwater search is focussed in an area of the Southern Indian Ocean around 1800km off the coast of Western Australia. Jon Donnison is the BBC's Sydney correspondent and he's been speaking to Mike Dixon the search manager on Fugro supporter ship.
0830
Former European Commission President Jose Manuel Barroso has been speaking with John about the chances for Cameron's renegotiation with Europe after the election and also about Ukraine.
0835
A pioneering combination cell-gene therapy to treat lung cancer will be tested in UK patients this year, after receiving £2m of Biomedical Catalyst funding from the Medical Research Council. Researchers at UCL/UCLH will carry out the first UK clinical trial of a combined stem cell and gene therapy for the disease which kills around 34,000 people a year in the UK. Sam Janes is Professor of Respiratory Medicine at University College London (UCL) and a Wellcome Trust Senior Research Fellow.
0840
The German parliament is expected to vote through legislation today which will force businesses to appoint more women to boardroom positions. Under the so called 'frauenquote' large german companies will have to ensure 30% of their supervisory boards are female. The law is designed to reverse what many say is a culture of inequality in the German workplace. Jenny Hill has been to meet a mother of four who told her how she made it to one of Germany's top jobs.
 0850
Teenage schoolgirls from East London absconding to join Islamic State in Syria, 3000-plus Europeans already in their ranks, and an endless stream of persuasive, highly produced online videos pouring into young people's computers and smartphones. There are ample grounds for thinking that, in the propaganda war for the hearts and minds of young Muslims, governments are failing to stop their message getting through. Here in the UK, a key part of the Government's counter-terrorism strategy is called 'Prevent'. It is a programme aimed at stopping more people getting drawn towards violent extremism. But given the current trends listed above, is it failing? Frank Gardner is the BBC's security correspondent.
0855
Zane Lowe presented his final show for BBC Radio 1 last night after 12 years with the station – he's leaving to join Apple's growing team of music industry A-listers, which also includes Jimmy Iovine and Dr. Dre. It hasn't yet been confirmed what Lowe's role will be there, but Apple may be planning stepping up their iTunes Radio model – it is one of many large technology brands who are increasingly eyeing up streaming as an area of business. Is the company preparing to increase its already powerful grip on the record business? Andrea Leonelli is editor of Digital Music Trends and Louise Golbey is an independent musician.
All subject to change.