Main content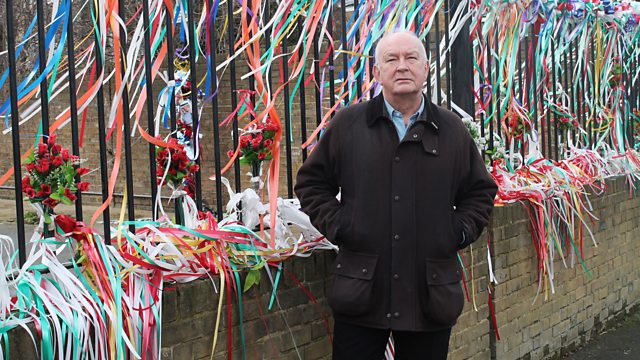 Life in Gangland London
John Waite explores London's street gangs, simply part of life for thousands of teenagers, where violence, or its threat, is an everyday reality and sex is used as a weapon.
John Waite enters what can only be described as a parallel world - in which gangs are simply part of life for generations growing up. Where violence - or the threat of it - is an everyday reality, where children as young as nine are used to carry drugs and where sex is used as weapon. He investigates how gangs are changing, how they recruit new members and how they try to stay one step ahead of the police.
There are now calls for compulsory gang education in every primary in school in Britain. Calls backed by former Home Office Minister Norman Baker who tells the programme that any school wanting to opt out must first justify why.
And one of Britain's most famous children's charities reveal their concerns about gang manufactured music videos which they now constantly monitor to protect the children they work with. The videos are often used to recruit new gang members - advertising the glamour and money that can come with gang life - as well as issuing threats to rivals. John speaks to one of just a handful of people banned by the courts from releasing music because the police believe it is linked to gang violence.
John also finds out what its like to lead a gang, to grow up in an area dominated by gangs and to lose a loved one to gang violence.
(The picture shows John standing near the spot where 20 year old Dwayne Simpson was stabbed to death a year ago).
Producer: Joe Kent
Editor: Andrew Smith.
Episode Transcript
THIS TRANSCRIPT WAS TYPED FROM A RECORDING AND NOT COPIED FROM AN ORIGINAL SCRIPT.  BECAUSE OF THE RISK OF MISHEARING AND THE DIFFICULTY IN SOME CASES OF IDENTIFYING INDIVIDUAL SPEAKERS THE BBC CANNOT VOUCH FOR ITS COMPLETE ACCURACY.
FACE THE FACTS
Life in Gangland London
Presenter:   John Waite
Producer:    Joe Kent
TRANSMISSION: Thursday 5th March 2015  1230-1300            BBC RADIO 4
 Clip – Dwayne Simpson
All I wanted was so I could just be calm  – before there was no way I would walk on the road with my mum, little brother, sister, no one, I'm not walking with any one of you lot because I don't want to draw you into what I'm in.
 Waite
The voice is Dwayne Simpson's and now Dwayne is dead, stabbed to death in the street exactly a year ago, a few months before his 21st birthday.  The video he made renouncing gang life was never finished and so has never been heard in public before.
 Clip – Dwayne Simpson
If it wasn't for friends I wouldn't have a criminal record, I wouldn't have been shot, I wouldn't have been stabbed, – these things wouldn't have happened.
 Waite
If it wasn't for his friends, who were in a gang he says, he wouldn't have had a criminal record, wouldn't have been shot, wouldn't have been stabbed.
 Clip – Dwayne Simpson
Being a bad boy what's that doing for you?  Bad man tings. What's that doing for you, what is being a bad man doing for you? 
Man's been through stuff, so man knows.  I'm appealing to all you guys out there just leave it alone.
 Waite
This week I'm entering what you could only call a parallel world in which gangs are simply part of life for generations growing up, where violence or the threat of it is an everyday reality, where children as young as nine are used to carry drugs and hide weapons.  The Home Office has identified the 43 areas most affected by gangs in England and Wales, 25 of them in London.  Which is why for this edition of Face the Facts I'm investigating life among the capital's street gangs.  What it's like to lead a gang, how they recruit new members and how they try to stay one step ahead of the police.  I'll also be finding out what it's like to grow up in an area dominated by gangs and to lose a loved one to them.
 Music
 For that I've come to A Town or Angel Town in Brixton in South London to meet Dwayne Simpson's mother, a minister in her local evangelical church, Lorraine Jones, a much loved figure around here, is known to many simply as Mum.
 Jones
Dwayne was standing out here with his closest friend.  He said we're planning to watch football, it starts in the next hour.  I said, Ok I'm popping to Iceland, I won't be too long.
 Waite
And that was the last you spoke to him?
 Jones
That was the last I spoke to Dwayne conscious.  When I did get back I packed out the shopping, two of the youth from the area came panting – Mum, mum Dwayne's been stabbed.  So I said is it serious? He said yes Mum.  I saw the ambulance and I saw paramedics and so much blood everywhere, they had his chest open.  I mean John it's like I went into a – it's a shock and it's ironic that a week before that happened I was actually having a conversation with Dwayne about the transition of death, he made a comment – 'Mum, I don't know how long I've got to live, we've just buried Peter, there's so many youth that are dying, I don't know if I'll reach 21.'  So I said, well Dwayne don't speak like that, the Lord is our protection.
 We come here – John – this is where he lay.
 Waite
This is where it actually happened, it's festooned with flowers and hundreds of ribbons fluttering on this fence.
 Jones
My sons, on their way to school, they have to pass here.  So it's very traumatic.  And I always have to look, that's where he went to save a soul, which he did manage to save.
 Waite
On February 25th last year Dwayne spotted a friend being chased.  He tried to intervene and was stabbed three times, once in the heart.  It was one of two gang related killings in the borough last year, the council told us, classed as such because according to the police both Dwayne and his killer were former members of a notorious Brixton gang.
 Police sirens
 Paramedic
Move out the way please.  Excuse me, coming through, watch your backs.
 Waite
But it was here at Kings College Hospital that doctors tried to save Dwayne.
 Sutherland
The emergency department is very busy, we're a specialist centre for major trauma, so anyone who's been stabbed or shot or significantly injured from the whole of South East London, Kent and Medway would be brought to us for their treatment.
 Waite
Last year the London Ambulance Service responded to more than 900 calls where someone under 25 had been shot, stabbed or injured by some other weapon.  But according to A&E consultant Emer Sutherland even those figures, compiled for this programme, don't reveal the whole picture.
 Sutherland
We know that sometimes rather than call an ambulance their mates will put them in a car and bring them and all the time they're continuing to bleed, then they'll sometimes just put them at the front door and drive away because they're so frightened that if they bring an ambulance to their local area that there'll be recriminations because the police will come and an investigation might start.  We know from the trauma meeting this morning we've had three people who were stabbed last night.  One particular is a young lad, he's 15, he's medically stable now, he's on the ward, he's got a tube in to drain a lung, so I'm going to go and ask the youth workers to see him.
 Goins
This is a patient who came in about three o'clock this morning - stabbed seven times.  My understanding is the police are looking at an attempted murder case.  I want to find out how he's feeling post trauma, how safe they feel at home, how safe they feel out and about, how safe they feel at school.
 Waite
Apart from the medics treating the young victims of violence youth worker, Marie Perryman Goins, from the charity Redthread, tries to ensure that they don't return.
 Goins
Hiya it's Marie again.  Is there anything I can get you whilst you're here – drink or anything to eat or do you want me to make any calls for you?
 Waite
We agreed not to record their conversation but Marie tries to establish what dangers the 15 year old may face when he leaves the hospital.  He's under no obligation to talk to her but patients usually do.  The charity has helped gang members move house to avoid violence, to find work beyond the risky business of selling drugs and to get counselling for post-traumatic stress disorder.
 On another ward I meet other teenagers being helped by Redthread and although it must be stressed only a small minority of young people get caught up in gang culture the effects for those who do can be devastating.
 Gang Member
I just got shot in my leg, one side was shattered and the other side got snapped.  The doctor didn't really say anything about me getting back to walking properly.  There's a large possibility I will but nothing's been said.
 Gang Member
Basically two months ago I was walking through an estate.  I was approached by about 10 boys, like 16-18 years old, they approached me, they said where am I from?  They just approached me, tried to circle me, we started fighting, I didn't know they had a knife at first, see when I was trying to get away they stabbed me like three times in my leg.
 Waite
Did you think you might die?
 Gang Member
Yeah, a lot of stuff just runs through your head in the heat of the moment.  Obviously I thought I could have died so I was thinking about my mum and that.  Then when I did survive that made me think now I need to wake up and smell the coffee, like make something of my life now.  The charity, they've been helping me get a hostel and that, and work and stuff.  If they weren't there for me I could have been dead or in jail.
 Abdullah
When you speak to them and you understand some of the stories that have happened to them before they've come to the hospital it is like living in a war zone.
 Waite
As the victims lie in their hospital beds they'll be visited by Redthread workers like Karim Abdullah, who tries to get them to re-evaluate their life.
 Abdullah
They're not in their usual environment, they've got chest drains coming out of them, catheters inside them, left with stoma bags - they're literally taken out of their comfort zone, slammed into an environment they're not used to and they're looking for help.  And what we do with every single young person that comes through the door that's been a victim of an assault is that we alert to the fact that we could have read about you in the newspaper.  Your mother could be mourning her son or her daughter.  And we get them to think about that.  And it does get through to them.
 Waite
Soon youth workers from Redthread will be based at every major trauma unit in London, thanks to money from the Mayor of London and from central government.  As part of the Home Office's Ending Gang and Youth Violence programme, launched after the 2011 riots, money is available for projects like Redthread's which encourage people to leave gangs, for others which try to stop people joining them in the first place and for enforcement action. 
All initiatives that came too late for Joe – we'll call him.  He joined his first gang aged 11 and was selling drugs within a year, following in his elder brother's footsteps.
Joe
He had a reputation in the borough for being one of the most notorious gang members but also for making a lot of money so he had quite a lot of respect from locals and I wanted to be like him.  I started off by drug dealing.  I was selling cannabis and then as I got older it progressed didn't it, I started selling hard food and I was thinking right I'm a drug dealer now, you know what I'm saying, I thought wow you're being young doing that.  It adds to your ego innit.
Waite
Didn't you worry that the police would perhaps stop you?
Joe
You see a 12 year old kid in his uniform and that you really think police are going to stop him?
I used to rob drug dealers, vulnerable drug dealers that I thought were vulnerable.  How can I describe it?  I've got more of an edge to rob them, you know what I'm saying.
Waite
Did you hit them?
 Joe
Yeah of course I hit them, I used violence, I was a very violent person, I was a very violent person.  I had respect because people viewed me as well – he's so and so's younger brother so we expect him to be like him as well.  So I kind of walked in that type of footstep as well, you know what I'm saying.  Most people were scared to retaliate against me because they knew that if they did worst case scenario they would end up getting shot or stabbed, do you know what I'm saying. 
 Waite
And did you carry a weapon?
 Joe
Of course I carried a weapon, I was mainly a gun person, I was a gun person – didn't really business with knives, at the age of 13 I had two guns.
 Waite
We'll hear more from Joe later.  He's now quit what turned out to be a highly lucrative, if highly violent, life of crime and in that represents something of a trend, at least according to figures from the Metropolitan Police.  The number of gang members in London they've identified has fallen from around 4,800 three years ago to 3,600 today.  But they still represent a significant number of gangs, according to the Met's gangs unit Trident.
 Champion
I'm Tim Champion, Detective Superintendent on the Trident and Area Crime Command.  We have identified 225 gangs in London, 58 that we regard as committing offences regularly.  So some gangs are self-defined, they name themselves, other gangs or groups we've identified.  You've got to deal with the violent offenders here and now but at the same time you're looking at the next generation, so it might be younger brothers, it might be people who are currently in school and starting to get into helping out older people.  And the message for those people is that we can help them and the gangs isn't the way you should go.
 Waite
Tell me about some of the types of crime they perpetrate.
 Champion
Gun crime, knife crime, robbery and drug supply would be the main ones.  A lot of it can be chaotic, a lot of it might be disputes between one gang and another and it's not necessarily as organised as people think.
 Waite
While life on the street for a young gang member is chaotic - with fights and violence common - that chaos can be used deliberately to profit more senior gang members, who are always looking to stay one step ahead of the police.  So says Simon Harding, a senior lecturer in criminology at Middlesex University, who's spent almost a decade studying London's gangs.
 Harding
They will very cynically use the young people to create a diversion.  The police will come, they will chase the young people away on their BMX bikes whilst at the same time these olders, who are much more business involved, will be moving and shifting drugs.  We also find what we call cuckooing, which is the drug dealers moving in to the flats of vulnerable people and taking them over.  In my research a gang member was using his mother to take an elderly man, aged 82, from his house on a daily basis, acting as a care worker.  She would make him travel around the Circle Line on the tube while her son was engaged in dealing drugs.  They would return in the evening and he would be none the wiser.
 Waite
And neither would the police, that was why they chose the flat because in it lived a totally innocent elderly man.
 Harding
Absolutely, that's exactly how it works. 
 Waite
Take me through the various stages in the gang, what's the hierarchy?
Harding
You have youngers, who are probably aged around 14; you have olders who are aged perhaps 16-20 or 21 and then above that you have elders.  We also find now that there are tinies, these are children that would be used to run errands for the gang.
Waite
And how do they build power in the gang?
Harding
Well what they have to do is they have to generate a reputation.  Young people advance through the gang by generating what I call street capital.  This could be how they handle a knife, how they sell weed, how they get rid of stolen goods.  Street capital is also linked to respect, so if you were to disrespect me I then have to attack you or fight you or even stab you in order to regain my street capital.
 Waite
And that culture of violence has simply become a fact of life for people growing up in areas dominated by gangs.  As I discovered when I met some young neighbours of minister Lorraine Jones.
 Jones
Good evening.  Come in my love.
 Neighbour
Hello, how are you?
 Jones
Oh bless you honey.
 Waite
Aged 11-20 none of them has ever been a gang member. 
Tell me some of the things that you saw when you were growing up.
 Neighbour
Hundreds of fights, police, kicking open doors, robberies, lots of gangs coming in and out.
 Neighbour
Guys coming in the area that was from the opposite area.  And then they would let off shots, regardless if you was a girl or boy but you were associated.  Certain areas we couldn't go to because we've been parties where, because we was from a certain area, guns have been put to our face.
 Waite
How about you – how old are you?
 Neighbour
Sixteen. 
 Waite
Sixteen.
 Neighbour
If you see someone, a friend robbing another person, there will be excitement, you wouldn't look at it in a bad way.  But as you grow up you start to look back and you see that those things weren't right.
 Waite
So you have seen friends of yours rob other friends of yours and you thought it was normal?
 Neighbour
Everyone thought it was normal because the olders you will see them do it and obviously you'll look up to them and you'll think that's cool, if you know what I mean.
 Waite
And young people like you, not necessarily you but did some of them think that gangs were glamorous?
 Neighbour
Money, you know, smoking looks cool, it does look cool.  You see girls, they're in groups, they're happy, partying and everything.
 Waite
How old are you?
 Craig
I'm 11.
 Waite
Eleven!
 Craig
The things I see I don't really like it.  Like one time I was playing with my friends, yeah, on the football pitch, then a guy with a gun came and then he pointed it at my friend. Then he shot but it was in the other direction where all the gangs were, he just did that.  I was shocked.
 Waite
Well 11 year old Craig there, as we're calling him, may have been exposed to guns but even younger children are being used to carry them.  That's according to Sheldon Thomas who should know, he was a gang leader himself back in the 1970s and now runs the not-for-profit gang education company Gangsline.  So he sees at first-hand how gangs are evolving.
 Thomas
What's happened is that older gang members have realised they're getting stopped and searched a lot, they've kind of said well we're not going to carry the drugs no more, we're not going to carry the guns, we're going to get these younger guys to do it, going to get these girls to do it because no one really stops and searches girls or young kids.  Another way that the gangs are adapting is they're moving into country, so when I say country I'm talking about areas outside of London – places like Portsmouth, Ipswich, Southampton, Brighton – they're go into these areas to sell drugs.  Why?  Because the police down there don't really understand gangs.  So the fact is gang members are not stupid, people tend to believe they are, but these guys are smart.
 Waite
As well as 'going country' we've also learnt of other ways gangs are trying to evade the police.  Gang colours, once proudly displayed on bandanas, have largely disappeared.  And now on some estates weapons are stashed around the place, rather than carried around.  The role of women is also changing or at least it's now better understood.  Girls – and they often are girls – are used to carry drugs and weapons, we've been told they're also used to gather information on rivals and that they're there for gang members to exploit sexually.  In Joe's case, he's the gang member we heard from earlier, he turned sexual into financial exploitation by grooming his girlfriends to sell sex for cash.
 Joe
So certain girls in the area what I'll do is I'll show them affection, show them love, say something – yeah listen babe, I've got you, you're with me now, I'm the big man – you know what I'm saying.  And then when they trust me what I do is I start sleeping with them but then you exploit their sexual nature, meaning I'll say to them let's have a threesome, you know what I'm trying to say, and I'll get my friend in and then I'll get her used to sleeping with more than one person.  I then refer her to the lady that runs a brothel – the mother of the brothel - you know what I'm saying. Then I'd refer her to her and what they do is that they share, they talk about their sexual experiences with more than one person so it becomes casual.  She then drums into their head but she manipulates them saying that it don't make you a prostitute. What it is you're basically hustling because you're only sleeping with them for an hour and they're paying you silly money.  She manipulates them to believe that they're exploiting men when really, truly they're being exploited, do you know what I'm saying.
 Waite
In another disturbing development sex itself, in the form of rape and sexual assault, is now being used as a weapon by male gang members.  Claire Hubberstey is the Chief Executive of the charity Safer London.
 Hubberstey
Young people who are involved in gangs will always want to be one step ahead of the law.  So they know that if they are carrying guns they would get a hefty prison sentence, it was very traceable. And actually thankfully in this country, its not that straightforward to get hold of.  Knives, easier to get hold of, but still heavy sentences.  So rape and sexual violence is a fantastic tool for them, it's a way of instilling fear and control, it's a way of getting people to do what you want them to do and that's why it's used in war as well.  So what we've seen is an increase in rape and sexual offences being used as an alternative to weapons.  If you have been stabbed or shot that escalates your status within the gang and that gives you cache.  If your sister or girlfriend is raped by somebody or your mum, actually that's something to be ashamed of, to keep quiet.
 Waite
So as knives replace guns, as sexual violence becomes a new weapon of choice and as gangs spread out beyond London and go up country, has it left the police playing catch up?  Detective Superintendent Champion from the Met's gang unit Trident.
 Champion
I would suggest that we look forward as well.  So we're trying to identify what the next thing is and move from certain gangs in London into county forces.  We were aware of it and dealing with it as it came in.  Gang crime hasn't gone away, we've still got challenges around it, there are successes around gun crime and the work we're doing now around knife crime will drive that down.
 Waite
But you crack down on carrying drugs or carrying weapons, the gangs know that you're doing that so younger children are employed by them, that they expect the police won't stop and search quite so much.
 Champion
I see what you mean, they evolve, but then we evolve with them and that is our role.
 Waite
And do you get better at encouraging victims to speak out and so they turn to sexual violence because people then are less likely to report it.
 Champion
Well the reporting on sexual crimes is on the increase, which is a good sign for us.  We're far more aware of that and doing work in that area as well.
 Waite
You're listening to Face the Facts, this week investigating London's street gangs.  As we've heard and will hear it's a very disturbing world and though recorded gang crime in the capital is falling, and since 2011 overall gang violence has reduced significantly, last year saw an increase in both total gang violence and knife crime resulting in injury.
 Joe
Let's put it this way I've left a lot of people scarred, I've left a lot of people scarred, a lot of people scarred.
 Waite
The long-time gang member, we're calling Joe, knows all about knife crime and gun crime and violent crime, resulting in injury, sometimes very serious injury.
 Joe
There's one person I see, he's in a wheelchair now, I see him on a daily basis, when he sees me I don't know what to say to him.
 Waite
You put him in that…
 Joe
Yeah I put him in the wheelchair.  I don't know the outcome to most people because after I've done what I do to them I don't stand there and watch what's happening to them.
 Waite
How did you feel yourself when this was going on?
 Joe
I didn't feel anything, it just adds to my ego, it just made me feel like well I've clearly got bollocks to do what I've done, you know what I'm saying.  I can't describe it, I was just very aggressive, all the aggression that was inside me I'd take out on a certain person, you know what I'm saying.  And having balls means you can't be thinking about the consequences, you've got to do things.  So when one boy said to me this man caught me slipping – being caught slipping means that they caught him when he was vulnerable – you know what I'm saying – and they stabbed him, the first thing we'll do - I'll round up all my boys. We'll go in different cars, we call them dingers because they're stolen vehicles, you know what I'm saying, if the police track the vehicles they're not going to come back to us – you know what I'm saying. So we go in stolen vehicles, drive round the area, anybody from the area that we see that we think is involved we hop out. . . .
 Waite
And did innocent people get caught up in this sometimes?
 Joe
Yeah definitely.  One of my boys he was a nutcase, he was the type of person that if he didn't find the actual perpetrator anybody that's in the area that's young was getting attacked, innit.
 Waite
So what have we got here Lorraine?
 Jones
It's just a few photos.
 Waite
At Dwayne Simpson's house, he's the 20 year old who was stabbed to death a year ago this week, his mother, minister Lorraine, produces photographs to show me how Dwayne had tried to begin a new life, having finally decided to escape his gang life.
 Jones
This is the homeless project where we would feed the homeless and those that are vulnerable and Dwayne would help me on a weekly basis.  This one here, this was taken two weeks before he was killed.
 Waite
He's a very good looking young man.
 Jones
Yes, he looks like a professor there.  He was very charming, very caring.
 Waite
But Dwayne, fine looking man that he is, he was no saint, was he? He'd had quite a chequered youth?
 Jones
It was a period when I went through my divorce, it did affect him.  And there was a period where it's like I didn't recognise my son, he was smoking weed, he wouldn't come home, he went to prison when he was 15. It was a robbery that was done in Regent Street and he was the lookout boy.  He was supposed to be in school.  And I got a call that he was in the police station.
 Waite
And was he involved with gangs at this point?
 Jones
Well I presume that he was, I mean a gang is a group of people, they can either portray a positive or negative and he was with a negative group of older people that influenced him and he paid a heavy price for it.  I don't know the depth of what Dwayne went through when he was going through that dark patch in his life.
 Waite
That dark patch was over though, his mother says, Dwayne had set up a boxing club to keep youngsters in the area off the street and secured support from Lambeth Council.  It's projects like this that have helped reduce the problem of gangs in the area, Lambeth is no longer among the five boroughs in London with the highest rate of gang crimes.
Music Whippin' Up
 For most of us gang crime exists only in newspaper headlines.  Its victims tend to be of a similar age and similar background to the gang members themselves.  But if you know where to look their exploits are often documented in gang manufactured music videos, like this one, which shows an East London gang member posing with expensive cars and models dressed in revealing clothes drapped on his arms.  'Whipping up' refers to the process of making crack from cocaine and the video was played in court during its star's trial on drugs offences last December.  According to one producer we spoke to videos like these often advertise the money that can be made by working for specific gangs - in effect recruitment videos.
Music Whippin' Up
 But there is an even more sinister side to some of these videos, which means that one of Britain's most famous children's charities must constantly monitor them.
Akkad
So this is the welcome area.  This is the duty room.  And our safeguarding office.
 Waite
At Kids Company, in South East London, I'm meeting youth worker Natalie Akkad The charity provides a safe haven for local children who want to stay off the streets and away from gangs.  But if the camera has caught them and they simply appear in one of these videos, alongside gang members, then they're safety is at stake.
 Akkad
Rival groups can identify other young people in the videos and then make it their aim that week to go for one of the young men or women in the videos and that's an achievement for them.
 Waite
And do you know youngsters who come here who have been attacked because their appearance in the video was seen as provocative?
 Akkad
Yes.
 Waite
The most recent attack was less than six weeks ago.  For safety reasons we agreed not to play any of the videos Natalie has concerns about, it's now a major part of her job to monitor those videos which are less about making music than they are about making threats to children who attend the youth club.  Threats the club takes extremely seriously.
 Akkad
We will close early. We will  inform our local safer neighbourhood team that we've seen something which might escalate violence within the area.  We usually provide cabs or some sort of safe transport for young people to get home.
 Thomas
Most of the violence is committed because of social media.
 Waite
Sheldon Thomas, founder of Gangsline.
 Thomas
Guys will cuss each other on Facebook, on Twitter using the YouTube.  A lot of gang members tend to make music videos cussing a particular gang who then will respond in another music video and then before you know it we've got a street battle on our hands.  The media then gets confused, they think that they're fighting over drugs.  Most street gangs don't fight over drugs, most street gangs fight over nonsense.
 Waite
But look at social media as we have for the past few weeks and what you see there most people wouldn't describe as nonsense – guns, drugs, thousands and thousands of pounds in cash being flaunted.  Here's a picture of jewellery and another trophy that have been stolen from an enemy gang.  I'm looking now at a picture of a rival gang member who's been beaten up, half his face is covered in blood.  There are clearly identifiable witness statements showing gangs know who's been snitching to the police and what they've said.  And then there's this:
Music
That's SQ, as he's called on the video, but his real name is Dwayne Simpson, remember the 20 year old who was stabbed to death exactly a year ago.  The video he made is not linked to his death but it, and others like it, worry his mother Minister Lorraine Jones.
Jones
Since Dwayne died I actually saw some of the videos before he gave his life to the Lord and there was one where he was swearing away, I was like it's not a language which we use which he's ever used in my presence.  But they give these young people alcohol, smoke – if they're smoking – money to participate and for the young people they feel that they're having a good time and a moment of fame, when really they don't know that this could cost them their life.
 Waite
In 2013, officers at Newham Council in North East London identified almost 500 gang videos which referred to their borough, some were removed from YouTube.  But they can no longer afford to fund the work they told us.  Councils can also seek civil orders, including gang injunctions, or ASBOs to ban individuals from releasing music videos. But this is rare.  As far as we've been able to establish only a handful of people are currently prevented from making music videos.  I've been speaking to one of them and what you're about to hear is the reason he was given an ASBO, it is violent, full of offensive language and was made to be provocative to rival gangs.
Music
That's Scirbz, a rapper with 67 as they call themselves, in Brixton South London.  When he said shanks he means knives, straps are guns.  But he resents the ban, he told me, because he portrays, he doesn't promote what happens on the streets.
 Scribz
They feel that my music influences people, the younger generation mainly, obviously they've got a big problem with it, whereas the way I see it is it's entertainment, I'm just rapping what's actually happening, It's like, come on like, you watch the news, you see people dying, people getting arrested.
 Waite
And drugs – did you rap about that?
 Scribz
Yeah, I don't rap about me selling drugs directly, come on that's what's out here, that's what people are doing, that's how we're living like.
 Waite
And when you talked about these things – drugs, guns, violence – did you have personal experience of these things?
 Scribz
Not at all.  The police know that.  They don't have a strong enough case to say that I'm actually doing this, so they use young people as a reason to give me a ban.  I haven't been in prison for no drugs, I haven't been in prison for no guns, like I'm not going to say I haven't been around people that's been in prison for that stuff.
 Waite
But I mean you have been to prison?
Scribz
One time, yeah I was armed with a knife, I went and I done my time for that, that was when I was young, silly mistake, cool.  I've come out, I've had a little fight with someone in probation, they happened to be a gang member and told the police a whole new thing. I don't know why and I've ended up in prison for that, remand, the whole time, I weren't guilty, I came out.
Music
No one can tell me the music I made was gang music. Gang music is the people that's out there telling people they're going to go and do this and they're going to do that.
Waite
Can I just quote a couple of your lyrics to you?  Live rounds in that mac, act up get splashed.  We sell drugs to get cash.  What are macs?
Scribz
They're a form of gun and that's what's out there in the whole of London, the whole of England.
Waite
Can we look at a couple more?  My young uns shoot when I say click, clack, that mac, watch 25 spray – I guess that's bullets is it?
 Scribz
Think that's a typo error but yeah.
 Waite
Well that sounds pretty provocative, if you cross me I'll come round with my gun.
 Scribz
I could tell you how it goes, live rounds in that mac, they act up and they get splashed.  We don't f*** with no bocats, licking stains, I'm on that.  ASAP in tha trap,  he sells shit to get cash.  Get the drop where they at, then the post up in them flats.  If you listen to it carefully that is a story of your typical London behaviour of the young people.
 Waite
The police clearly see a connection between what you write about - violence and gangs - and encouraging violence and gangs.
Scribz
No connection.
 Waite
But despite the proliferation of music videos and social media posts, which are at least in part meant to entice new recruits, the real recruiting takes place on the streets and one to one.  Sheldon Thomas, Chief Executive of Gangsline.
 Thomas
When you look out your window you would never know that your son or daughter is talking to a gang member, and all the while they're just kind of talking to you, saying to you 'oh you know what we'll buy you some sweets, don't worry we'll buy you a drink.'  We've got a gang member right now in Harlesden somewhere, he buys a whole community trainers, the whole community chicken.  So any time the police come round there you can just say ah we're not turning him in or whatever and before you know it that guy says 'yeah, why don't you carry that over there, yeah why don't you hold on to this.'  What's happened is it's got worse because there's now drug dealers as young as nine years old in some areas.
 Waite
And having reached a situation like that, says Mr Thomas, drastic action is needed to warn every child of the dangers.
 Thomas
I think every school in the UK, primary schools and secondary school, should have a gangs prevention workshop.  You have to go to the root which is a seven year old child, it stops them getting involved in selling drugs and making money because it's the money that entraps people who's coming from a vulnerable background.  Now not only just vulnerable background we need to go to Southampton where those white schools are who will come into contact with a gang member from London, or from Birmingham, selling drugs in their area, so that those schools can begin to understand what gangs is about.  So it's about educating every single school and I just don't understand why no one gets it.
 Waite
The Department for Education told us, and I quote:  "It is teachers who know best what is right for individual children. Many good schools already work with the police and other organisations to protect them from harm.  We updated guidance earlier this year setting out what schools should be doing to keep children safe and providing information on issues such as gang and youth violence."
 Meanwhile, as we've heard, the Home Office continues to fund local projects to tackle gangs, including some which aim to dissuade youngsters from joining them in the first place.  But former Home Office minister, Liberal Democrat MP Norman Baker, would also go further.  Mr Baker had ministerial responsibility for gang crime until he resigned in November.
 Baker
I wouldn't want to be too prescriptive but I certainly think that in areas where gangs exist, which is certainly in our larger cities, there's got to be a very good reason why there isn't an engagement about gang culture.  This is part and parcel of being in an inner city environment these days and schools I'm afraid, in the absence sometimes of any sensible parental lead, have to pick up the pieces.  So I think if any school wants to opt out of that there has to be a very good reason for doing so.  And I think they should actually start in the primary schools.
 Waite
Joe, who we've heard from throughout this programme, was 11 when he joined a gang.  He went on to lead his own gang but now in his early 20s he's left that life behind.  Indeed he works part time for a gang awareness charity.  And though most of us might be shocked at what we've heard today, the cynical tactics used by gangs to lure young recruits to their ranks, the casual violence they meet out, even to innocent bystanders, the profits made from selling drugs, the girls deliberately exploited.  For Joe, for almost half his life, that was everyday life.  As we've heard he injured one rival so badly they now need a wheelchair. But Joe too, he reckons, has paid a heavy price.
 Joe
I've been stabbed three times, I've been stabbed in my neck with a screwdriver, got stabbed in my leg and I got stabbed in my back, you know what I'm saying.  I've been shot at, I've had a gun put to my head, I've had a gun put in my mouth, you know what I'm saying.  I've shot people, I've stabbed people – that's part of the lifestyle innit.
 Waite
And were you scared?
 Joe
Young – I wasn't scared because I've always had that, I've always been a brave person, not even just being brave like, I felt secure by the older people in the community, you know what I'm saying. Because they've always reassured me that they've got my back and it's about how you do that.  I have to wake up every day thinking, boy I could die today, you know what I'm trying to say.  And for that reason I never really – I never took public transport, I never took train, I never took buses, I was always a cab man, I was always in a cab, always in a car, you know what I'm saying.
 Waite
And did this start to worry you Joe, that this was where things were heading – either you were going to get killed or you were going to kill someone?
 Joe
That wasn't even on my mind, the thing that was on my mind was when situations got worse, got out of hand and then they weren't even just coming for me because they knew they couldn't come for me like that, you know what I'm trying to say. They were trying to target people around me, meaning my family, you know what I'm saying.  I remember I got a little phone call off of one of my boys saying that there's a few cars that are circling round your house innit and my mum was ringing me saying to me like what do I do, I'm scared etc. etc. And you're thinking through your head like what if someone does something to your family, you know what I'm trying to say.  And there are things you've got to do, obviously the situation got dealt with the wrong way but nowadays I don't retaliate like that, I don't walk round with a gun no more, I don't have a gun no more.  I feel at peace, you know what I'm saying, no more waking up thinking oh there's the police at my house again or none of this stress.
 Waite
And now all these people that you hurt, the girls you put on the game, the man you tell me that you paralysed, what do you say to them now Joe?
 Joe
Now if I could go back in time I would not have done a lot of things that I've done, you know what I'm saying, I've done all of that just for money.
 Waite
And do you feel genuinely bad about what you did?
 Joe
Certainly, definitely.  Certain things that I've done that I feel was a life or death situation. Certain situation where I felt the person deserved it, innit, do you know what I'm saying. And there's a certain situation where I'm so remorseful.  It's the not the thing you want to get involved in trust me, I won't lie you can make a lot of money from it so you'll think everything's all bliss but then when you come to reality you realise what you've actually got yourself into - it's a whole big plate and it's a plate that you won't be able to finish.
 Jones
My sons have to pass the spot where their brother was stabbed to death, every single day when they're going to school.  My daughters, when they're going to work.  This needs to stop.  The community are scared, we are scared and our fear is that it's going to erupt again and whose child is going to be killed?